I am still alive and doing science, sorry photography.
I have finally started to upload more regularly and im getting post processing done also. Once again this year only the one con to go to and stalk, this year being Ayacon down in Warrick, so if your going down there watch out for me and don't run away i need the photos.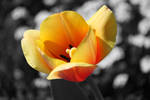 Of my resent uploads this is favourite of them taken at the Queen's park in loughborough and then edited in Elements with layer masks.
On a side note i'd like to promote a fellow photographer from where i work

If it weren't for the fact that our job has nothing to do with photography i wouldn't be promoting it here.