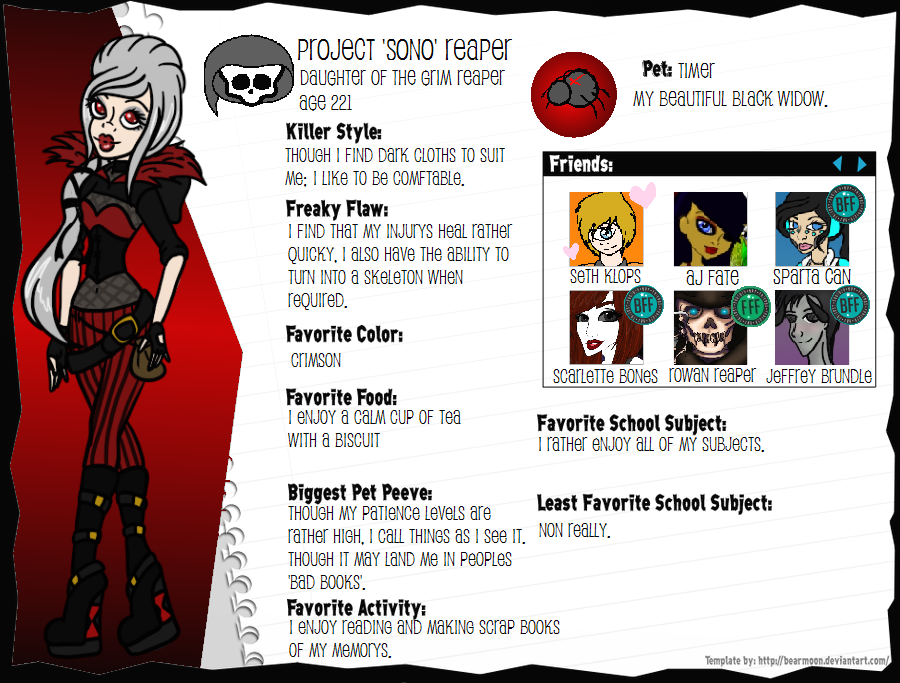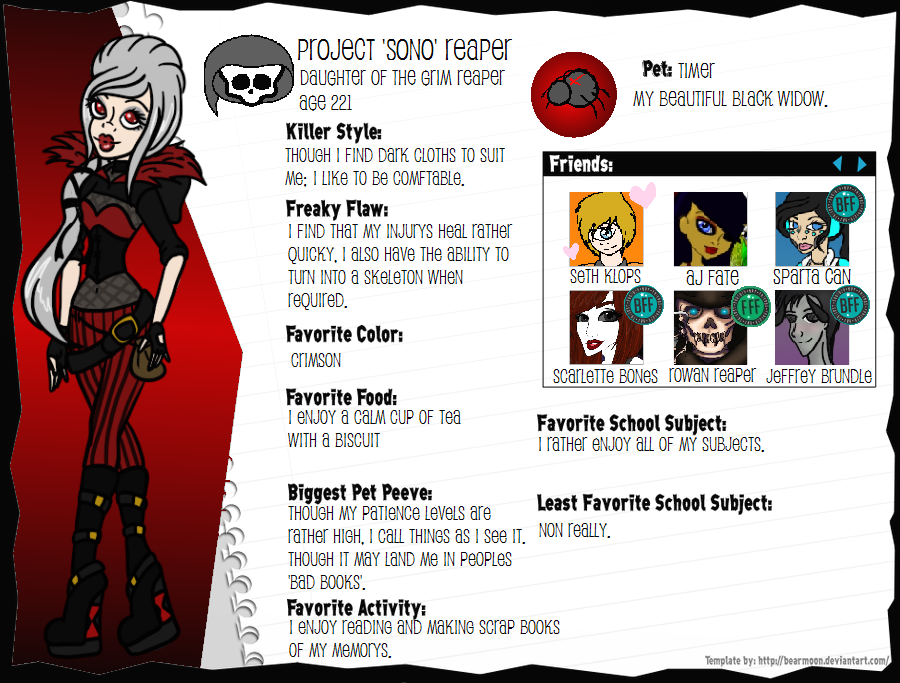 Watch
Another Update!
So I finally got around after /years/ to updating Sonos appearance!!
Although Sono no longer attends Monster high, as my first character she has a special place to me, so I had to give her a updated bio picture!
Shes stuck to the same outfit since I first made her, and since then not only has she grown as a character but also had story lines and such play out for her, so I finally found an outfit that did her justice! Im really happy with this picture! <3
Intresting facts about Sono~

She was adopted by Ogers, and raised with three oger brothers.

She currently has two daughters (Cymbeline and Lenore) and a future son (Drake).

Despite being from Sweeden, Sono has a stong brittish accent, after spending so much time in Londoom.

When she was 91 she was bitten by a werewolf, her reaper genes stopped any trasformation, however she gets very jumpy and weird when theres a full moon!

Sono would truely count Jeffrey as her own, she oves him to death and would keep him forever! <3

Sonos mother is an Echenda.
Update!
Sono needed a long due update to her bio! Although the art hasn't changed the information has!
Firstly; Ive changed Sonos age! I kinda realized 17,000+ isn't really gonna work... So I bunked it down a load with the awesome help of
SkulliMunch
, her Rowan (Sonos big brother) is 230, so with a bunch of maths later, we got Sono (and Cymbelines!) age <3
I also made her language on her bio sound more so formal, which is how she speaks (Though shes picked up on modern day slag, she doesn't always use it right, but shes not afraid to use it!)
Her friends I didn't update as much, Sadly the animated version didn't work so you cant see some of her friends! Though ill make sure to mention them all!
Sonos tumblr!
reapersproject.tumblr.com/
Sono was the first of my monster high Oc's; Though I know a reaper is one of the most used characters, she still stands as one of my favroutes <3

You do NOT have permission to post this anywhere without my consent.

-----------------------
Characters you can see;
Sono Reaper and Sparta Can
WrongCog
Seth Klops and Keith Zombay
sunnygirl979
Scarlette bones
andreadrwing
Jeffrey Brundle
P-girl1986
Rowan Reaper
SkulliMunch
Characters you cant see;
Serafina Gorgon belongs to
gothickitty
Blume belongs to
Shadow-People
Wolf Driftwood belongs to
AlyssaTolensky
Slendine Mann belongs to
DesuPanda98
Cat belongs to
kittyshadow
-----------------------------