Sorry if I spammed you! I was having technical difficulties...
So as I'd said, this is for my watchers so that you can all get a better idea of who I am as an artist and see a bit of my artistic process. Stick around and find a surprise!
How It All Begins:
1. Get Inspired and Think! This is the easiest part for me. You wouldn't believe the tons of filled sketchbooks I have!
-Doodles and Rough Sketches-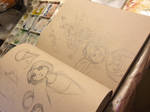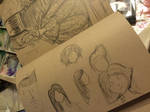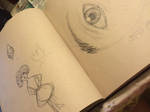 2. Gather my Supplies. This part is always fun. I get to see my favorite cups and mugs I use.

3. Start. This is moderately difficult. I never seem to be satisfied with the first draft. Eh. It must be the perfectionist in me.

-Empty Sketchbooks and Pages-
4. Spend time and work.

-Various Stages of the Artistic Process-
5. Finish!
-Finished Piece-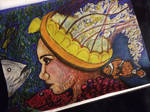 Thanks for sticking around! Now, I wanted to thank all of my first 16 Watchers by giving each one of you one free request. So every two weeks starting next Tuesday, I'll will send a note to one of you asking what art piece you'd like for me to do, and then I will do it. Yay! That's my thank-you from me to you, and I hope you like it. Make sure to check out this deviation. It's called To Be One. Comment and favorite. I love hearing what you guys think.
-WritingMage