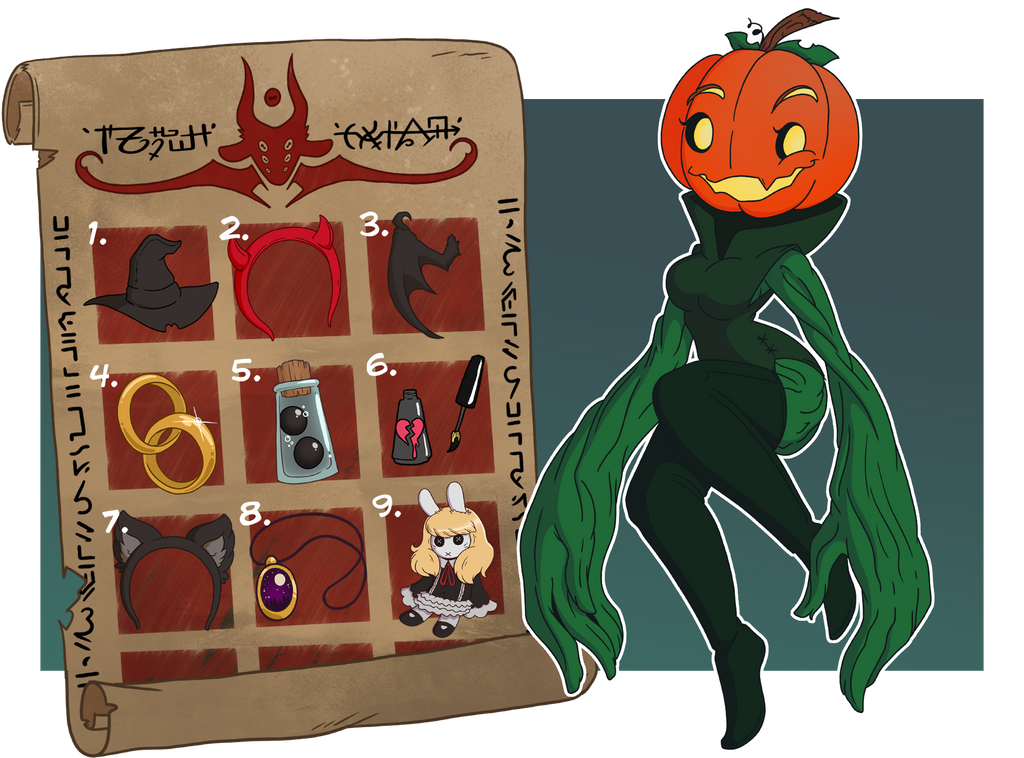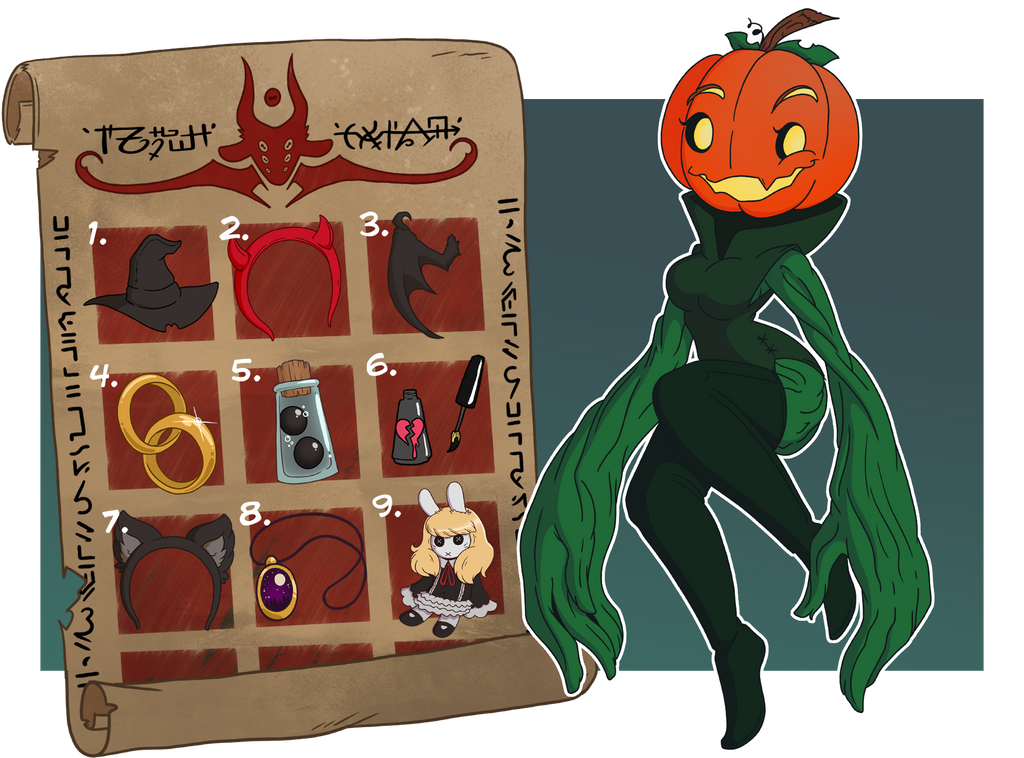 Watch
The cheerful pumpkin girl happily waits to take any customers' orders. She has set out several new items and even some fun repeats that she found lying around the shop, "Gotta stay on theme," she chuckled, adjusting the two pumpkins beside her at the counter. "Oh! Don't worry girls, I'll turn you back after the season is over! I mean, I'm sure I'll figure out how by then... Uhm..." She looks a little nervous, but the glowing smile returns to her gourd as the bell over the door jingles,

"Well hello there! I'm Jackie! What kind of Halloween fun can I tempt you with this year?!"
- THE LIST -
1. Witch's Hat
For those feeling particularly wicked! Don't let this opportunity melt away!
2. Devil Horns
Warm to the touch, this red headband smells slightly of sinful delight... with a hint of sulfur
3. Wing of Bat
A special relic, dried and preserved, this wing looks to be from some old flapping beast. Could this be a bestial remnant of a creature or the grisly remains of an unlucky vampire?
4. Bound Rings
A prominent feature in weddings, though the sad story about these rings involve love lost and a domestic life unlived. Poor girl never even got to see her wedding day or the white picket fence she always wanted.
5. Pitch Black Eyes of the Void
A rare ingredient to more unsavory spells and potions. These eyes were stolen from one of the Black Eyed Children. Take them quick before she finds her way back to them and seeks her vengeance...
6. 'Not A FAZE' black nail polish
Show mom that you're truly committed to the darkness in your soul
7. Interchangeable Halloween Animal Ears
Though a staple of the season and the perfect accessory to any lingerie-based costume, this pair seems to be a different animal each time. Sometimes bear ears, cat ears, even a pair of deer ears with matching antlers!
8. Lunar Locket
In the name of the moon, this item will change your life! Truly this golden pendant is beautifully crafted and the enamel night scene is gorgeous... however, the true beauty of the necklace can only be appreciated in the Full Moon Light.
9. The Whispering Doll
Huh, I don't remember putting her on the sheet... Uhm, alright... Well, this mysterious bunny doll is wearing a gorgeous Gothic gown with white lace... Does anyone else hear whispering? ...Huh, well, it'd be a cute gift for a kid, or maybe an accessory to a classic vampire or Lolita look?
To request one of the slots, please send me a note here on dA including who we are transforming (reference drawings are preferred, but descriptions work too) and your top 3 items desired. The Sale goes fast and I go First Come First Served, it is always good to list a few in case some get snatched up fast. I'll also need your PayPal once the item is confirmed.