Wolf calendar for free!!! Atila INCLUDED :D
Hello people!
I have very bad time. So I decided to please at least you - I post
WOLF CALENDAR FOR FREE!
It starts with August 2011 and ends with July 2012.
Please, just fav it - every fav helps me to spread this calendar.
Every fav is very appreciated!
If you can, please, feature it or just tell your friends about the calender. It took me many hours to make it, so the more people use the calendar, the better.
Thank you for every

!


It is really important

CALENDAR =>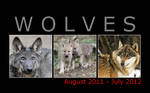 What can you find in the calendar? Those photos of various wolf species!
(those big signatures are here only for journal)


If you really love the calendar and you want to please me in return although the calendar is for free, every donation is awesome!
I would appreciate points and Paypal donations - my e-mail address is woxys@seznam.cz. THANK YOU!