Hi!
So.
My dear watchers, I really appreciate your support when it comes to fight against art-thieves.
But I bet there are also many people whose thoughs can be interpretted like "why is she so hysterical about it?". Some people say, that the fact, that some photo is worth stealing, is a kind of compliment.
Ok, so let me present my point.
At first: why am I so unhappy about reposting of photos?
Because, pals, if somebody just reposts a photo without any change, it just gives totally open space to other people who would find the photos on his/her blog, taking it and posting it themselves. And because the first person did not credit the original author, they also do not credit the creator.
The more people do that, the more times the photo is reposted. Always without credit. Sooner or later, it becomes a kind of "public" property and original author has almost no chance to effect this situation.
Do you know this photo? Honestly, EVERYBODY knows it. But do you know original author? Do you think that original author now has a chance to fight against the reposting?
The other side of the same problem is, that finally, ORIGINAL author is attacked by people who think such person just posts stolen art. Again, I bet everybody knows an image of angry wolf. Do you know that original, I mean REAL original author of this painting is a dA member? But if you checked the comments under the original deviation, you would find many "art thief!" "you stole this" comments there! Original author now has difficulties to prove it was really him/her who created this commonly stolen work.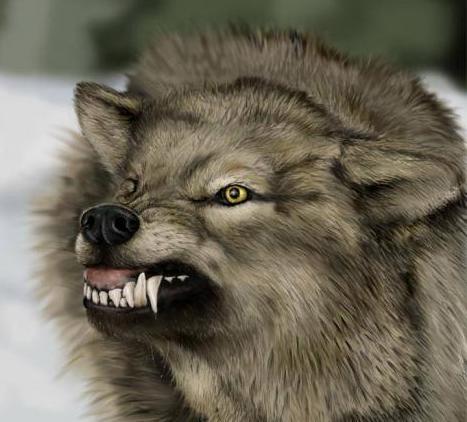 And now a super practical example, pals. My good friends
Allerlei
and
amrodel
entered a National geography contest and also thanks to votes of dA members, they got into TOP 20.
But some "active" woman checked their photos and found them on a blog. A person, who created this blog, stole many photos including mine. And this not very clever woman took it as a proof that
amrodel
in fact posted a non-original photo into a contest!
And this person contacted National Geography, urging them to disqualify
amrodel
and her photo from the contest!
So Amrodel, absolutely honest and original photographer, got into troubles because of some idiot, who reposted her work without giving her any credit.
That's it. Me,
Allerlei
and
amrodel
DO allow people to use our work for drawing references. We allow them even to use them for manips. I am stupid and naive enough to allow them even to use few shots for RP or blogs - IF THEY GIVE CREDIT.
All we want to keep is our dignity, respect and we want those, who use our work, to make absolutely clear that it was US who took the original photo. We just want to stay safe.
Please, do NOT repost our photos without any change. Please, do not post our photos on facebook. Share the link to original, please - NOT the photo. If you upload and share someone's photo, you just help to turn it into common property. That is not fair. Especially when we do allow people to use our work for their own art. I think we do deserve at least a portion of respect which still allows the world to see us as original authors.
I am very sorry that
Allerlei
and especially
amrodel
got into troubles because of some person who does not follow the basic rules. Both girls spent hours trying to deal with the situation. Fortunately, they finally proved that stupid woman wrong, so she deleted all the comments without even saying "sorry". But it took them hours!
I have seen my photos reposted on Facebook. Some of them got THOUSANDS of "likes" and were shared many many many times.
Do you think it made me feel good?
It did not.
Because there was no link to original. All those people who posted it, liked it or shared it, helped to make my photo a public property. And believe me, I do NOT want my art to become a public property without obvious creator. I think that as an author of the photo, I have all the right to be known. I have right to stay safe. I really do not want to face the comments of those, who would later point at my photos, saying "YOU STOLE THAT! I SAW THAT ON THE WEB AT LEAST MILLIONS OF TIME!"
Once more, please. Always share the link to the photo, NOT the photo itself. Please.
Remember.
If some art is worth stealing, it might be a bizarre compliment.
But it is always a thing, which not only annoys, but also THREATENS the original artist.
It just helps to turn the original art with obvious author into annonymous picture which is a "common property" everybody feels free to post........................................
THAT'S why I am so hysterical about art-theft, people. If I wanted to fight against all those who reposted my work outside of dA, I would have to found new and new accounts for new and new websites every second day.
Here on dA, I will do my best to fight against those who repost work of people who posted their own original work outside of dA. If I can help them somehow, I would.
Thanks for your attention and thank you for considering it!