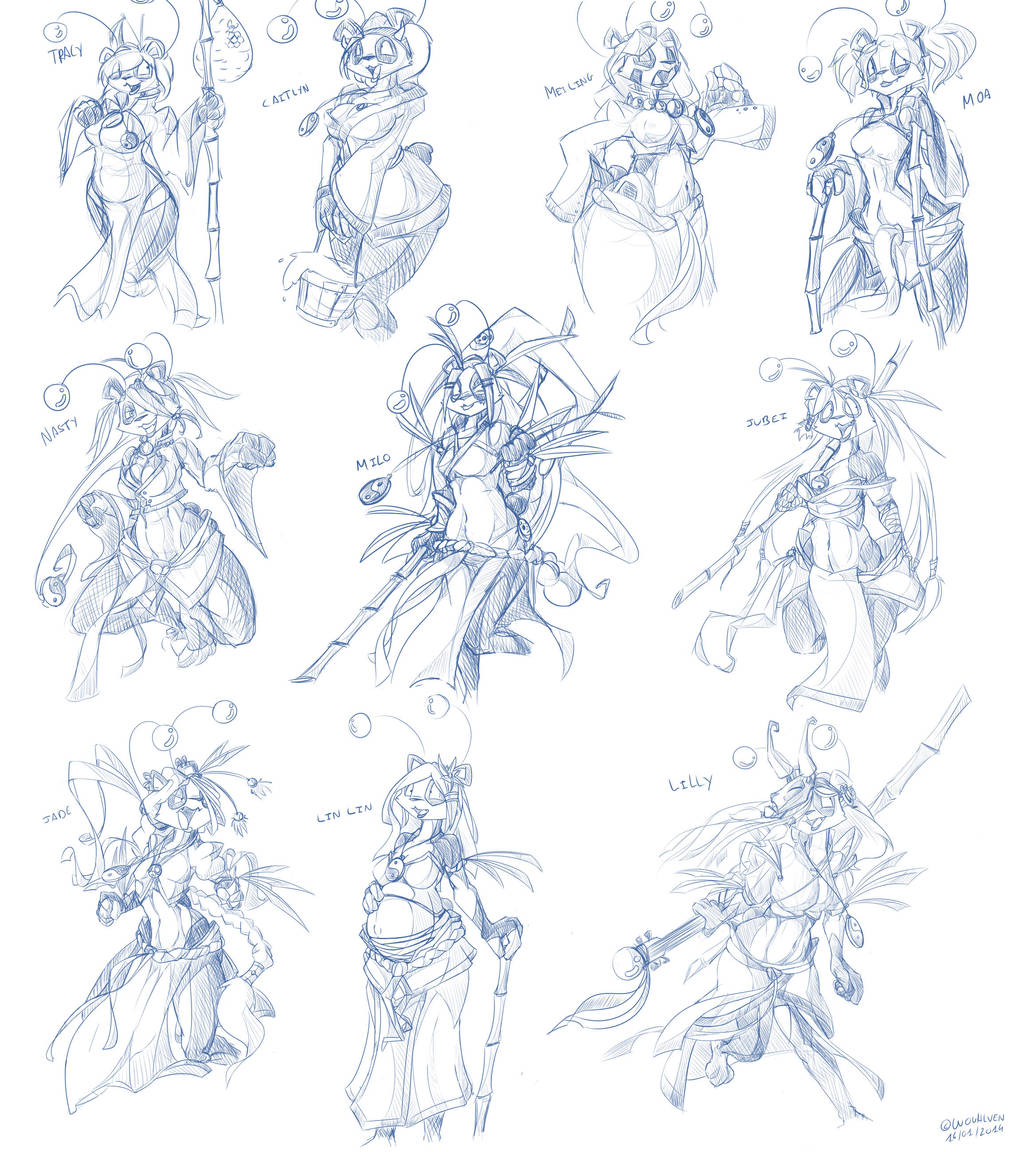 WARNING HUGE FILE!
Those are some concepts of pandas made during my livetreams, most of them are suggested pandas ideas by my fellow watchers/followers, and I created them based on their ideas! So Here's all the Pandas! They will all be inside the project of Pandas I'm currently working on, as recurrent background characters! I really tried to make them unique as I was working on them! I hope You like them! There'll be more for sure!X3
So Here's the list of the characters with their respective owners:
Tracy own by

Caitlyn own by

Mei Ling own by

Moa own by (I don't remember the one who suggested her)
Nasty own by Posib
Milo own by

Jubei own by

Jade own by (I don't remember the one who suggested her)
Lin Lin own by

Lilly own by
theedgeissilent.tumblr.com/
I can say this list is far from finished! there'll more list of pandas! So you'll have the change to suggest you panda for the next row! x3
So what's your favorite? x3
All the concepts belong to their respective owners.
The artworks and the creative design belong to me.
------------------------------------------------------------------------------------------------------------
Ce sont des concepts de pandas que j'ai dessiné durant mes livestreams, Tous sont des idées ou des suggestions de mes watchers/Followers, j'ai interprété leur idées, créer et designer leur personnages dans mon univers panda-esque! Alors les voila! Je les aime tous! Mais mes préférés sont Moa, Jade, Nasty, Milo et Jubei! Elles sont vraiment top! J'ai vraiment essayé de faire de chacune d'entre-elle un panda unique en leur genre! J'espère que vous aimez! Il y en aura beaucoup plus alors pas d'inquiètude! x3
Voila la liste des persos avec leur auteurs respectifs:
Tracy pars

Caitlyn pars

Mei Ling pars

Moa pars (I don't remember the one who suggested her)
Nasty pars Posib
Milo pars

Jubei pars

Jade pars (I don't remember the one who suggested her)
Lin Lin pars by

Lilly pars
theedgeissilent.tumblr.com/
Cette liste est loin d'être exhautive! Il y aura plus de concepts de pandas! Vous aurez tous l'espoir d'avoir un panda vous aussi! x3
Et alors quelle est votre préféré? x3
Tous les concepts appartiennent à leur auteurs respectif.
Le character design et l'artwork m'appartient.
C'est juste un plaisir pour les yeux.

Même si ce ne sont que des croquis, il y a de la vie dans chacun de ses pandas, une personnalité, un caractère qui en ressort.
Dès le premier coup d'oeil, on est séduit.

On a qu'une envie, c'est de les voir en couleurs en train de vivre des aventures, des voyages, des gags, bref des histoires.

Ce genre de personnage m'inspire beaucoup, c'est vraiment le modèle que je voudrais suivre pour mes propres créations.

Bon si je devais citer quelques éléments à améliorer:
Essayer des carrures plus variées et proposer d'autres tenues, les vêtements sont réussis mais tourne un peu trop autour de la culture asiatique.

Mais franchement c'est indéniablement du beau travail de personnage.
Encore bravo.
The Artist thought this was FAIR
2 out of 2 deviants thought this was fair.

Oh how I wish I could create such fun looking characters as you can ;o; These all look so greatly original and unique in personality, love em all!

Reply

Thanks you so much dude! x3x I'm glad you love those silly black and white bears! Well I actually asked for ideas and I just did it in my own sauce and Here's the results! I think I really surpass myself with those! XD Well I'm sure you can do it! you just need to be more confident about yourself, and you'll be able to out match me easily! Trust me on that! >w<
Reply

Et bien, ça rends super bien

Faudra bosser sur le village un jour, ça peut donner un sujet sympa de scéno, on peut s'y mettre à plusieurs si tu veux.
Reply

Ouaip, c'est de la recherche de perso aseez classique mais j'aime sa! Alors s me dérange pas du tout!
Bah, J'ai déjà 2-3 concept de village en tête qui mêle un type de village assez sylvestre et chinois/asiatique! Mais sa me dérange pas du tout d'avoir de l'aide! Même au contraire j'encourage a partager se projet! C'est le but! C'est de le bosser a plusieurs! Pas comme un frustré dans son coin a rien vouloir montrer! XP
Reply

Your development really amazes me when I remember your works from three or four years ago! And it keep going better and better...
Reply

Well, I wasn't as fast as you in my art devellopment! XP but it is true I've done a huge jump between What I was doing in 2011 and nowadays! I can say I've been through a REALLY long way to get at the level where I am! I finally can draw what I want without much problem! I still have a lack of color problems! But I guess I can fix that easily! I guess art school and such really help me out to fix some of my major problems! XP Now I'm drawing decent stuff no more blatant huge oversized boobs to hide behind, now I'm quite working on regular artwork! XD

I also see that you've progressed a lot, your technic in coloring have progressed a lot! you've made a lot of sweet stuff! I guess I still have to pratice a bit more to catch you up! x3
Reply

Oh no and I felt like you've taken a great spurt and pulled ahead of me a long time ago! I only wish that I had the same motivation on practicing my skills, when I really don't practice at all. Dod knows what I would be capable of create then..
Every picture of mine is still behind a great struggle and wrestling with anatomy and such, until I get it to look ok into my eye. I can only admire your skills and devotion x3 also I'm not very noisy or active here and quite rarely bother or remember to comment others' works, unless it's something special, so it's a big thing if it catches my attention

Keep up the good work and don't give up on training ^^ and also I appreciate your watch~
Reply

Looking great, I think my fav out of the group is Lilly, so does this mean you are finally going to work on the Male Pandas? >:3
Reply

This is nice! Lilly's nice character too! I should have add more mask for her! Yes... This means I'm going to work on males... xP
Reply

Reply

I KNOOOOOOOOOOOOOOOOOOOOOOOOOOOW! X3
Reply

Well there is the blacksmith... xD
Reply

Well, you have to wait for the next set! I know there's your character waiting like a ton behind you! xP
Reply

b-but but but I'm the most faithful and supportiv friend you ever had D:
Reply

WHEEEEEERE IS THE BLACK SMITH? *GROOOOOOOOOOOOOOOAN*
Reply