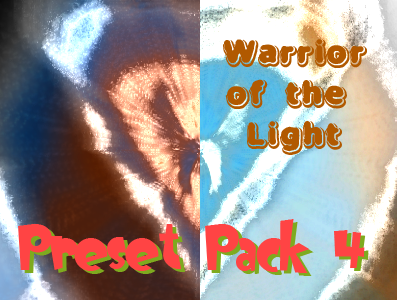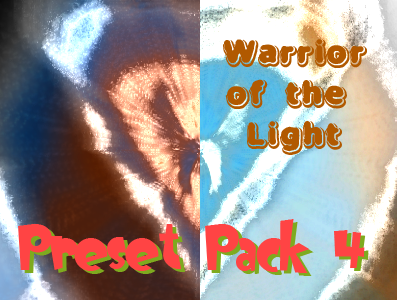 Watch
Preset Pack 4

10 presets, no intro this time.

Please tell me what you think

Nice to see some old farts still doing stuff. What I can tell is that your style over the years has refined and a lot of these presets are a lot cleaner, smoother and responsive which is right up my alley


Logistics
Getting some Yathosho vibes out of this, nice clean preset although a bit hectic on my small square screen with 80-90 fps

Probably very cool on high resolution fullscreen or projected into a wall.

Simple
I would like to love this preset since it's pretty much like 90% of the stuff I used to do, simple, extremely responsive and who still doesn't like cubes? :laugh: Unfortunately something about the background just puts me off, for the lack of a better word I'll say it's a bit too "grungy" for me, I mean the floating backdrop, the trick with the squares is brilliant and fits the preset very well.

Mark I
Yathosho mixed with Framesofreality, squary, dirty, rough, but not my cup of tea.

Mist
Grain filter puts me a bit off, but without it I it would be labeled pretty generic "flowyglowy" preset im guessing. I like it with a simple fadeout filter inplace of the grain filter, but to each of us to our own.

Mark II
Pretty much the same as Mark I, although the DM could have potential for a preset for a smoother flowy type of thing.

Art Class
Generic shiny preset you say, but hey that's what papa likes and papa is liking, liking a lot


Backspin
Who cares if it's starfield, what works, works. Incidently with my recent AVS toyings i've used the basic renders only instead of a 500 line massive superscope and it's fun, does the job and doesn't consume my life. I like this preset, the mosaic convolution trick is cool and the colors (apart from the green backdrop) work very well.

Soup
Art Class II? But with a nice grid foreground for added beat reaction.

Princess
Definetely my favourite of the pack, so smooth, clean & responsive. It's just so well put together for such a simple looking preset.


MRI
Well like I said I don't usually like rough, grainy & grungy presets, but this one looks great. Loving the colors and the shapes it produces with it's flow. If I would to remix this I would probably just make the invert color flipping smother & remove some graininess if possible

All in all a nice small pack and I liked it more than I disliked it so here's a

for you for your work and for old good times sake

Reply

Logistics - heh, I sometimes forget most people have a faster computer than I have nowadays (p4 2.66GHz). For me, it runs at ~28fps @400x300.
I only noticed when I assembled this pack that Soup does look like Art Class, but apart from the xy+dr DM combo they were built in completely different ways, but I use that combo quite often.
Thanks a lot for the comment and

!
It's good to hear from you, I hope you're allright.
Reply

My resolution was 360x360 (720x720 with pixel doubling on) and I got some very high framerates with most of the presets. Didn't test any of them in fullscreen because AVS looks ghastly with a huge widescreen im using that has a native resolution of 1920x1080.
Reply

hum
I'm seeing possibilities on MRI and Art Class
I liked both
can I remix it?
Reply