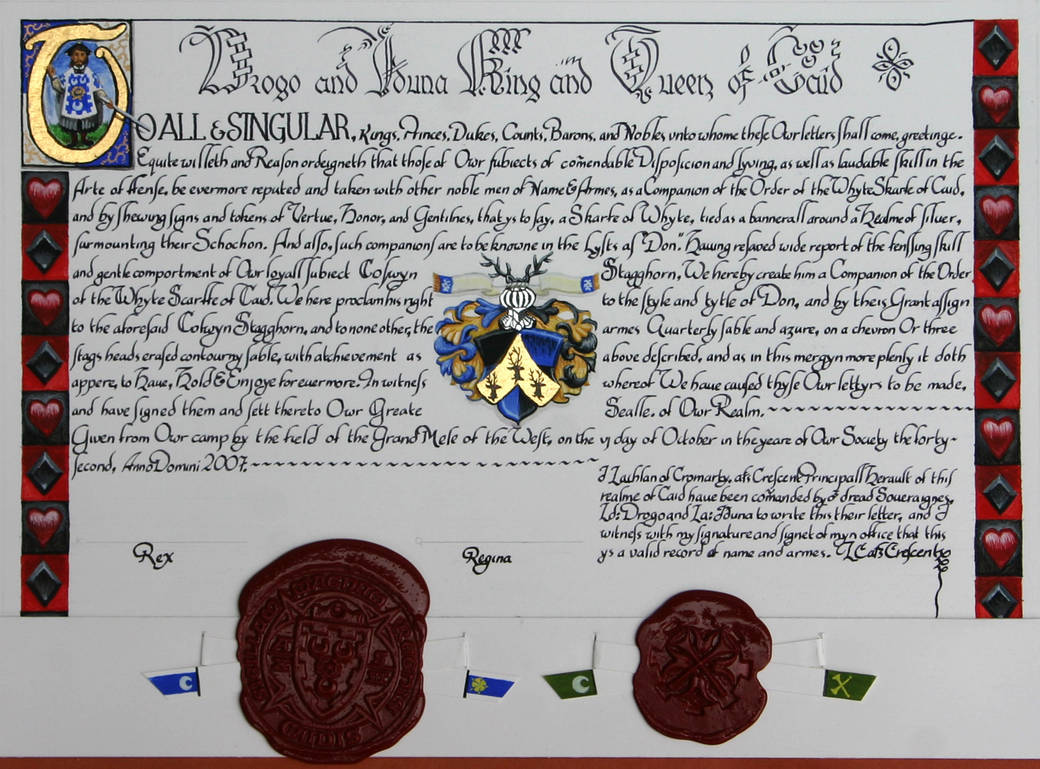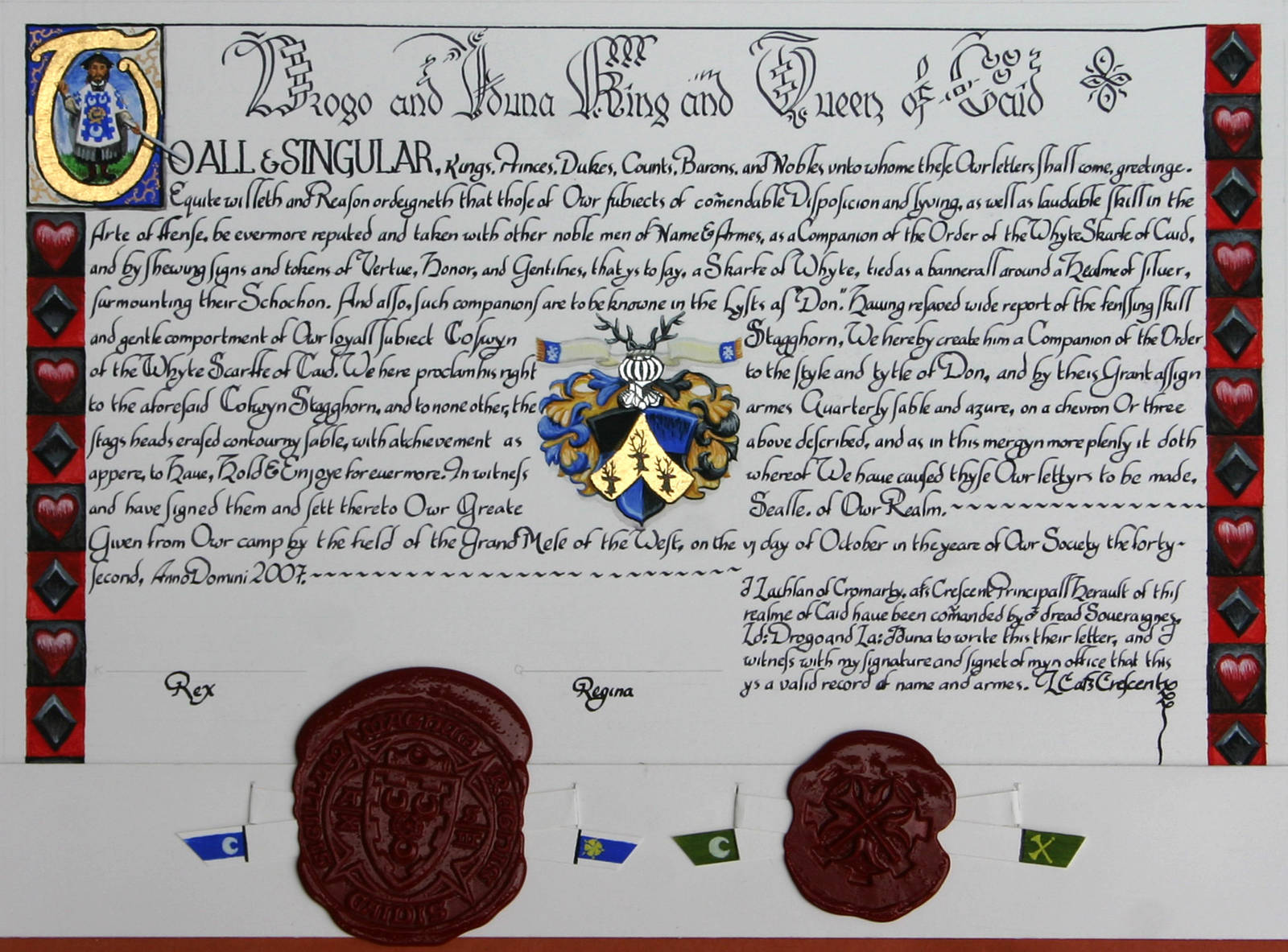 Watch
White Scarf "scroll" of Colwyn Stagghorn... It is patterned after 16th C. English patent letter from a king of arms granting arms on a gentleman. It is completed using india ink on bristol with decoration painted in Winsor Newton gouache and imitation gold and silver leaf.
Please go full view. If you're wanting to simply appreciate art and not receive a lecture, you might stop reading now. I know: "Too many words -- did not read."
Before calligraphy and illumination, I spent a great deal of time working on the text. In England, the Garter King of Arms (and other Kings of Arms) have the authority to grant arms by letters patent ("patent" here meaning "open for all to see"). In the SCA though, grants and awards are handled directly by the King and Queen, not by the heralds, so our standard texts are addressed by the crown. To come to a compromise, I wrote the text as if written by myself, as Crescent Principal Herald of Caid,
at the direction
of King Drogo and Queen Iðuna. Wherever I could, I employed 16th C. spelling. For documentation I used a (favorite) book on grants of arms and the OED.
Drogo and Iðuna King and Queen of Caid.


TO ALL & SINGULAR, Kings, Princes, Dukes, Counts, Barons and Nobles vnto whome these Owr letters shall come, greetinge. Equite willeth and Reason ordeigneth that those of Owr subiects of coḿendable Disposicion and lyving, as well as laudable skill in the Arte of ffense, be evermore reputed and taken with other noble men of Name & Armes as a Companion of the Order of the Whyte Skarfe of Caid, and by shewing signs and tokens of Vertue, Honor and Gentilnes, that ys to say, a Skarfe of Whyte, tied as a bannerall around a Healme of siluer, surmounting their Schochon. And also, such companions are to be knowne in the lysts as "Don". Hauing resaved wide report of the fenssing skill and gentle comportment of Owr loyall subiect Colwyn Stagghorn, We hereby create him a Companion of the Order of the Whyte Scarfe of Caid. We here proclam his right to the style and tytle of Don, and by theis Grant assign to the aforesaid Colwyn Stagghorn, and to none other, the armes Quarterly sable and azure, on a chevron Or three stags heads erased contourny sable, with atchievement as above described, and as in this mergyn more plenly it doth appere, to Haue, Hold & Enjoye for euermore. In witness whereof We haue caused thyse Owr lettyrs to be made, and have signed them and sett thereto Owr Greate Sealle. of Owr Realm. ... Given from Owr camp by the field of the Grand Mele of the West, on the vj day of October in yeare of Owr Society the forty-second, AnnoDomini 2007. ...

I, Lachlan of Cromarty, ałs Crescent Principall Herault of this realme of Caid haue been coḿanded by o[w]r dread Soueraignes, Ld: Drogo and La: Iðuna to write this their letter, and I witness with my signature and signet of myn office that this ys a valid record of name and armes. LC ałs Crescent

The decoration includes a central emblazon of Colwyn's arms. I got a little inventive with the way I arranged the white scarf, twisted like a torse and then flying out horizontally. The initial "T" frames a self portrait, a standard motif in these sorts of letters in period. The border is also symbolic of Colwyn's associations. He is a member of House Valentine (signified by red hearts on black) and a Lieutenant in the Third Auxiliary Dragoons (signified by black lozenges on red). The "ribbons" are cut pieces of paper, which is like a common sealing technique where the scribe would cut strips from the margins of the parchment, lace them through the folded bottom and seal over top of those. This seals the letter permanently open.
Similar works:
(this is actually the wife of the recipient of this scroll)

Wow. This clearly took a lot of work.
The script is skillfully written. The crest in the center is a work of art in itself. Overall an amazing piece.

Reply

Darn good there

Reply

Very cool! I love the wordsmithing too

Reply

Lovely! The white on the blazon is particularly vibrant, whatever type and brand did you use for it?
Reply

Yay! I found a better photo, post-sealing.
Reply

Yes. The white in the emblazon is imitation silver leaf which reflected the camera flash too well... I wish I had a better photo of it, but I don't. It's better than nothing though, so I used PhotoShop to balance it as best I could.

Thank you for your comment.
Reply