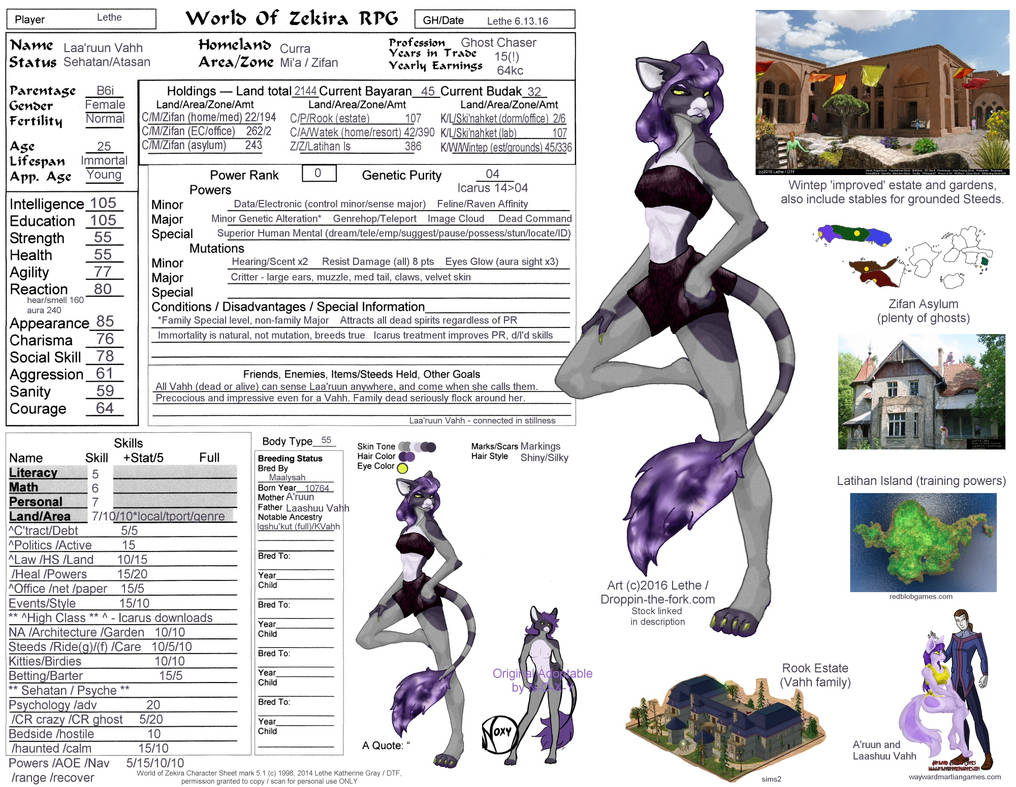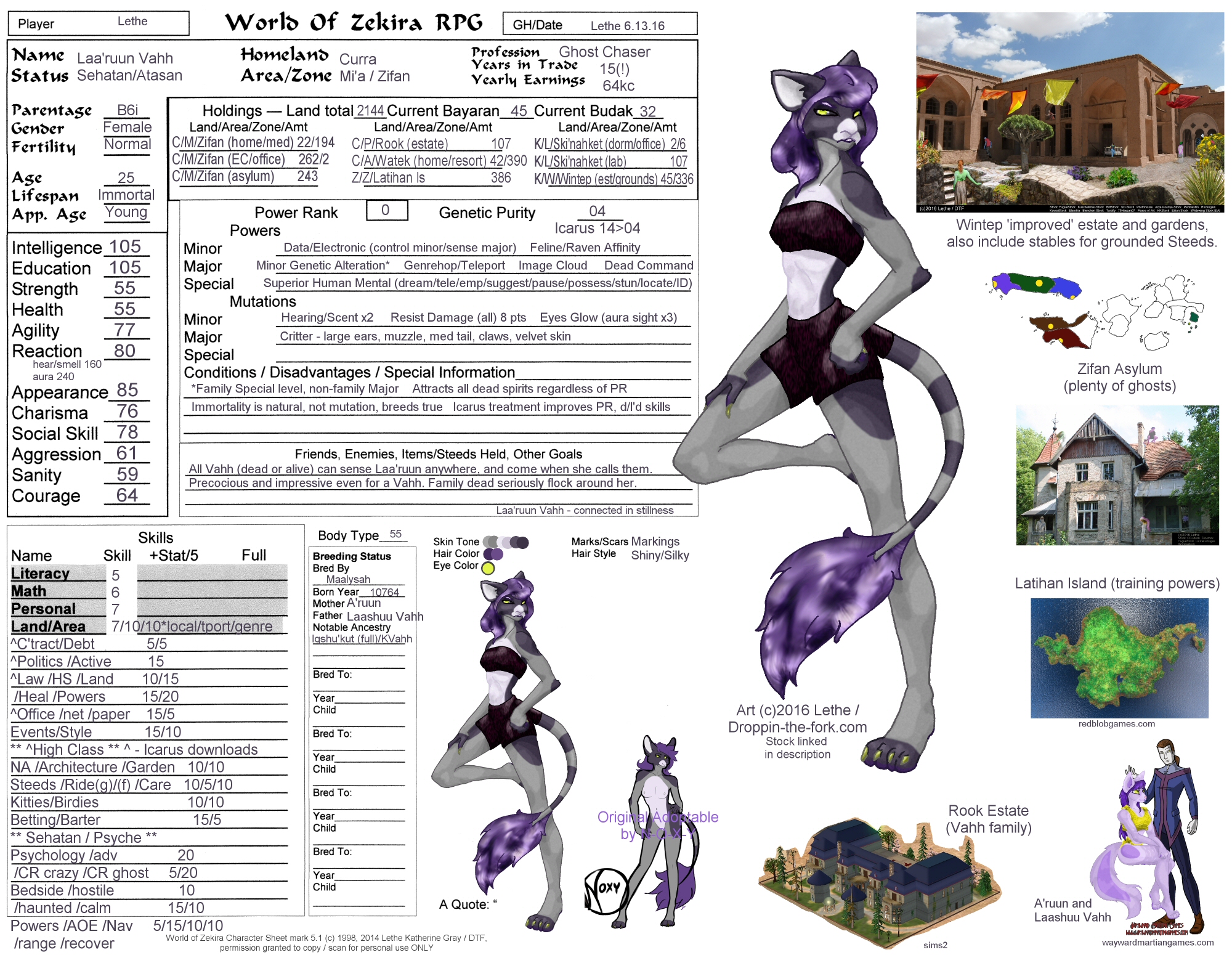 Watch
Laa'ruun is the daughter of A'ruun and Laashuu Vahh, her name meaning 'connected in stillness'.
Though she's technically trained as a Sehatan, a healer for psyche issues, her specialty is 'ghost hunting' - Laa'ruun is considerably stronger than her mother in sensing, commanding, and collecting dead Zekiran minds. And though she's got a decent ability with controlling and sensing data, the most she usually does with that is 'keeping records'. Even for the Vahh family, she's always proven to be resourceful, clever, and somewhat precocious.
Vahh likes her because she 'cheats' the same way he does, and to a very similar level of power. Her 'pause' (the 'stillness' portion of her name) does rival her grandfather's, where most others with that power simply don't come close. Also he enjoys her company as they jaunt across the world or dimensions, she's less likely to get lost than some of his descendants. They share a good amount of appreciation for urban exploration and architecture, but she's a lot more creative when it comes to designing places and putting those downloaded skills to use (particularly, when upgrading the Wintep estate).
While Laa'ruun is certainly smart, elegant, well-educated, and highly powerful, she rarely comes across as arrogant when dealing with people's issues. She knows the trouble that the ghosts of Zekira can cause, as they like to pester the living and sometimes drive them a little bonkers. Or a lot. The asylum that her great-grandfather established and her mother took over, was given almost entirely to her when the time was right. That time was, "when she started filling it up with spirits". She has a good bedside manner with folks who are justifiably freaking out over the fact that there's a ghost messing with them, but she also knows the difference between someone who's crazy because a ghost keeps pushing their powers to do weird things, and crazy because they're just plain nuts. Note that her 'pause' power does work on the dead.
Adopted from

Stock credits for the Wintep estate are on this deviation
world-of-zekira.deviantart.com…
Zifan Asylum stock credits:

cd-stock.deviantart.com/art/Vi…

faestock.deviantart.com/art/La…
faestock.deviantart.com/art/Pa…

fuguestock.deviantart.com/art/…

lormet-images.deviantart.com/a…

wookiestock.deviantart.com/art…
Laashuu Vahh's doll made on
www.waywardmartiangames.com/dr…
by

Created the island shown using redblobgames island generator.
Created the Vahh mansion in Sims 2.