Hey, Hooligans! I neglected to post an update about this on Thursday. Oops! The Kickstarter campaign funded and hit its first stretch goal at the same time!

But I also have some other cool news! Yesterday, Scott Rosenberg backed the project!
Scott's an NYT best-selling author, former VP of Marvel and Chairman of Platinum Studios (Cowboys & Aliens, Hero by Night, I Was Kidnapped By Lesbian Pirates From Outer Space). But what you may know best from his work is producing the comic series Men in Black from Malibu Comics, which he signed to the movie deal before selling Malibu to Marvel.



That's so flattering!

In the hours since I published the Kickstarter update about Scott backing the project, we picked up a couple more backers and are just $8 from our 2nd stretch goal! So I published another update to let all the backers know that anyone who pledged at $4 or more can upgrade to the next level to put us over that next stretch goal so that all the $12+ backers will get not just one Kickstarter exclusive print, but all three!
You've only got 3 DAYS left to get these cool rewards! If you get one of the books, you're getting it at regular price, and all three exclusive prints are FREE! And if you get both books, you also get a free custom art-card caricature!



The final exclusive print is my favorite, this tribute to the very first issue of Captain America, with our Pigasus standing in for Cap, socking old Adolf on the jaw!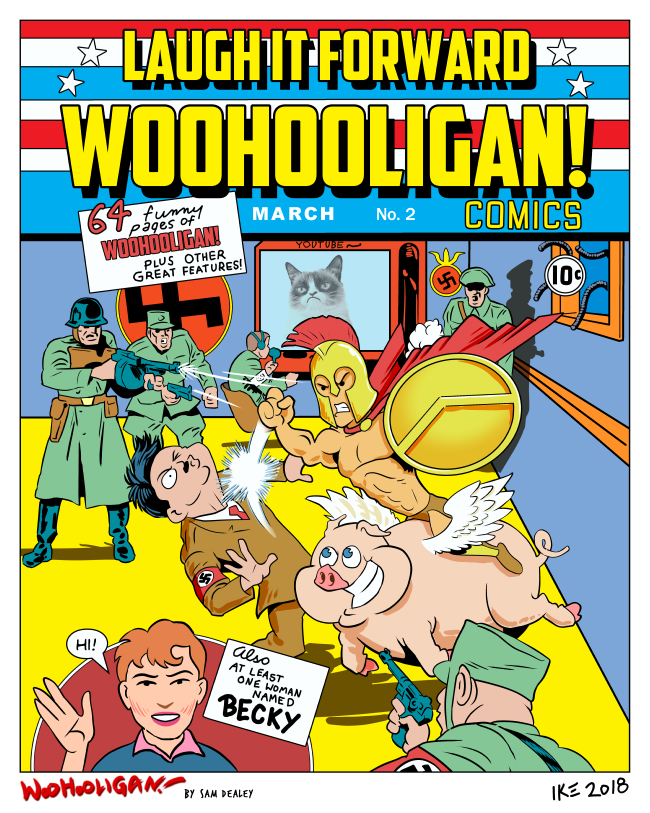 This is awesome! It's kind of weird because I didn't expect to need stretch goals at all, but now it looks like I need to think up a fourth stretch goal, since it looks like we're likely to hit the first three. But it's so cool to have this project exceed all my expectations!

Last 3 days to get in on the action!

Keep on rockin' it, Hooligans!
Sam