On January 7th this year, two gunmen armed with Kalashnikov rifles stormed the offices of Charlie Hebdo, a satirical paper in Paris. The two Islamists shouted "Allahu Akbar" (god is greatest) before killing most of the paper's cartoonists and several other staff members. Since then the expression
Je suis Charlie
(in English "I am Charlie"), is a rallying cry for supporters of Charlie Hebdo's freedom of expression.
When I published
my own Je suis Charlie
image a few days ago, a friend of mine commented on it, saying that he didn't understand why Charlie Hebdo had become a symbol of free speech. He said it seemed "random" to him. Realizing that he may not be alone, I published a poll on my profile. Exactly one month after the shooting, these are the current results:
---
Je Suis Charlie?
32% - 8 deviants said I really am.

24% - 6 deviants said I'm ... not sure?

24% - 6 deviants said I wish free speech could be symbolized by someone a bit more politically correct...

(Irony!)
16% - 4 deviants said I'm tired of hearing about it. People die. Life is misery. Shut up.

4% - 1 deviant said No.

---
Seeing these results, I have to think there's still a fair amount of confusion about the
#JeSuisCharlie
movement. So I'd like to say a few words about why I at least believe this became an international free speech movement and why I support it.
This is it, folks!
This is so offensive,
it makes people MURDER!!!
Given the circumstances of the shooting, it's pretty easy to understand that the shooters were Islamic extremists. Here are a few facts you may not yet know. First, Charlie Hebdo's offices were burned down by Islamic arsonists in late 2011 in response to a November 3 cover page (right) showing the name of the paper changed to "Charia Hebdo" and a smiling Mohammed saying "100 lashes if you don't die laughing!" This shows that certain extremists were trying to silence Charlie four years ago. In fact, al-Qaeda added the paper's editor, Charbonnier (known as "Charb"), to their "most wanted list" in 2013, due to his making statements like, "we have to carry on until Islam has been rendered as banal as Catholicism." So given that Charlie Hebdo picked up the pieces after their offices were burned down, refused to be silenced and continued to publish, you may not be surprised to hear that the shooters, Chérif and Saïd Kouachi, were linked to al-Qaeda, via a local group in France that had performed military exercises and sent some of these young men to Iraq after the US invaded in 2003.
For me, Charb's comments about making Islam as banal as Catholicism, remind me that just a few hundred years ago, the Catholic church inspired
the Spanish Inquisition.
As far as I know, there are no similar atrocities being committed by the
Catholic
church today, although there are plenty of Christian terrorist organizations in recent history like the Irish Republican Army or Africa's
Lord's Resistance Army.
In truth, I disagree with Charb's sentiment that satirizing radical Islamists will in any way soften them, just as I don't believe that centuries of satirizing the Catholic church have softened it (or Christianity in general). Yes, Catholicism has softened, but I believe other factors lead to it. And yet, despite disagreeing with Charb, I still stand behind him and the other members of Charlie Hebdo. Why?
Is it so easy to say that Charlie Hebdo brought this on themselves? If we say that are we not then justifying the murder of innocent people? Was anyone physically harmed by their cartoons? Did they really do anything more than express their opinions? Imagine if a white man walked into Harlem, New York and shouted "Niggers!" It might not be surprising if he were killed. Would you then blame him? Or would you instead hold everyone to a higher standard? A standard that insists that
murder is wrong
, regardless of how offensive someone's statements are?
Personally I agree with Voltaire (another French man), paraphrased by Evelyn Beatrice Hall as expressing the opinion, "I disapprove of what you say, but I will defend to the death your right to say it." It is in this spirit that I personally believe that Nazis and the Ku Klux Klan, while their beliefs and behavior are detestable, have as much right to spew their hateful rhetoric as we have to make movies or disagree with the President. I say this because I believe freedom of speech is one of the few areas where a slippery slope argument is applicable. Usually, we hear people making ridiculous claims like the idea that
repealing Don't Ask Don't Tell would result in rampant bestiality
in the US military (it didn't by the way). But abrogating free speech can very quickly become a real slippery slope. If we choose to say that some forms of speech are not protected, we have to then explain why, which inevitably leads to a moral judgment about the quality of that speech. The moral judgment of each individual is wildly different from the next, so how can we choose any one person or any small group of people like the Supreme Court to decide what speech is okay? We have actually done this here in the US and I personally believe we were wrong -- the Supreme Court was wrong -- in declaring that "profanity" (for example) should not be protected speech. But, we're human and we do make mistakes.
Unfortunately(?), it's the nature of free speech that its champions are, by definition, offensive. If they weren't offensive to someone, if they were politically correct, then why would we need to defend their expression?

We see examples of censorship all the time. You may not be aware that any English textbook you might have read has been very censored, according to the acronym
PARSNIP.
P - Politics
A - Alcohol
R - Religion
S - Sex
N - Narcotics
I - Isms
P - Pork
You might at first glance look at this list and say "okay, so what?" So what if an English textbook can't show someone drinking a glass of wine with dinner? (Offensive enough to the French!) So what if they can't mention politics or religion, aren't we supposed to avoid those subjects already? So what if they can't mention sex or narcotics, what place would they have in a textbook? So what if they have to present a world in which pigs don't exist? Does that last one give you pause? Do you wonder who is so offended by pork that they'll refuse to buy a textbook if there happens to be an illustration or a photograph of a pig in it? I hope it does.
To pull what might be a more sobering example from current events, how would you like to live in a world in which it's illegal, and you could go to jail, for informing children under 18 years of age that
homosexual people GASP they exist?!

How would you like to live in a world in which you could go to prison and be tortured for criticizing your government or
discussing religion on your blog?
I can hear you saying now, "but I don't live in Russia!" Yes, yes, we live in America, "the home of the free". Certainly we can just be happy that we have our freedom of speech here. We don't need to show support for freedom of speech abroad, right? Well... perhaps there were a lot of French people who thought something similar? When will al-Qaeda decide that one of your college professors needs to be silenced and place them on their "most wanted list"? And why couldn't that happen?
Salman Rushdie
only wrote a novel for the purpose of entertainment and suddenly Ayatollah Khomeini called for not only his assassination, but the assassination of anyone associated with the book's publication! You could find yourself a target of a terrorist attack just for being the guy who brought the coffee in a company that publishes fiction. If you're lucky, maybe you can convince the gunmen to switch to decaff.
I say this not to inspire fear, but rather, to inspire thought. Would you want to live in a world in which you could not express your opinions? If expressing your opinions means potentially fearing for your life, are you still willing to do that? And if you chose to stay silent, would it really protect you? You are however more likely to die from sugary food than from a terrorist gunman. Enter the War on Wonka! (I'm allowed to say that, because I have diabetes.)
I don't want to live in a world in which people cower in fear of the terrorists. I want to live in a world in which people, offensive or not, speak their mind!
---
I also spent a few minutes looking through the
#JeSuisCharlie
tag here on DA. Admittedly, there have been a lot of images posted to DA in support of Charlie, and I thought I'd share a few that caught my attention. I'll translate from French where I can, although my French is pretty rusty and it was never very good to begin with.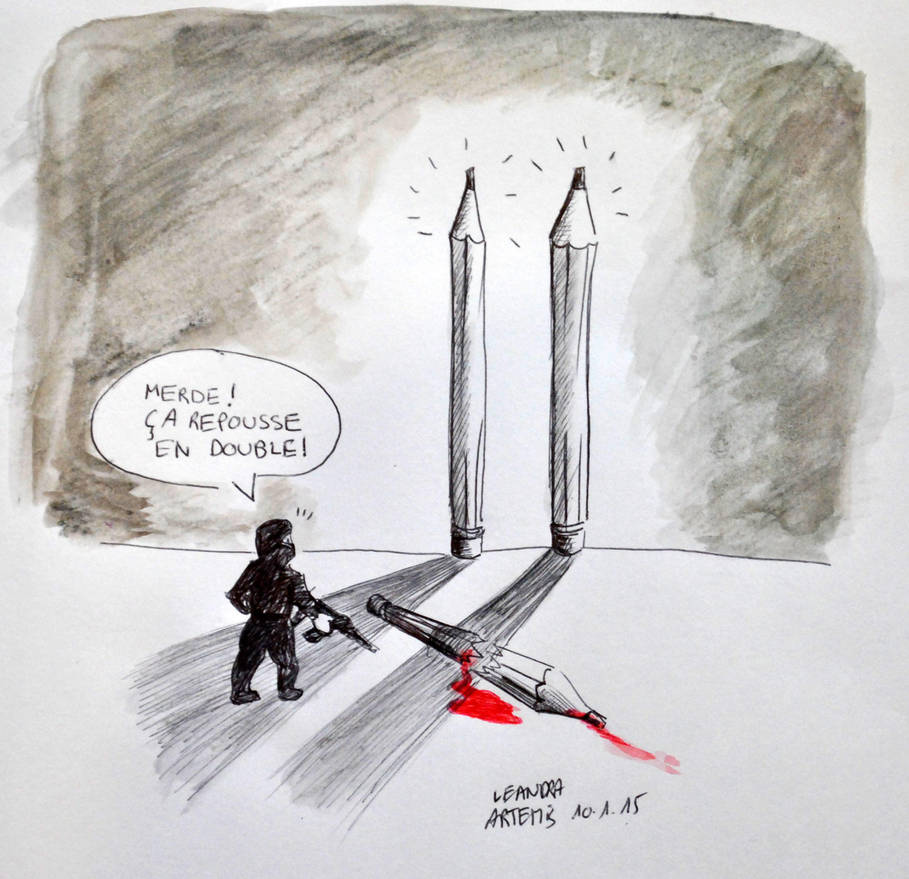 You don't really need this one translated, right? I mean... He's cursing that the one pencil he shot was replaced by two more like the hydra head. Seems like it's pretty obvious.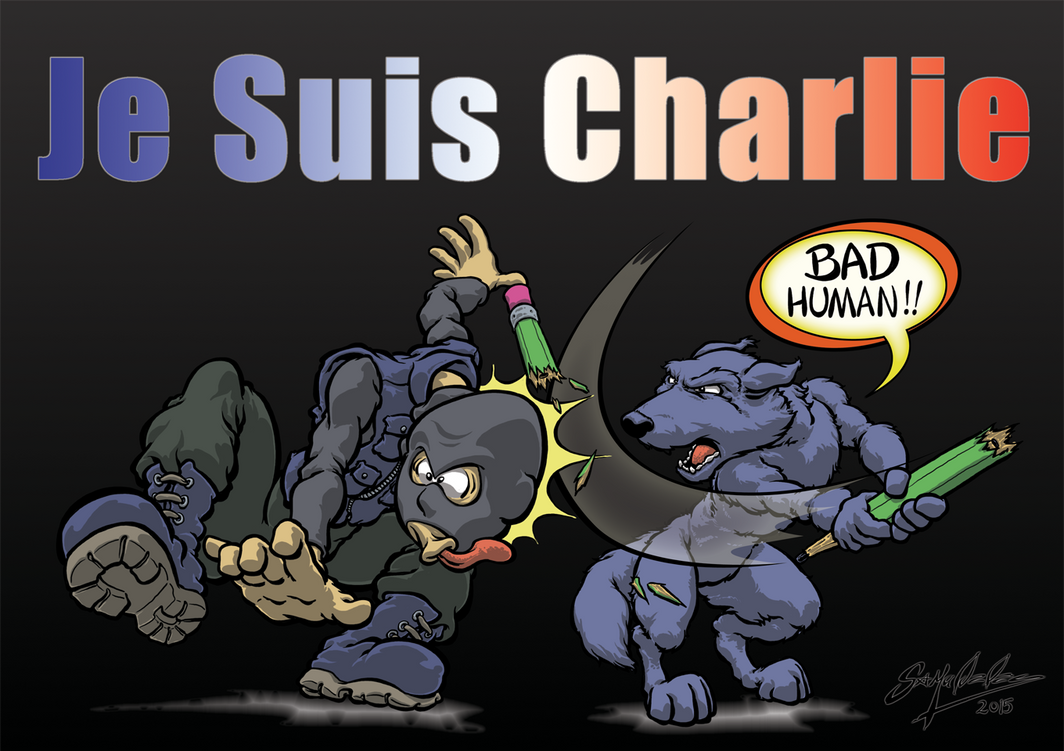 I just love this illustration.


I thought this was interesting ... It would say something totally different if he were facing the gun and I think I like it both ways for different reasons.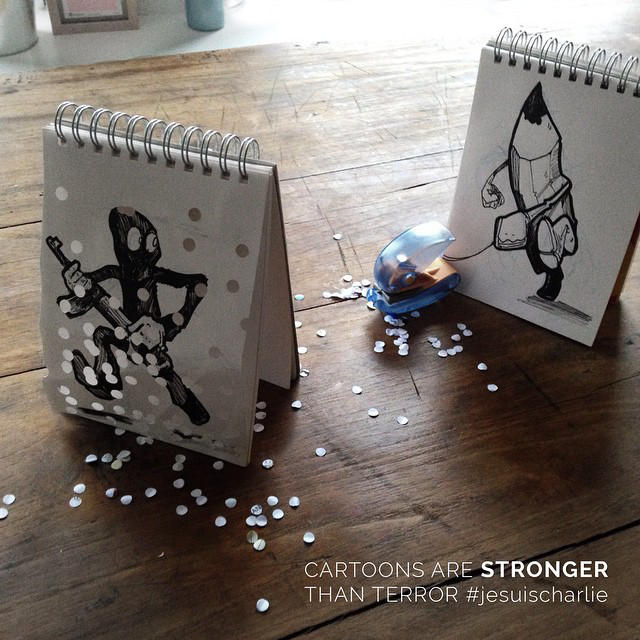 I really love this use of mixed media!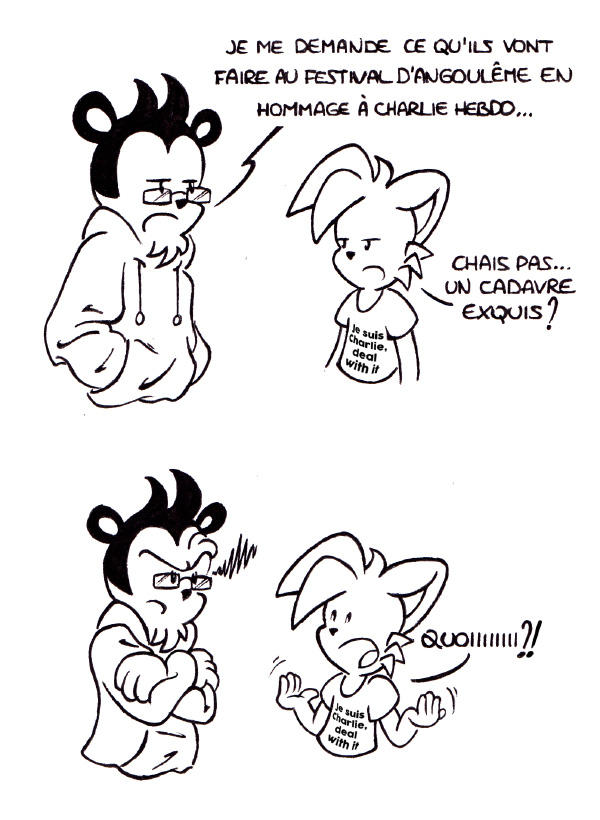 Neko translated this one in his artist comments. It's really just a pun, but I had the impression the Charlie cartoonists would have enjoyed it.

In case you're wondering, here's the explanation of
Exquisite Corpse.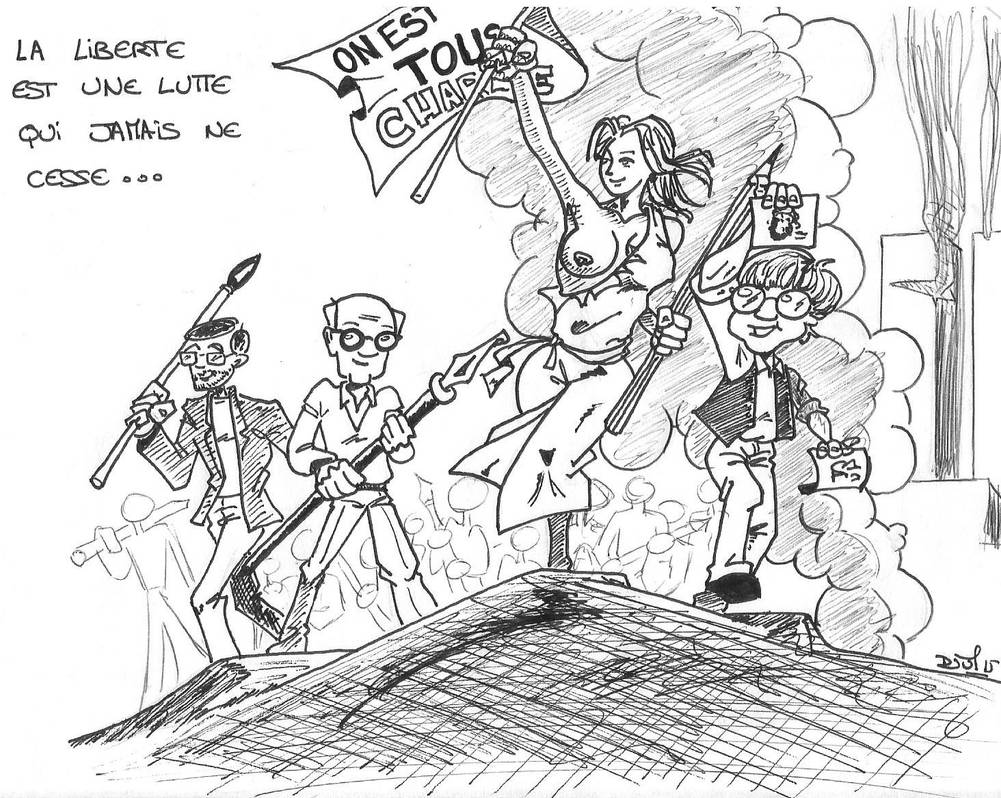 English: Freedom is a fight that never stops. We are all Charlie.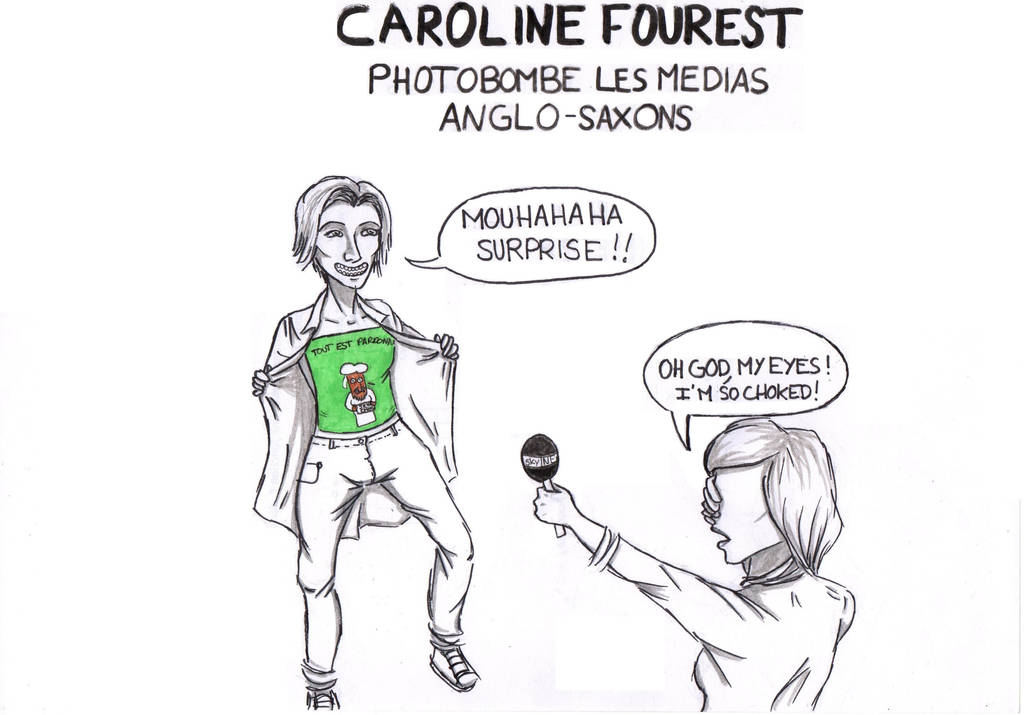 She's photobombing the news media with the image that the Charlie Hebdo offices were burned down over. (Correction: that's not the image the offices were burned down for -- that's the cartoon they published in response to the shooting, however, it's another image of Mohammed, so the news media would see it as carrying the same risk.) In case you noticed "choked" is misspelled because "ch" in French makes the soft sound we English speakers associate with "sh". It's supposed to be "shocked".
English: Caricature is witnessing democracy!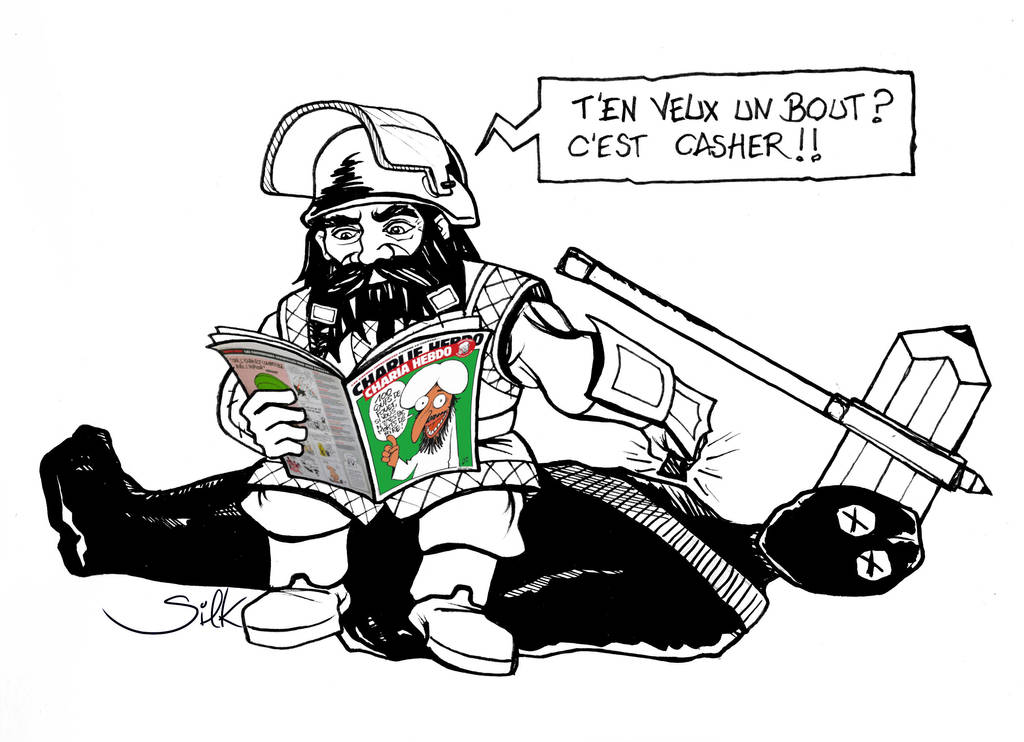 "Blame you a bit? It's hiding!" ... If my interpretation is correct, he's saying that blaming Charlie Hebdo for the attacks against them is a cowardly act - EDIT: apparently my translation was horribly wrong... thanks to
NekoAmine
for the proper translation, "Do you want some? It's kosher!"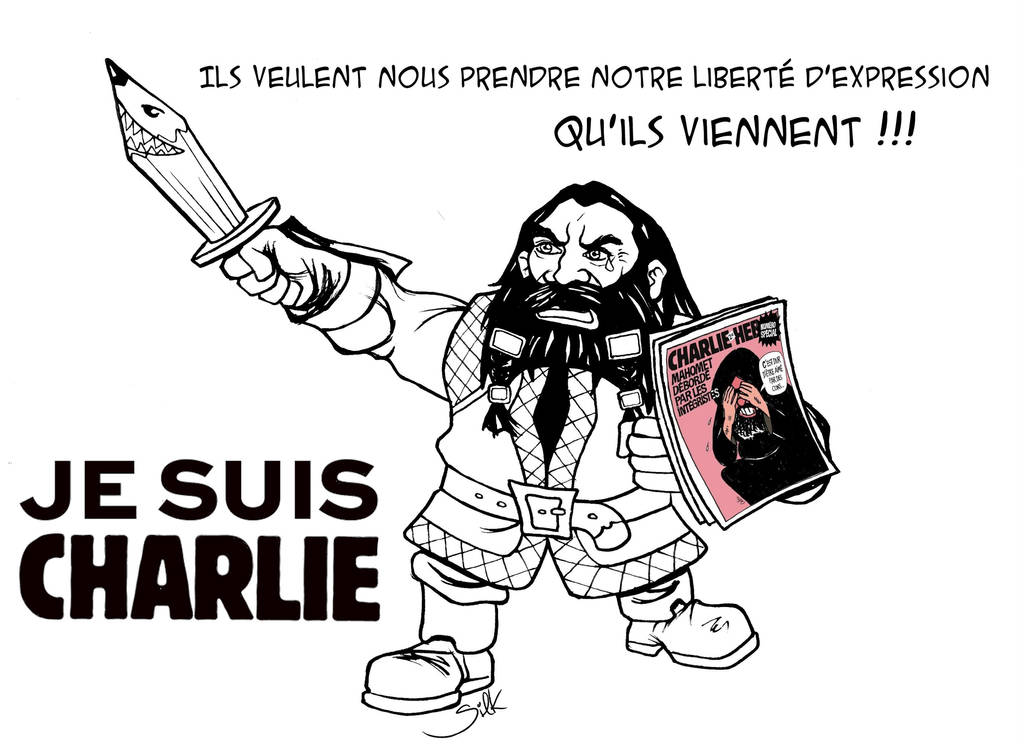 I like the use of the paper as a shield.
English: They want to take away our freedom of expression. Let them come!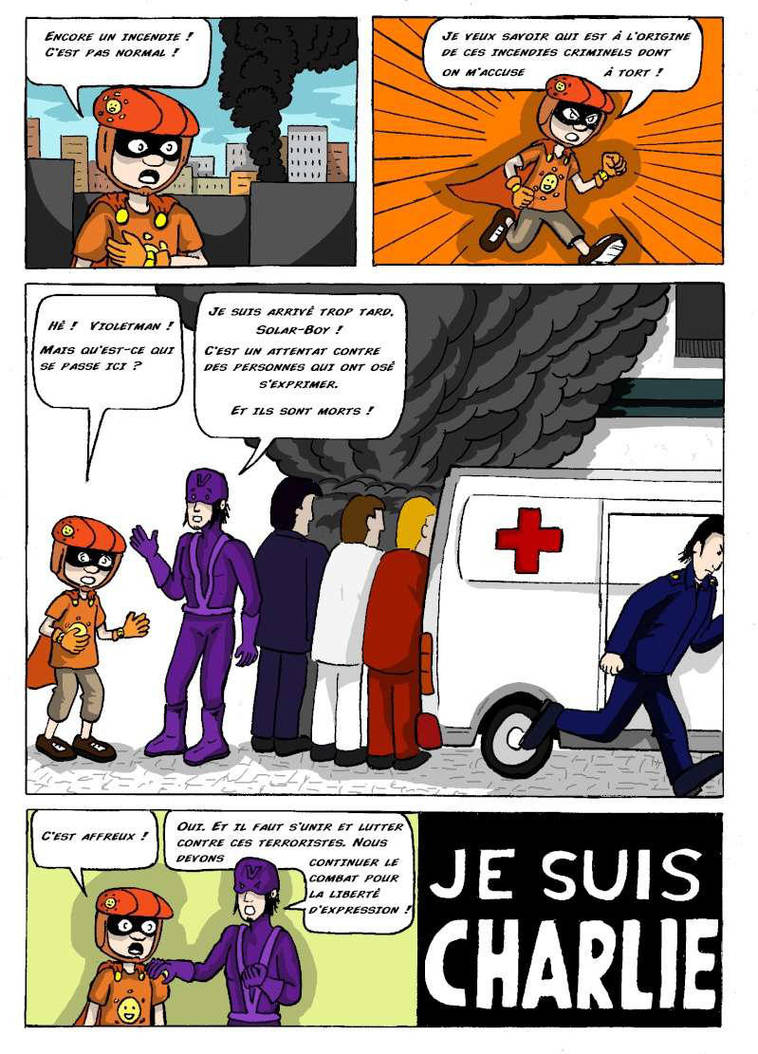 I translated this one in the comments.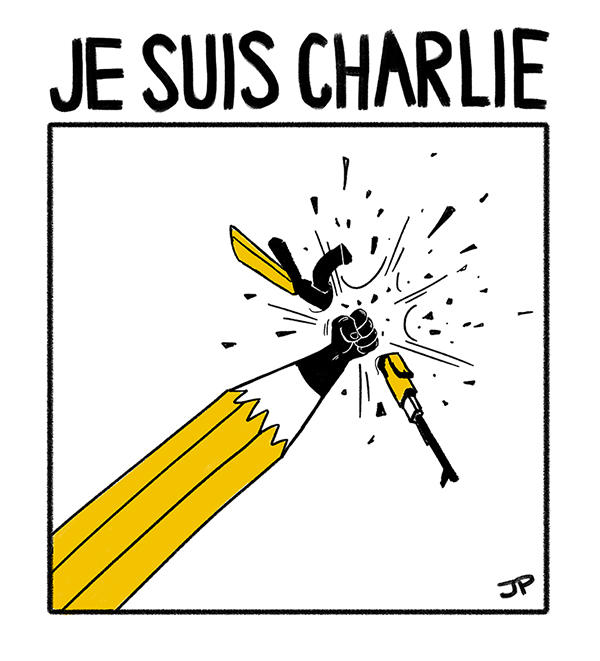 That's a Kalashnikov rifle obviously.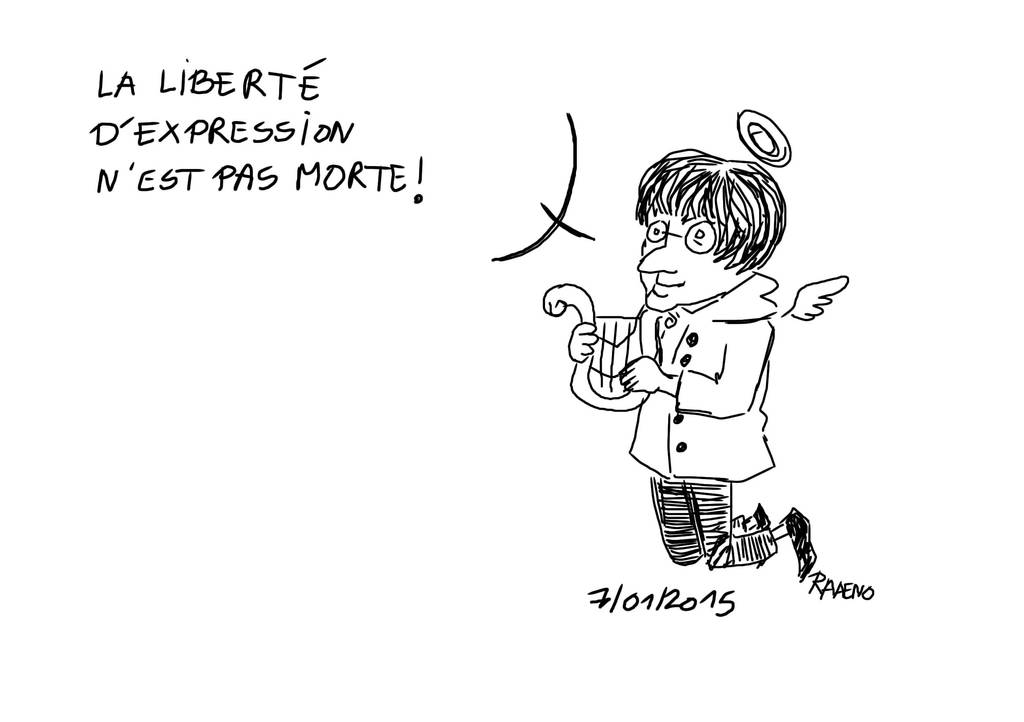 English: Freedom of expression is not dead! (I think I would have chosen "lives" which would be "
la liberté
d'expression
des
vies".
It's a caricature of the slain cartoonist, Jean Cabut, known as Cabu. There are a bunch of depictions of Cabu in particular as an angel. I picked this one for the text.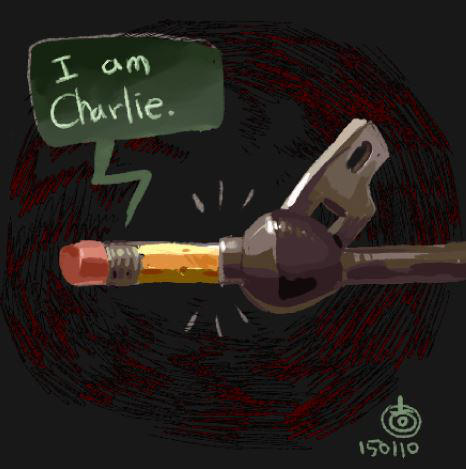 I'm pretty sure the pencil is jammed into the barrel of a gun here.
Apparently the Where's Waldo books are published with different names in various countries. In Britain he's called Wally and in France he's called Charlie.

It reads "Where isn't Charlie?" Note the gunmen in the back, saying "aaaand... shit." What I love about this one in particular is how it points out not only the spread of
#JeSuisCharlie
, but also that Charlie Hebdo was pretty invisible on the world-stage before the attack.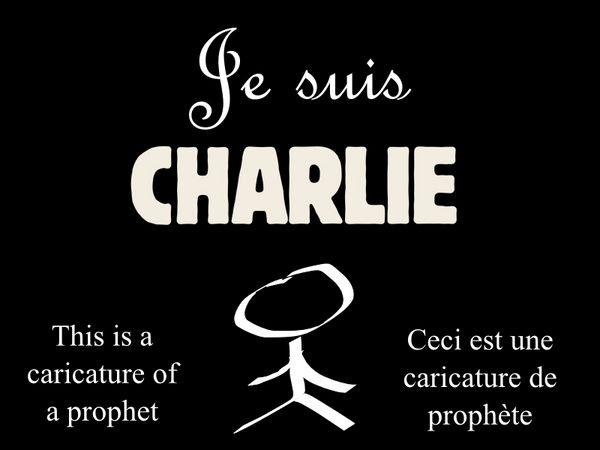 I think for anyone who's familiar with art history, this should conjure an image of the Belgian surrealist,
René Magritte, who labelled his The Treachery of Images in French. Instead of Magritte's "this is not a pipe", it reads in french on the right the same as in English on the left, "This is a caricature of a prophet". I probably would have gone with "this is not a prophet", but I think it gets the message across.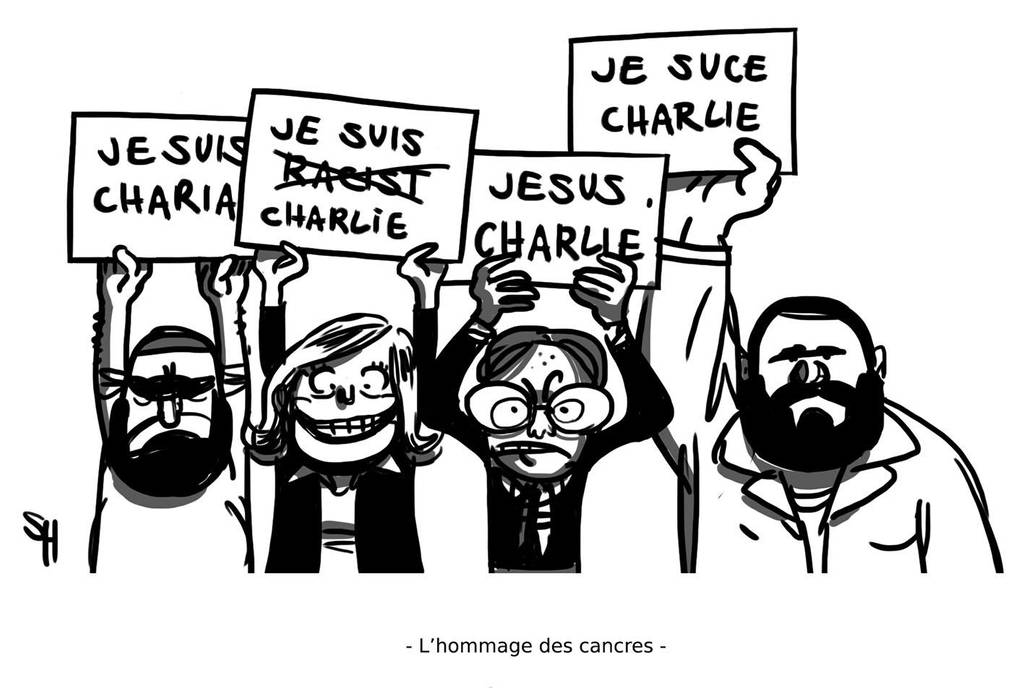 English: I am sharia (law - not written) - I am racist (crossed out) Charlie - Jesus, Charlie! (snicker) - I suck Charlie

The title at the bottom, "L'hommage des cancres" translates as "Tribute Dunces".
EDIT: Thanks to
Faol-bigbadwolf
for clarifying my translation.
Left to right:

She pointed out that "Je suis Charia" the same French pun that Charlie Hebdo used on their original cover page -- it's a pun in French because Arabic uses a different character set and what we translate in English to "Sharia" (as in "sharia law") using the Latin character set, they translate to "Charia" -- what's important is that this is how the sound is spelled in French and hence why "Charia" sounds like "Charlie". If you're an English speaker and not familiar with French, you might notice at this point that the diphthong "ch" which makes a hard sound in English instead makes the soft sound we associate with "sh" in French. So if you really want to be a snob about Charlie Hebdo, just remember to pronounce Charlie like
"Charlize Theron"
or like the Studio Exec, just say
"Je suis Charlize"
- she may be offended, but I think Charlie would enjoy that.

The woman is a caricature of an extreme conservative politician in France named
Marine Le Pen
(who
Faol-bigbadwolf
describes as "fascist"). You may have seen her
mentioned recently on the Daily Show,
(who seem to have shown her as a man). She decries illegal immigration into France and even wants to establish a moratorium on legal immigration to make it virtually impossible for foreigners to enter the country, because she doesn't want them receiving French social benefits like health care. If you're an American, you can imagine her as a female version of John McCain constantly shouting "finish the damn fence!" about our Mexican border, but expand that to include the Canadian border and an insistence that we need to make it even harder to get work or other visas. Writing "racist" and crossing it out would be a
Freudian slip
on her part.

Faol-bigbadwolf
says she believes the guy holding the "Jesus, Charlie" sign is supposed to be an extremist Christian. I knew "Jesus" to be a pun on "je suis", although I still think even if the guy is supposed to be an extremist, that some of the meaning is lost in translation for me personally

The last guy is a caricature of
Dieudonné,
a "politically incorrect humorist (but with a bad reputation)" who
Faol-bigbadwolf
says she thinks "is a jerk" and might have created this cartoon ... The phrase "I suck Charlie" doesn't translate very well to English, it's an insult, more like saying "suck my dick". You may have also
seen Dieudonné on the same Daily Show episode.
I think this particular Daily Show episode is pretty poignant, highlighting the slippery-slope problems I mentioned, since he was arrested following the event because of a Facebook post and that his comedy show was stopped by the government. I may have put a cop on surveilance to make sure he wasn't in contact with the shooters or people associated with the shooters, however, I thoroughly disagree with the other actions taken by the French government. I agree that anti-semitic rhetoric is shitty and people shouldn't choose to participate his shows or support him if he's going to do that (although it would be their right to choose that), I still believe that allowing him to express himself (to be offensive even) is the higher moral ground that we should all be committed to taking.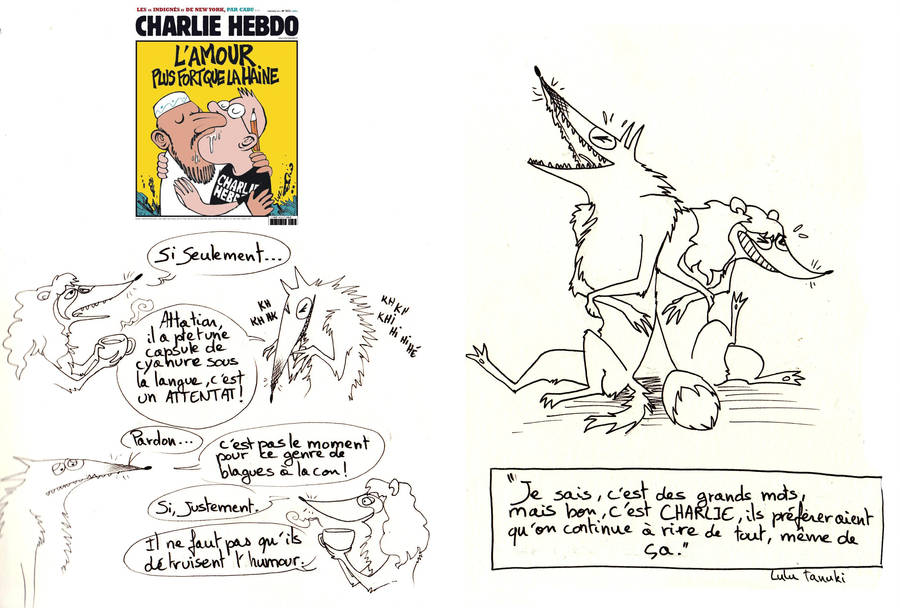 I didn't have time to translate Auriela's commentary (sorry), but the upper left corner is a Charlie Hebdo cartoon that reads "Love is stronger than hate", above what is obviously a picture of a Charlie Hebdo cartoonist(?) or supporter(?) tongue-wrestling with an imam.

That cover was made in response to their offices being burned to the ground in late 2011. - Also, thanks to Auriela for helping clarify several of my other translations!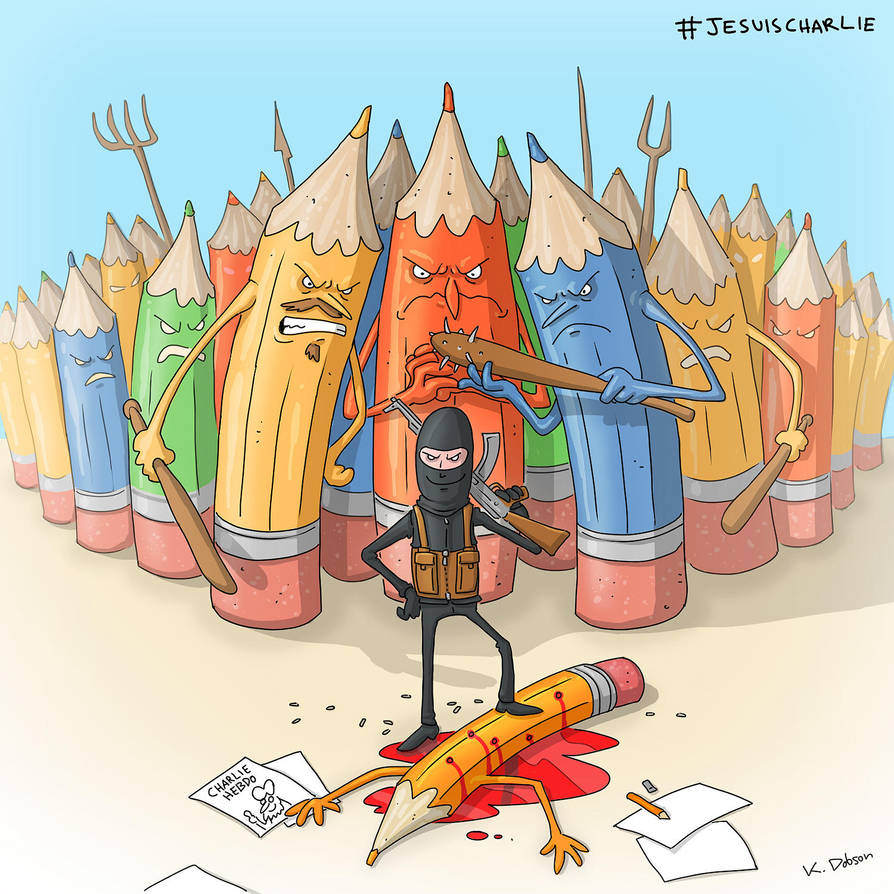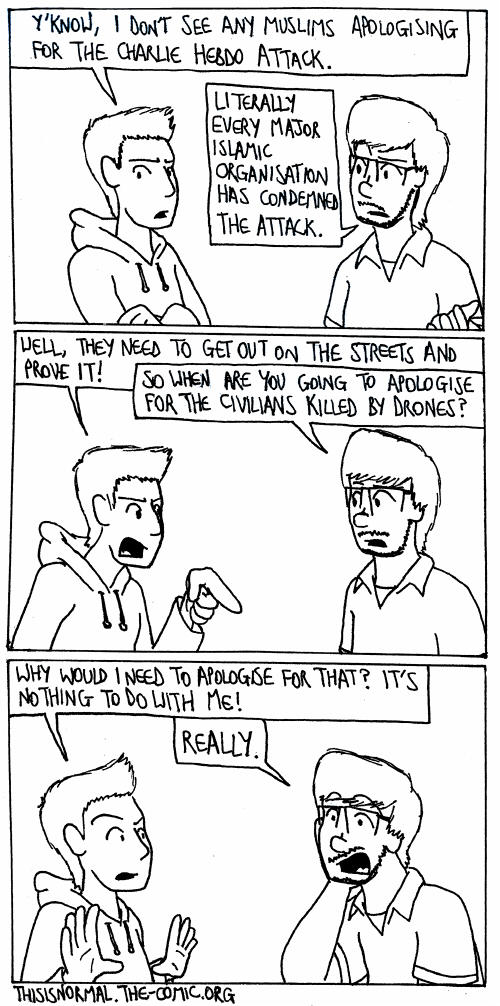 I wouldn't have gone with drones, since that's a government and not a religion, so I don't think it's a good analogy... but I still like this strip even if I would have chosen the Lord's Resistance Army or the IRA or possibly
Anders Breivik.
(Colbert Report)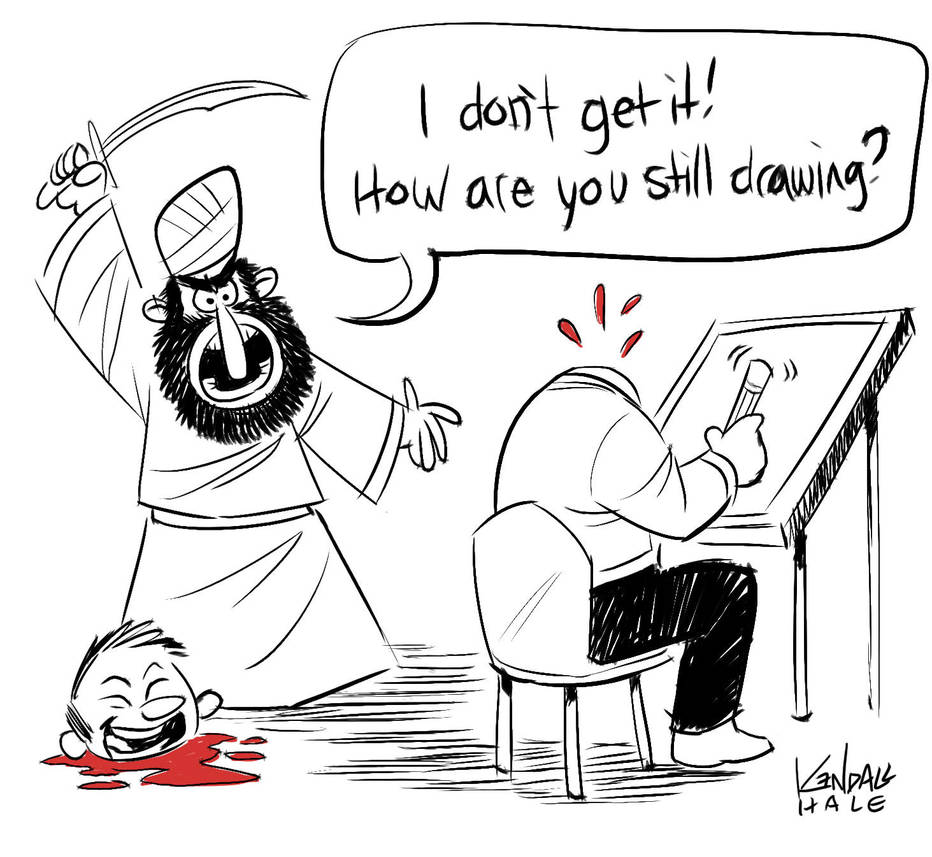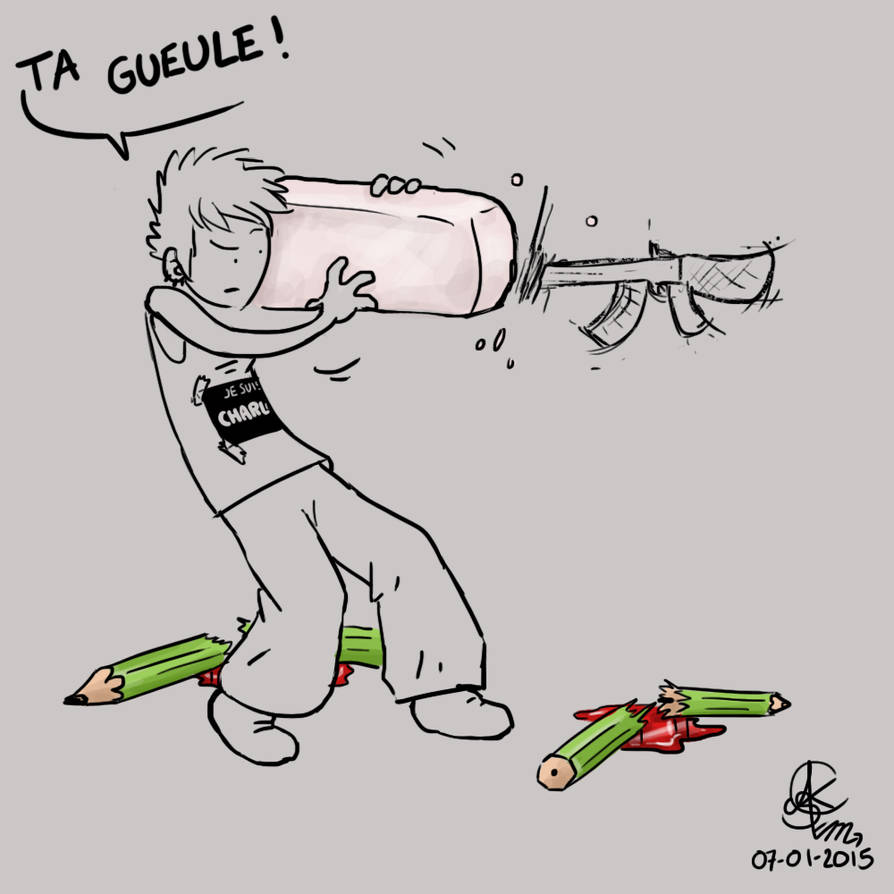 English: Shut your trap!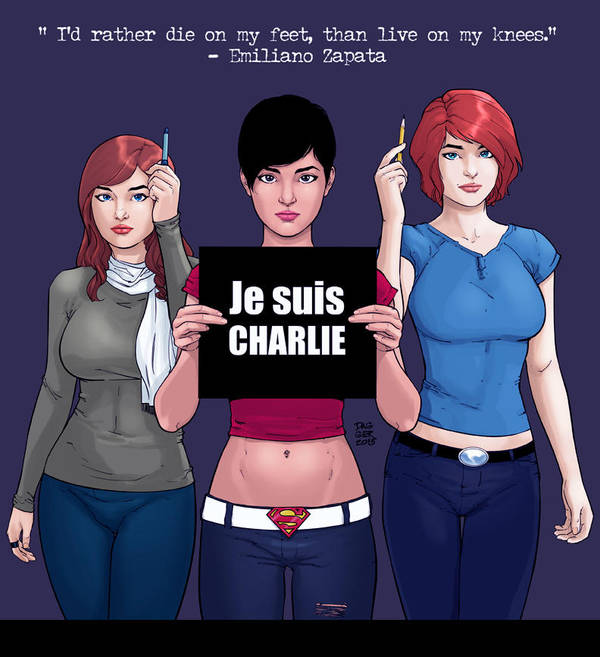 English: It must remain a safe weapon.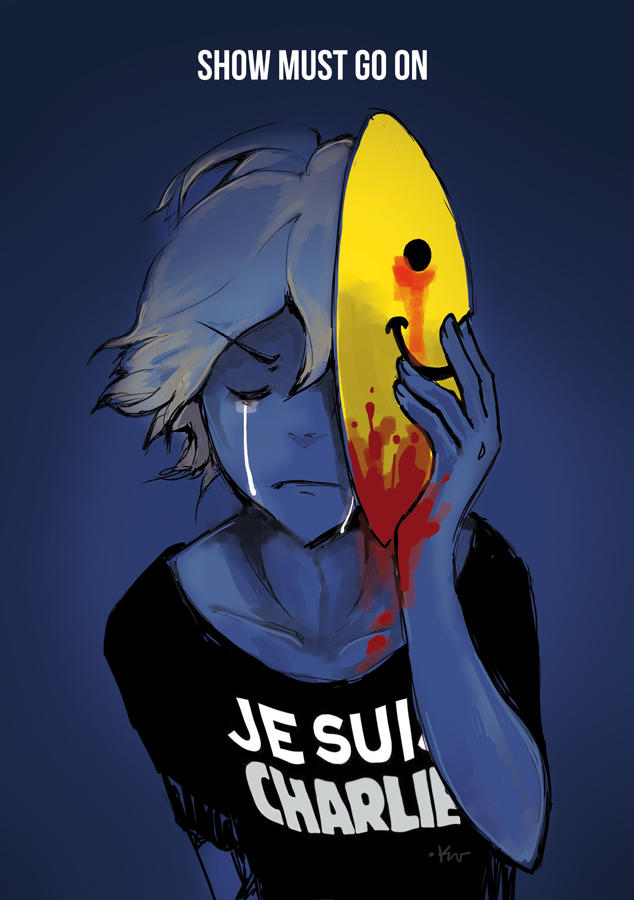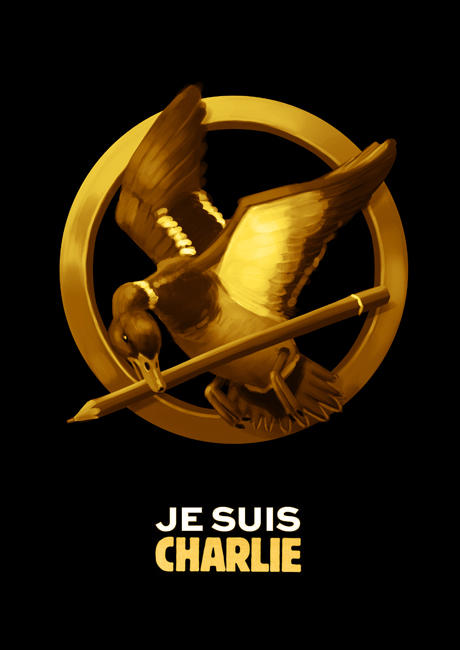 In France, small print papers like Charlie Hebdo are known as "un canard" (a duck - although I think Americans would apocryphally call it a "tabloid" - I think most of us Americans think "tabloid" means "a lack of journalistic quality", it actually describes the publication's smaller page size). This is the hunger games Mockingjay symbol with the duck and pencil as substitutes for the mockingjay (fictional bird) which holds an arrow in it's beak. Full disclosure, I've only seen the first movie and haven't read the books, but I'm lead to believe that it's a symbol of revolution and resistance in the Hunger Games trilogy. - thanks to
Faol-bigbadwolf
for clarifying my translation of this one and making it much more meaningful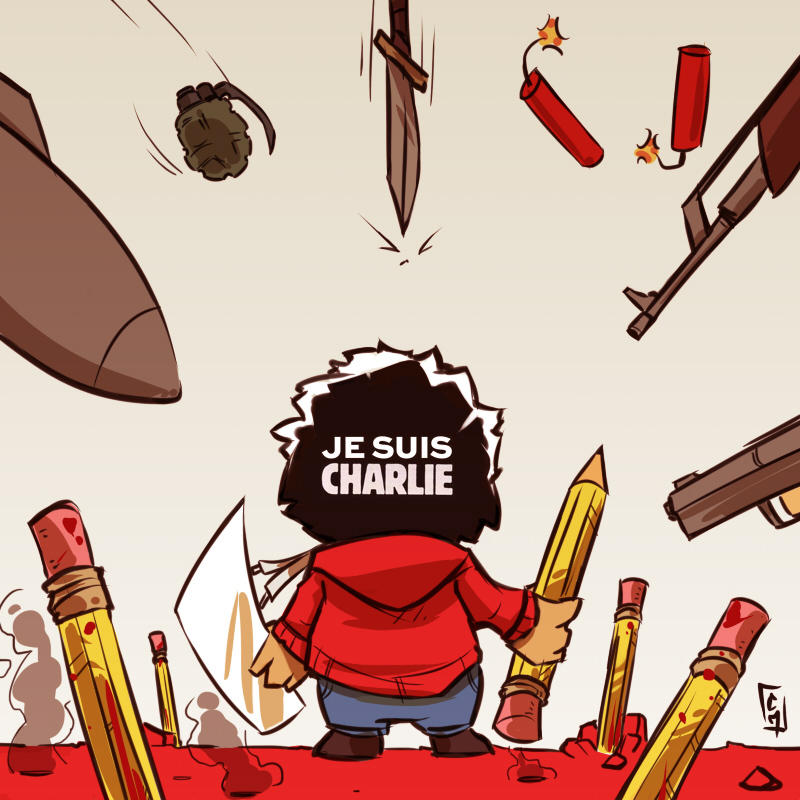 English: The New Heroes (In France, the movie Big Hero 6 was released with the title "Les Nouveaus Heros", so they're substituting the slain Charlie Hebdo cartoonists as the Big Hero 6 characters) - thanks to
Faol-bigbadwolf
for clarifying my translation of this one and making it much more meaningful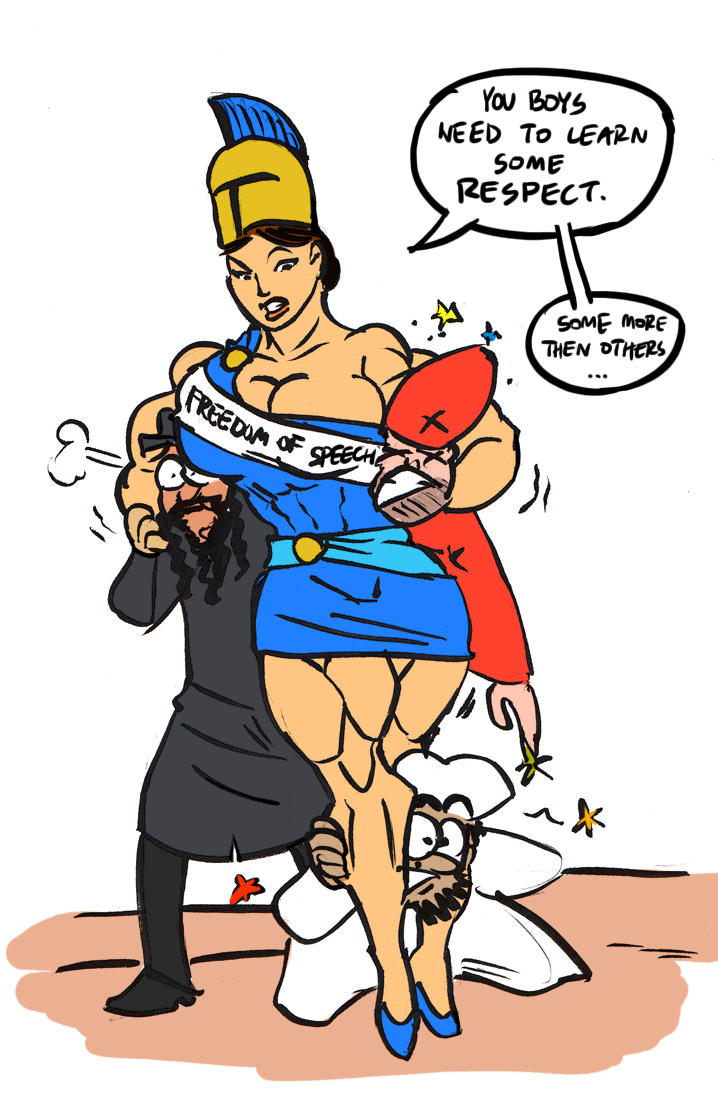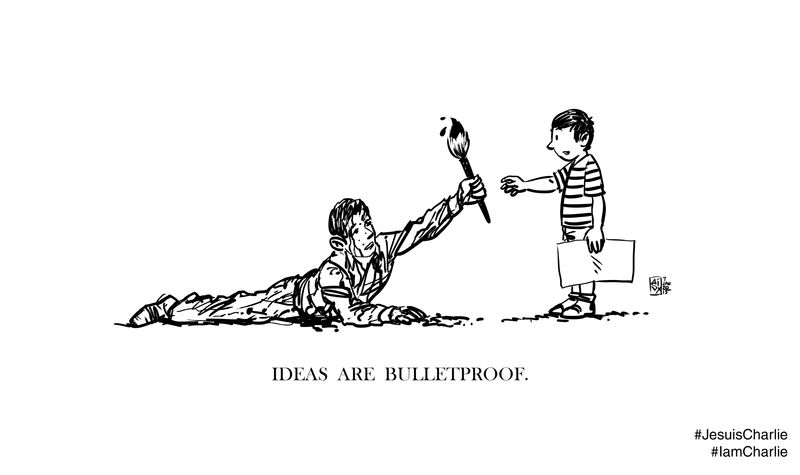 I love V for Vendetta.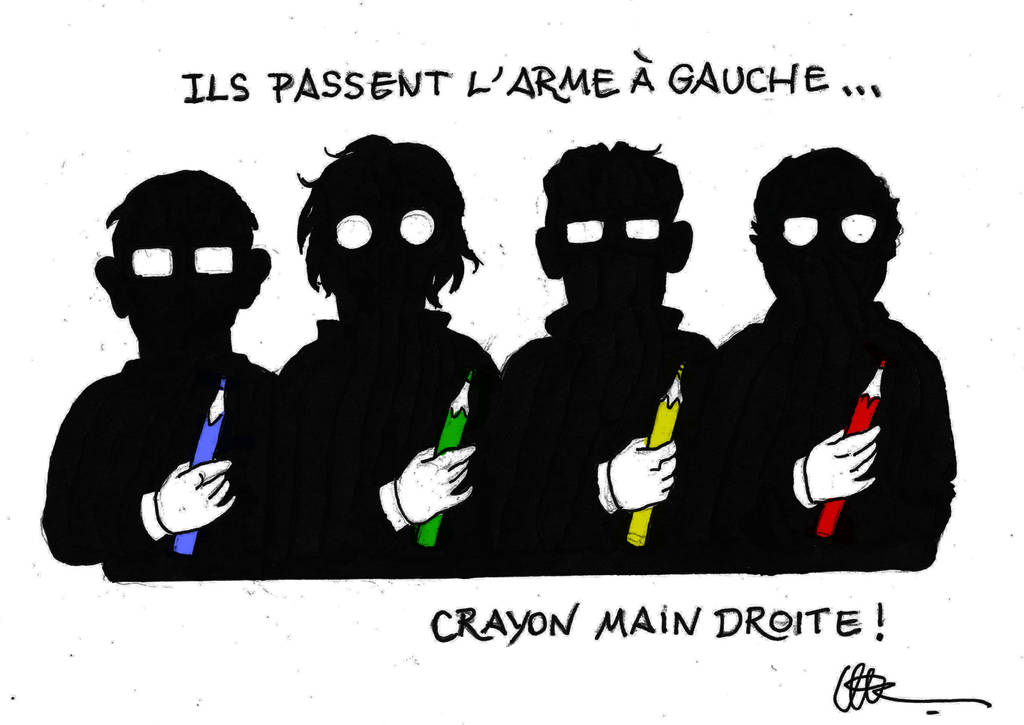 English: They fire the weapon left, pass the pencil right!
EDIT: Thanks to
NekoAmine
for a better translation. In french at the top, the phrase "ils passant l'arme a gauche" is a french expression that literally translated means something to the effect of "they move the weapon to the left side", but the meaning is akin to the English expression "kick the bucket", describing the cartoonists. The phrase at the bottom literally translates to "the pencil on the right hand", combined with the gesture of placing that hand over their hearts, like we do in the US during the pledge of allegiance (though the gesture isn't region-specific).
This one is Spanish - "I splashed us all"?
And here's mine if you haven't seen it.