Hey, Hooligans! This past week I published a new comic page, a new webcomic review, I finished my 2nd book (following the Kickstarter) and I got it off to the printer! (Waiting on delivery now.)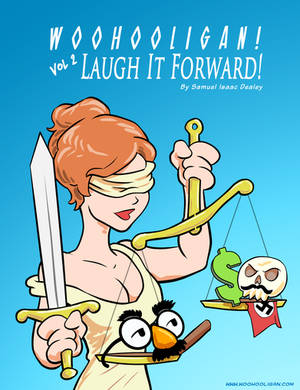 This morning I got a new comment on this old journal I wrote in 2011 about
how to earn more commissions.
In the seven years since then I've not really pursued commissions for myself, but it's still really nice to hear people enjoy the article.

Melinda McGill
is a Hungarian illustrator who loves sci-fi and fantasy, and joined DeviantArt just two months ago, so she's just a babe.

Beautiful work!

She asks:
I don't know how to get started, I have my skills, I used to work on commissions full time previously, but I still feel a bit insecure. I made the choice to stop doing digital art, I enjoy traditional art so muck better, I wish I could earn a living drawing and painting exclusively that way. Is that possible? Do you have any advice where to start? What goals to work at, what opportunities to take, what doors to knock on?
I wrote this out in a reply to her, but it occurred to me that it might be useful for a lot of others as well, so I decided to make this journal for all of you, to share what I've learned in the last few years.

Is it possible to earn a living making traditional art commissions? I'm pretty sure I've seen people doing it, so I'd say yes. Personally I've opted to focus on making books, prints and similar products that I can sell to multiple fans -- that way what might have been a fairly expensive commission can be enjoyed by a bunch of fans and it becomes very inexpensive for them each individually. Just something to consider as you think about how you want to earn your living.

I set a goal to replace my disability income during 2016 and fell flat on my face.

By the end of the year I had achieved 4% of that goal. It was really hard on me, but I didn't give up, and I've found some really great resources since then. (Five years after the original commission journal.)
My best advice is start a newsletter. It's going to be awkward and uncomfortable at first -- you won't know what to say, you'll be afraid of rejection, etc. But if you push yourself through that awkward learning curve and learn to talk to your newsletter subscribers like any other friend, it will help you grow your audience. Set a schedule for it. I do mine every week -- you might choose 2-weeks or monthly -- however you prefer, just so you know when your next one will go out, and be consistent sending it out.

Most of your newsletters should be providing something to your subscribers, like in my case mostly jokes. I also give links to funny, important or inspiring news... I share a fair amount of science news. After having developed a rapport with them and proved that you're giving them good stuff, then they'll appreciate when you occasionally say "hey, I'm offering commissions" or whatever it is you need to sell, because they know you and they know you didn't just get them on your list to constantly advertise to them.

Speaking of getting people on your list... also look up
how to create a landing page
for your newsletter signup. I had a newsletter for a year before I figured this out (or that I should send consistent updates). Several of the mailing list providers like
MailChimp
offer some basic landing page features, and there are also third-party landing page providers like
LeadPages
, or you can design it yourself on your own site.
You should also have your signup form on your personal website or your blog (
Sumo
has some tools to help with that), but make a separate landing page you can send people to in your email (in your signature is great), or written on a cocktail napkin, etc. A page that tells visitors what they're going to get after they enter their name and email address. Offer them something extra they'll enjoy for free -- a tutorial, a book you made, etc. (mine is my first ebook of cartoons) and let them know you'll send them art or tips or whatever (in my case jokes) in each newsletter and that they can unsubscribe any time.
My landing page is here in case you're curious (it's not perfect):

Try out different landing pages periodically to see if you can improve on it -- try and find a way to measure the effectiveness of the page, like, how many people sign up? 1% of visitors? 5%? That's a huge gap by the way, and I wouldn't expect more than 5% -- I've heard of 10%, but that's exceptionally rare.

I'm also enrolled in several marketing courses from Tyler James (Vogel) who produces the
ComixLaunch podcast
, which is about publishing comics through Kickstarter. He also has a
ListLaunch course
that's specifically about building your mailing list / newsletter. The podcast and the courses are both very good.

If you're like me, that $400 price tag was the reason I never enrolled before. The reason I did eventually enroll is because he changed his pricing and he offered a deal at the time I could get in for $40/mo (and because it was new, he waived the setup fee). You can see that in
the enrollment options for ComixLaunch
... I'm not finding it for ListLaunch, so you might want to contact Tyler about that. You can also
find him on Twitter.
Russell also offers at least one premium course (like the courses I'm in with Tyler James), but I haven't enrolled in his course yet, so I can't really vouch for it/them -- but I assume it's very good, like the value I've gotten from his book and other resources.

Okay, I feel like I've given you a lot to think about. Feel free to ask questions in the comments, or send me a note if there's anything else I might be able to help you with!

Sam