please only comment here on the appropriate comments.
eg, reply to breeding comment if looking to breed one of your wolgans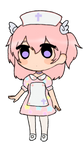 Welcome, My name is Maki and i will be your Vet today.
how can i help you?
Breeding information:

1 Pup per litter via natural birth, on very rare cases, it will be 2.

In Extreme rare cases they can be identical

Identical born Twin pups offspring will have a higher chance rate of having a mutated pup.

Wolgans must have similar personality to breed, detailed compatibility listed below.

There are items listed here that can be used in breeding:
fav.me/dcmcjla

Inbreeding has a higher chance of getting a mutation, but it is rare and frowned upon, inbreed pups cost much less regardless of rarity, mutations or not.

You can breed inbred pups and make a family tree, keep breeding until the inbred pup disappear off the gen tree and the mutations may still be present.

Pups take 3 weeks to reach adulthood (3 weeks after purchase/breeding date)

Pups can only be sold for the amount that was quoted to you on their birth, as price is and always will be based on the rarity.


Inbreeding:
Inbreeding is an available option for wolgans.
Pros:
~high mutation chance
Cons:
~Decreases value of offspring by 30%
~High Chance of Infertile pups
Personality Compatibility:

Blue is compatible with blue.

Red is compatible with red.

Green is compatible with both.

Shy

Friendly

Hyper

Energetic

Loyal

Awkward

Timid

Antisocial

Lone Wolf

Tame

Neutral

Lazy

Care free

Aggressive

Mean

Stubborn

Selfish

Untamed

Hot Headed
Breeding Cost:
If You own mom and dad = $8
If using stud option = Stud fee + $4
what the price covers:
you will get an art of your new pup on the pup base seen here: -WIP-
you will also get an updated family tree + a Family tree for pup and a list of traits your new pup posses.