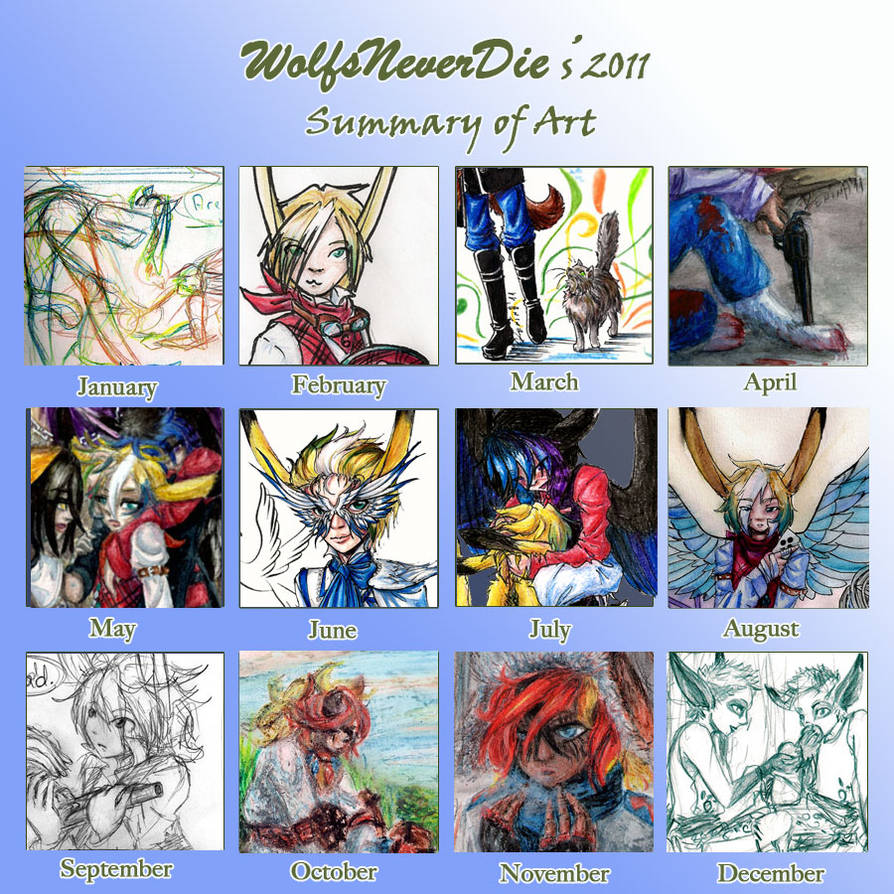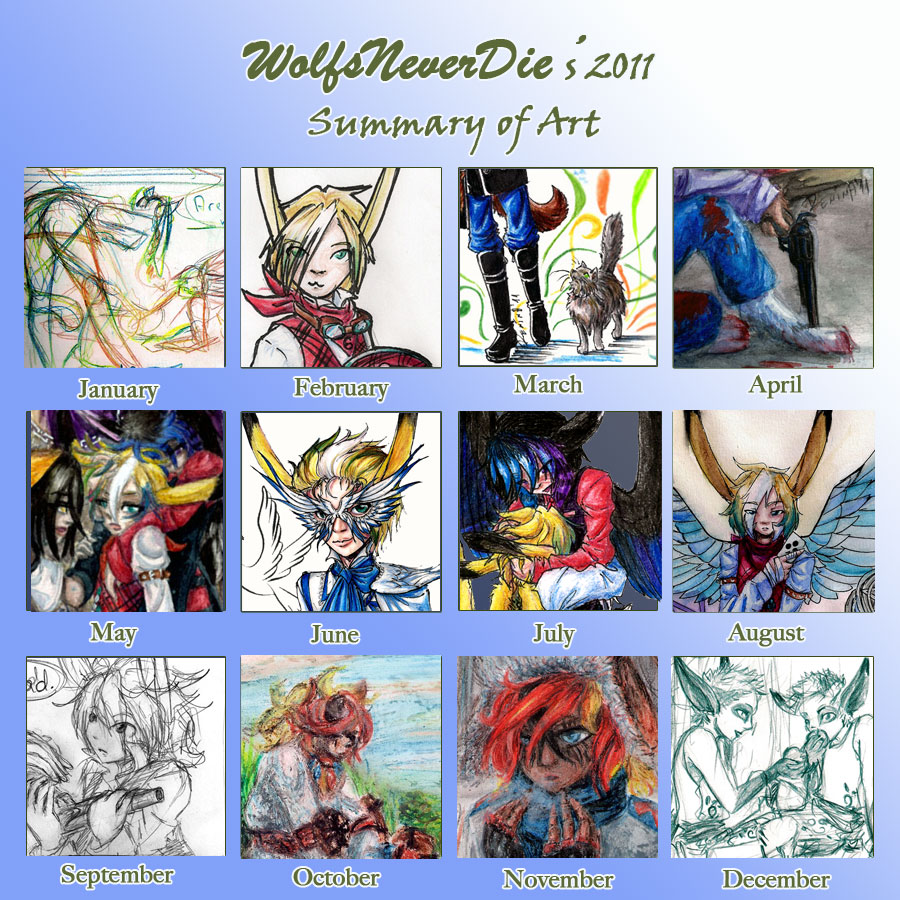 Watch
New year, time to look back on what have done last year /o3o/ Enjoy my art summary meme XD didn't do one last year as didn't had anything to show at some moths, so will do one now XD
Short summary:

January: Drew almost nothing =w='' sketched a lot of drafts for not yet fully started comics XD Enjoy the sneak peek XD

February: Found some fun RP groups. Cinnamon!
[link]

March: decided on a fresh start and stop sketching so much Cinnamon =w='' New ID!
[link]

April: decided to finish a piece and reuse a medium i hadn't used in some time: watercolors. "Knocking on heaven's door" =w=~

May: Continuing to RP, draw rp characters and playing with watercolours XD "Connected"

June: less drawing, more role-playing and summer working =w='' Masquerade outfit for Cinnamon XD
[link]

July: A lot more of summer works and less time for art OwO'' Still rp'ing occassionaly >w>'' Second piece of wings series: Guardian angel.

August: And here comes Cinnamon and watercolours again XD cover for a short comics staring Cinnamon and his twisted side - Mace =w=

September: school restarts, less time to draw >w>'' sketching silly things like pirate comics XD
[link]

October: found in shop a 12 set box of oil-pastels. Random buy, needed to be tried out! Neboysa on the fields "Can you hear the wind..."

November: Winter coming, time's getting cold. In sudden idea decided to draw winter Neboysa. With oil-pastels....

December: School caught me =w='' needed to finish stuff for it much.. Still sketched a lot XD Deer boys relaxing~
[link]
Conclusions:

I have drawn a lot of Cinnamon, Neboysa and other role-play group characters >w>'' Maybe should concentrate on a few my personal projects more... Doubtfully it will happen, but will see how this year goes.

I might have advanced a little bit in my style and anatomy and other things... Possibly.... Hard to tell =w='' Not grown much XD Though i have tried and re-learned a few new mediums i will continue to use occasionally OwO (watercolors, oil-pastels, inks...) and i hope to try out and re-learn some more in this year too XD

I should draw more =w='''' ....
Characters belongs to me except a few (in credits of pictures)
Template base
[link]
(with a few edits =w='')
Feel free to share your opinion XD or ask for details >w>''

I see that 2011 was a very artistic year for you! You made great improvement... I wish that 2012 will be as well...

Reply

Yes it was >w< I drew a lot and learned a few new things and, i guess, developed my skills more from the previous years.
And this year will be artistic too >w< At least will definately improve digital field as friend sent me a graphic tablet.
Thank you~

Reply

So much improvment *0* oh, pastel-master... //bows//

january comes from a comic, or just a doodle? O.o
Reply

Thank you >w<'' No need to bow though XD

January is comics draft >w>'''
Reply

fffgsdfdgadg ;A; why so talented... sdfsdaf amg so pretttyyyy you've been getting so much better > u < <333
Reply

Pfff >w< Thank you >w< And i haven't been getting better by much, i believe XD But thank you =w=~
It's lots of years of drawing XD
Reply

Look at that improvement! ;w; Well done, Wolfs <3

And yes, I agree slightly, I would like to see some characters from your personal projects more, not just from RP groups ;3;
Reply

There's not much improvement XD though Cinnamon does look slighlty better in newer pieces XD Thank you~

And that too =w='' Only January, March and April in this meme is something from my own not RP groups OTL 3 from 12... while Cinn takes up most of the rest XD
Reply