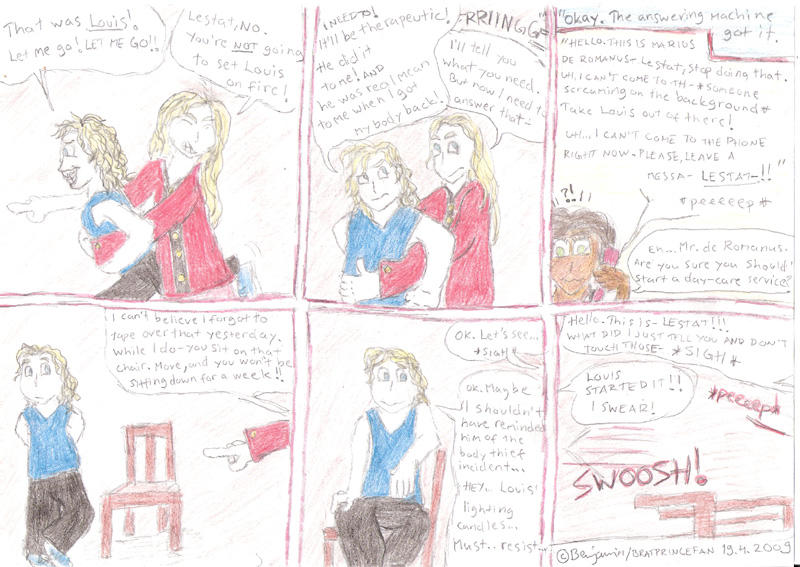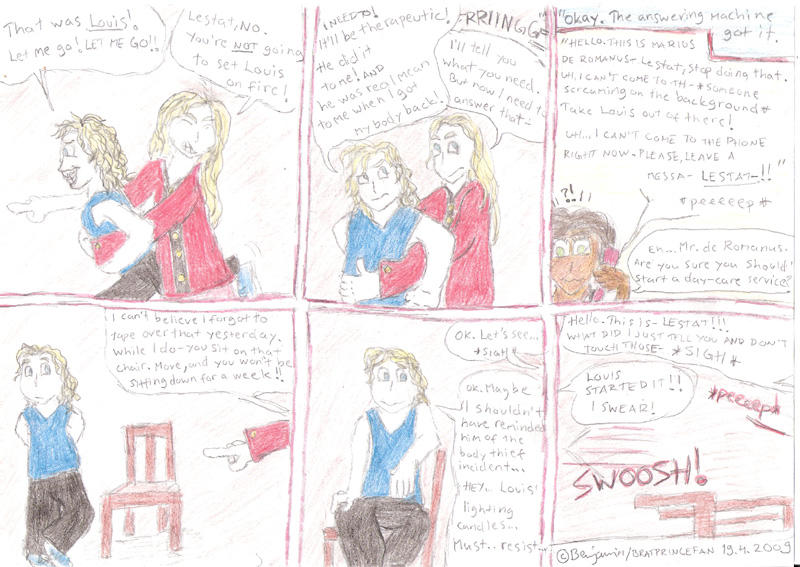 // Originally uploaded on my old account BratPrinceFan in 2009. I haven't used that account for ages. You can find my moving-out announcement on its index page. Re-uploading these Lestat & Marius comics here in case I get inspired to draw some more. //
First of all; I know - WAY too much of text content and the truth is I did wish to put all this into a fanfiction story but since it's prohibited this was the only way to publish this little vision.
And then - Marius's first answering machine message is from Garfield - I just immideatly got Marius, Lestat and Louis into my mind when I heard it - and I just changed the names. Then all of this began to form in my mind. And for the general this could be alias "Lestat, the little imp Vol. 2"
The text clarifications are below.
// The Vampire Chronicles, Lestat, Marius and Louis belong to Anne Rice. The art is mine.
I make no money with any art.
1: Lestat:
That was Louis! Let me go! LET ME GO!!
Marius:
Lestat, NO. You're NOT going to set Louis on fire!
2. Lestat:
I NEED TO! It'd be therapeutic! He did it to me! AND he was real mean to me after I got my body back!
[RRRIIINGG]
Marius:
I'll tell you what you need. But now I need to answer that-
3: Marius (off-screen:
Okay. The answering machine got it.
On the answering machine:
"Hello. This is Marius de Romanus-
Lestat, stop doing that.
Uh, I can't come to th-
*someone screaming on the backcground* Take Louis out of there!
Um… I can't come to the phone right now. Pleas leave a messa-
LESTAT-!!
*peeeeeep*"
The caller:
O__O Eh… Mr. de Romanus. Are you sure you should start a day-care service?
4. Marius:
I can't believe I forgot to tape over that yesterday. While I do – you sit on that chair. Move, and you won't be sitting down for a week!!
5. Marius:
Ok. Let's see… *sigh*
Lestat:
Ok. Maybe I shouldn't have reminded him of the body thief incident… HEY… Louis is lighting candles… Must….resist…
6. Lestat:
*SWOOSH!!*
Marius:
Hello. This is- LESTAT!!! What did I just tell you and don't touch those- *SIGH* *peeeeeeeep*
Lestat:
Louis started it!! I swear!!
*** The last are actually all on caps as for them really yelling to each others, I just don't like using caps too much on computer.
THE SECRET OF ETERNITY - LESTAT & MARIUS FAN SITE
[link]
COPYRIGHT DISCLAIMER: I don't own The Vampire Chronicles, Lestat and Marius, but they belong to Anne Rice. I don't own the first answering machine message content but it belongs to Jim Davis (but names in the message were changed.) This is non-profit fan art for entertainment purposes only. No copyright infringement intended.
Copyright Disclaimer Under Section 107 of the Copyright Act 1976, allowance is made for "fair use". Fair use is a use permitted by copyright statute that might otherwise be infringing. Non-profit, educational or personal use tips the balance in favor of fair use.