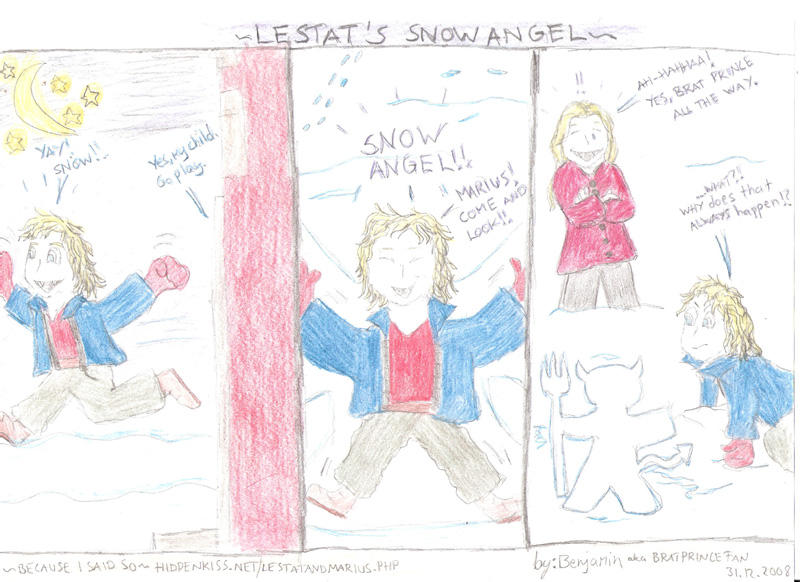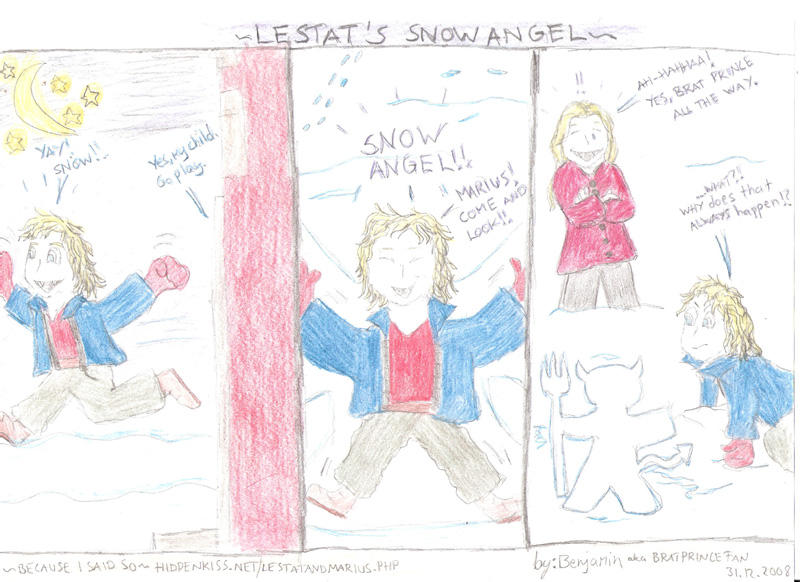 Watch
// Originally uploaded on my old account BratPrinceFan in 2009. I haven't used that account for ages. You can find my moving-out announcement on its index page. Re-uploading these Lestat & Marius comics here in case I get inspired to draw some more. //
I could not resist this - though I usually prefer drawing my very own ideas. This idea I got from a Simpsons episode that i saw long ago, where Homer tried to make a snow angel and it turned out in a shape of a snow devil. I just think it fits Lestat perfectly. Heck, I had too much fun drawing this!!! I hope you enjoy, again.
The text clarifications:
1: Lestat:
YAY! SNOW!!
Marius:
Yes, my child. Go play.
2: Lestat:
SNOW ANGEL! MARIUS! COME AND LOOK!
3: Lestat:
…What?! WHY does that ALWAYS happen?!
Marius:
Ah-hahhhaa! Yes, Brat Prince all the way.
THE SECRET OF ETERNITY - LESTAT & MARIUS FAN SITE
[link]
COPYRIGHT DISCLAIMER: I don't own The Vampire Chronicles, Lestat and Marius, but they belong to Anne Rice. I don't own the concept/events in this comic strip but they belong to whoever animated that bit of that The Simpsons episode. This is non-profit fan art for entertainment purposes only. No copyright infringement intended.
Copyright Disclaimer Under Section 107 of the Copyright Act 1976, allowance is made for "fair use". Fair use is a use permitted by copyright statute that might otherwise be infringing. Non-profit, educational or personal use tips the balance in favor of fair use.