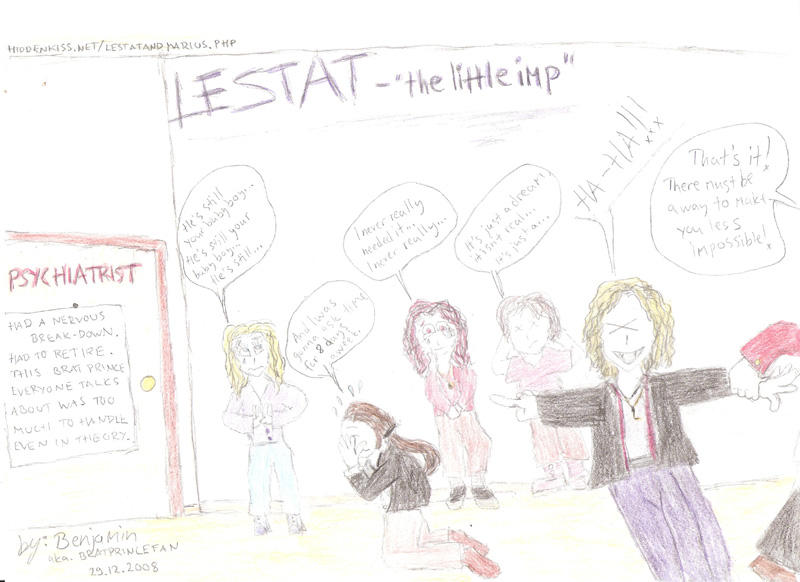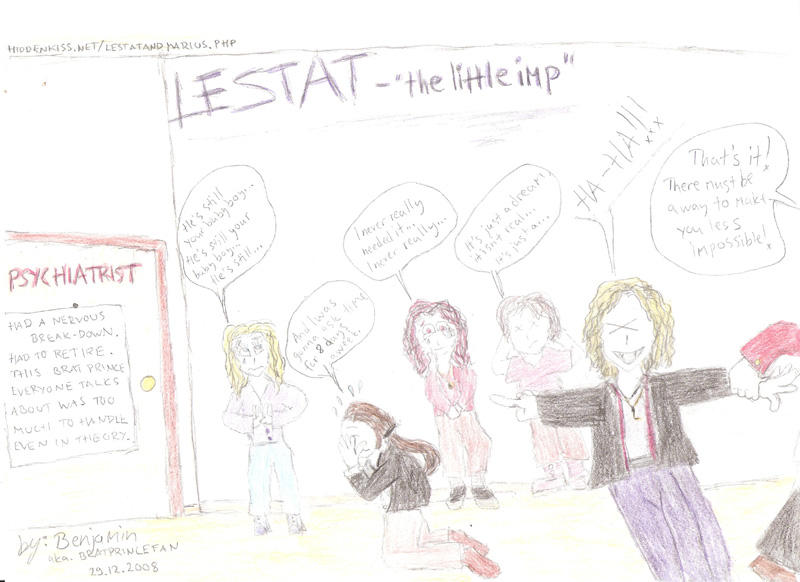 Watch
// Originally uploaded on my old account BratPrinceFan in 2009. I haven't used that account for ages. You can find my moving-out announcement on its index page. Re-uploading these Lestat & Marius comics here in case I get inspired to draw some more. //
Me and my friend have been joking about all the characters ending up going to a psychiatrist because of Lestat, so this was inspired by those discussions, only, i took it a step further.
I know David's way too young here but I couldn't draw an old man back then.
In case you can't read something from my handwriting:
The psychiatrist's note:
Had a nerveous break-down. had to retire. This Brat Prince everyone talks about was too much to handle even in theory.
Gabrielle:
He's still your baby boy... he's still your baby boy... He's still...
Louis:
And I was gonna ask time for 8 days a week.
Armand:
I never really needed it... I never really...
David:
It's just a dream... It isn't real... It's just a...
Lestat:
HA-HA!!!
Marius:
That's it! There must be a way to make you less impossible!
THE SECRET OF ETERNITY - LESTAT & MARIUS FAN SITE
[link]
COPYRIGHT DISCLAIMER: I don't own The Vampire Chronicles, Lestat, Marius, Louis, Gabrielle, Armand and David, but they belong to Anne Rice. This is non-profit fan art for entertainment purposes only. No copyright infringement intended.
Copyright Disclaimer Under Section 107 of the Copyright Act 1976, allowance is made for "fair use". Fair use is a use permitted by copyright statute that might otherwise be infringing. Non-profit, educational or personal use tips the balance in favor of fair use.