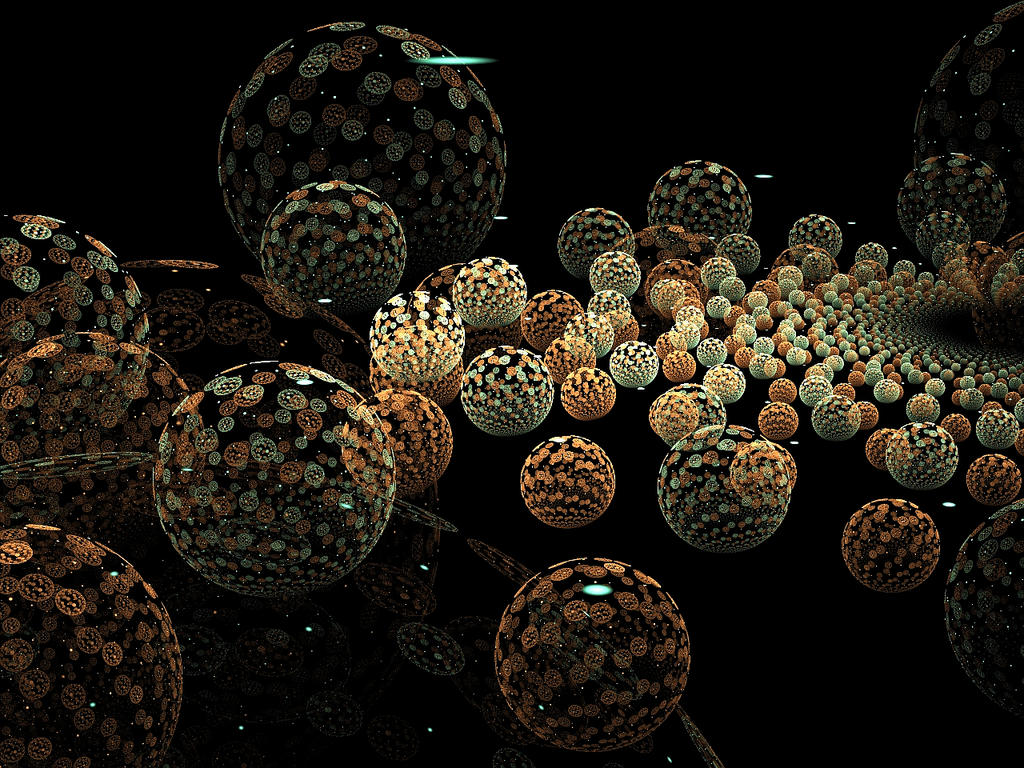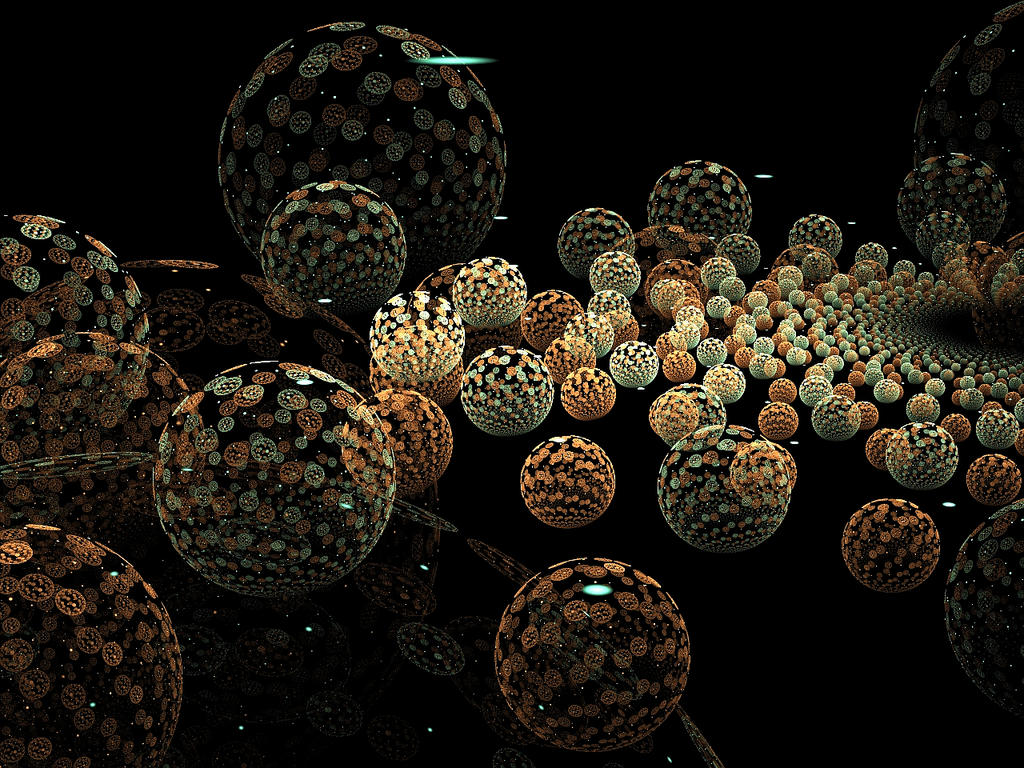 In case you don't know what the title means, that's the official designation of the latest swine flu bug that's got the world in an uproar right now. I don't know what it really looks like, but this looked like it could be related.

Made with Apophysis 2.08 3D Hack. Full view for detail and download is 1280x960.

Achoo!

Woah!
That's so cool!
And it looks like the shape of a virus too!

I like the colors you chose, and the lighting of the picture too!
And, you chose the title for swine flu!

(Sorry

, I like learning about infectious diseases, so, this is really really cool to me!!!)
Reply

I'm really happy you like this! I made it about the time that the swine flu started being all over the news. It did have a bit of a viral look to it.

Infectious diseases are very interesting. Are you thinking of being a doctor? As the world "shrinks" and more and more people come in contact with one another and with the loss of vast virgin ecosystems because of development, and thus, the stirring up of unknown pathogens, people with knowledge of infectious diseases are going to be very important. It's nice to know someone is interested in them.
Reply


I'm actually trying to decide whether or not to be someone who works with infectious diseases (CDC maybe?)

That's true.
Ya, & surprisingly enough to me, a lot of people don't want to learn about them.

Reply

Are you also down with this sickness?
Reply

Reply

Wow this is a great image! And it does look dangerous xD
Reply

Good image!!!

Reply

This is where your medical research knowledge come in Peggi. Perhaps if we all have a shot of this we will be OKAY???????

Very good.
Reply

I would like to think so. Though, my understanding is because it is a hybrid virus (part swine, part bird, part human) that there are no vaccines currently out there for this one. And being a hybrid strain that has probably recently developed, no one has any immunity to it. That's what makes it so potent. They say that Tamiflu and Relenza are somewhat effective if started early enough. The CDC now has seed cultures started to make a vaccine, but that could take a few months to get enough for a lot of people. Let's keep our fingers crossed that they can nip this one in the bud. We don't need a pandemic.
Reply

I drink colloidal silver water every day Peggi. I started 2 years ago and have not had a sore throat, cold or anything. I completely cleared up my cervical spondylitis and can now move my neck without restriction. I try to encourage others, but they have this stupid idea that they will turn blue. In order for that to happen they would have to drink over a gallon a day.

They put this guy on Oprah, they had coated his body with some photosensitive chemical, then they exposed him to some special light and made him say he had turned blue from drinking the stuff. Well I can assure you I am the same colour I have always been. Sort of pinkish yuck!

I think the FDA do not want people to take it because they make so much money out of pharmaceutical medicines.
I notice they have started to sell band aids with silver to aid healing now. They also use it in the space program to purify the water.

Have you any experience of it in your profession Peggi?

I make my own with a 9 volt battery, hot water and 2 pure silver rods. The battery lasts about a year. That's the cheapest one. The silver rods will last a couple of years.

Several of my relatives have tried making special devices to automate the process. However it is so easy. I make a jar full and drink it through the day. You can use it to wipe surfaces to disinfect, I put it in my cats drinking water and she never has to go to the vet. It's wonderful and costs next to nothing. It doesn't interact with any prescription drugs either.
Reply

I just ran a MedLine and this is the first abstract that popped up:

With the advent of nanoscience, pure silver can now be made into nanometer-sized particles. As a result, we are able to explore the potentially beneficial properties of pure silver. In our previous study using a burn wound model in mice, we demonstrated that besides antibacterial action, silver nanoparticles (nAg) appear to have anti-inflammatory properties. Herein, we further confirm the anti-inflammatory effects of nAg and explore their potential clinical application through a postoperative peritoneal adhesion model. We also elucidate the potential mechanism of action of silver. Our in vitro and in vivo experimental findings show that nAg are effective at decreasing inflammation in peritoneal adhesions without significant toxic effects. This study thus provides further evidence for and contributes to the understanding of the anti-inflammatory properties of nAg and may also give a novel therapeutic direction for the prevention of postoperative adhesions.
Reply

Well that's a useful bit of info.
I don't have access to stuff like that. I have just looked through a load of websites. This is worth a look, when and if you have a bit of spare time:
[link]
It's a bit on the woolly side but amazing information. The guy died in 2003, they say he died from a fall. However the circumstances are not clear...
I made a zapper from a muscle massager I got in the £1 shop. It has 2 little batteries. You wear it on the wrist and it gives out different frequencies. Some of them are quite powerful. My father was an electrical engineer, my brother an electronics whiz, then I have a cousin who was with Med Tech for years after finishing in the RAF. The latter 2 both use colloidal silver. The cousin had prostate trouble, it is now completely gone, he also had a verruca for 9 years. He dabbed it with colloidal silver and it was gone in 2 weeks.
I think you and I could talk all day on this stuff Peggi. The only prescription meds I take is a water tablet, keeps my ankles from swelling up and my BP can be a little high now and then. However this morning I was in the pharmacy collecting my script and some one comes in to talk to the pharmacist, he described the pain he had I knew how to make him better. He had gall stones and Milk Thistle will make it much better. I didn't dare barge in and say what I knew. I know this as I have been through it. On the other hand a friend of mine went to the local hospital with what she thought was indigestion, it turned out to be a small gall stone, she got septicaemia, went into a coma and died 8 weeks later on 11th April. I didn't know until her husband bravely phoned me last Sunday...
Thanks for not saying I am talking a load of rubbish. I really value your lovely clever and open minded friendship.
Reply

No, I don't think you're talking a load of rubbish. Look at Chinese herbal medicine, which has been around for thousands of years. And accupuncture. I don't believe, like a lot of people do, that Western doctors know everything. I've known too many medical students that I would not go to for a hangnail. So who's to say what works and what doesn't. Hell, the placebo effect is pretty powerful in itself. Also, a lot of the medicines around today are derived from plants and animals. And we all know minerals are a good thing. So, why not metal in small doses, except lead, of course. Iron is a important component of red blood cells. So, there's an example right there.

I, too, value our friendship. I have found your knowledge of fractals invaluable and the stories you tell are fascinating. You have led a very interesting life and I bet you autobiography will be a pretty darn good read. Just don't leave out any of the juicy parts!
Reply

Wow, you are a wealth of interesting information. I have not heard of this. Of course, I remember one of our post-docs talking about how you should take zinc for a cold and shortly thereafter, zinc started appearing in all sorts of cold medications and cough drops. So, it's not so far-fetched. I will have to do a PubMed search and see what I can come up with. That's the site run by the National Library of Medicine and the National Institutes of Health that contains all the information about articles published in scientific journals. I know silver chloride is used a lot as a topical medication. I'll be curious to see what I find out.

Thanks for the info.
Reply

It is scary ... I had the flu shot ... but I don't think it will stop that onc.

This is very good art ...
Reply

Thanks! No, I don't think the current flu shot will work on this one. That's why they have to start the viral cultures to make the antibodies they need for the vaccine. That takes a while. So, in the meantime, try to avoid being in confined areas with a lot of people and don't plan any trips to Mexico in the near future.
Reply

I heard Korea's already made a vaccine for it.. the big question is whether it'll mutate which would make it very difficult, time-wise, to make another vaccine in case the first doesn't work on the mutated strand.. plus it'd be very costly to make enough for everyone. Hopefully it'll die down by the end of the summer
Reply

I wholeheartedly agree with your assessment and your hope that it will die down by end of summer. I hope that if it does become a full-blown pandemic, that it is not very virulent or lethal. Don't we have enough problems in the world today?
Reply