Hello and Welcome to My Profile, The Name's Wolfblade111, but Wolf will do.

Now for a bit more about Myself eh.

Well My Major Loves are Nerd Stuff/Epic Music(Doesn't really matter what genre.)/Nature aaand Just cool stuff in general.

And Well I'm sure you noticed that I'm a nerd...a rather big one. XD

I have a great love for Comic Books (Namely Superheroes) Video Games and a fair amount of Anime.

So great is this love infact that I have created an SCU (Short way to say Shared Crossover Universe.) known as The Guardian-Verse that exists in Existence-111.

Why is it called Existence-111? Think of the ending of Men In Black (Can't remember which film. Think it was the first one...not sure.) Where our universe was inside of a marble and then there were a bunch of other ones.

Well think of Existence-111 being The Marble that contains it's own Multiverse. It's got multiple universes inside of it.

Now for another Existence being it's own Marble, let's use The Main Marvel Universe, 616 as an example. That would be classified as Existence-616 with all those other Multiverses such as the Ultimate Marvel Universe, residing in it.

That's how Existence-111 works. Now it can crossover with other ones as well, so let's say we had E-111 crossover with E-616 or a version of it.

That's how that works. XD

The Guardian-Verse, home to my crossover team, The Guardians of Freedom. Is a universe in which the histories of each of these universes will in certain ways or areas, blend together. It's also where some heroes will gain the power of either KI, Chakra, Ultra Instinct or whatever other power that works.

If you want more info, feel free to check out my gallery, your bound to get an idea for all of it.

Although keep in mind that The Guardian-Verse is still a WIP (Work in Progress) as I'm still working out ideas for...well everything. XD I've got a lot already set in stone but Hundreds of others that still need to be worked out.

Not to mention I've got not only some of my own OC's into the mix such as Wolf Blade, The Balance Bringer and of course The Light, the woman who helps guide Wolf Blade and The Guardians against her brother The Dark, the embodiment of evil from destroying everything and turning it into Hell on Steroids.

I also have a couple of my friends whose own crossover universes, oc's and stories that I will collab with sometimes to have our own crossover with each other's universes.

So yeah, a lot to work out. Also no, I don't have any fanfics for this idea out yet. I'm more of an Artist than I am a Writer and I tend to only write when The Mood strikes me...which is sadly not that often. :/ Need to work on that cause I really do want to start writing my stories.

Anyways enough of that.

Your probably wondering why I have this little Bio here on a Critique of all things rather than Up there on my ID...well uh...seems like a good place to put it. I mean yer scrolling down and the next thing ya know yer met with a bunch of text rather than stamps/gifs and buttons. XD Consider it like a break room from all the hustle and bustle that is my profile. lol

And incase anyone's interested. Here's the Fandoms I'm into:

Marvel / DC / DBZ / My Hero Academia / Power Rangers / Digimon / Pokemon / Kamen Rider / Disney / Kingdom Hearts / Final Fantasy (All of em.) / Yu-Gi-Oh and YGH 5d's / Naruto / Bleach / Fairy Tail / One Peace / Guyver / Zetman / Treasure Planet / Atlantis The Lost Empire / MLPFIM & EG / Harry Potter / Halo / Super Smash Bros / Mass Effect / Doom / Gears of War / Darksiders / God of War / Street Fighter / Megaman / Tekken / Soul Calibur / Diablo / WoW / Starcraft / Warhammer 40k / Sonic The Hedgehog / Dead or Alive / How To Train Your Dragon / Kung Fu Panda / Scooby Doo / Hanna Barbara Shows / Looney Tunes / Classic Cartoon Network / Gundam / Dynasty Warriors / Transformers / Avatar The Last Airbender / Legend of Korra / Darkstalkers / Asura's Wrath / Star Wars / Star Trek / Borderlands / League of Legends / SMITE / Overwatch / Jurassic Park/World / TMNT / Fire Emblem / Mortal Kombat / Frozen / Saint Seiya / Dark Souls / Drakengard / Nier Automata / Devil May Cry (Original and Reboot) / Godzilla / Tomb Raider / Red Dead Redemption / Resident Evil / One Punch Man / Hellboy / Aliens vs Predator / Terminator / Attack on Titan / Blazblue / Guilty Gear / Monster Hunter / MASH / Assassin's Creed / GI Joe / Wildstorm Comics / The Witcher / aaaaaaaaaaand many more. XD

Well Anyways, that's that...For Now. XD
Have an Awesome Day Everyone.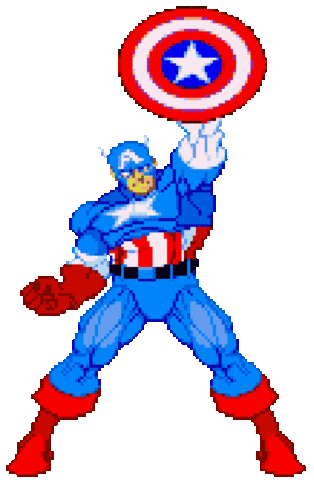 "Doesn't matter what the press says. Doesn't matter what the politicians or the mobs say. Doesn't matter if the whole country decides that something wrong is something right.

This nation was founded on one principle above all else: The requirement that we stand up for what we believe, no matter the odds or the consequences. When the mob and the press and the whole world tell you to move, your job is to plant yourself like a tree beside the river of truth, and tell the whole world -- "No, YOU move."




My Friends/DA Family & Just Plain Old Awesome Folks.


Shout Out To All of Them & I Highly Suggest you Check em All Out.
But I do ask that you please be nice to them.













































































:




































████░░████░
░█░░█░░█░░█░ Put this
░████░░████░ on your page
░█░█░░░█░░░░ if you roleplay
░█░░█░░█░░


or ANY Fetish Related Roleplays be they major or minor.




Programs I use: