Welcome, Wings of Fire fans, to the Wofaboo group, where any and all Wings of Fire lovers can congregate to discuss the novels and share art!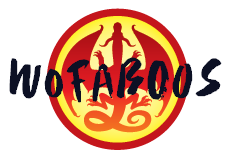 1.
a person characterized by an obsession for the book series "Wings of Fire".
Spawns from the term "weeaboo" or "wolfaboo." A weeaboo defines one overly obsessed with Japanese culture, and people who love wolves too much would be described as a "wolfaboo." Subsequently, if you were to take the acronym of Wings of Fire and create a word similar in manner to the prior, you would get "wofaboo."
---

Submit content to the correct folders.
Wings of Fire related literature and art only.
You are not entitled to harass or bully another member.
Only positive comments and constructive criticism allowed.
No advertisement for topics unrelated to Wings of Fire.
Traced art and heavily referenced art will not be permitted.
Keep the mature content art in the mature content sections.
Don't be afraid to ask the co-founder(s) and founder any questions.
Please refrain from submitting filled in bases (both fanmade or canon) into the group unless they are adopts/OTAs/etc.