-----------------------------------

Last year we skipped this, but this year, it's here again.

Race for HORSES, BEARS, WARGS and MOUNTAIN CATS
(Also other equines breeds, Shedu cats, Tokotas or other wolf/cat/bear riding animals are ALLOWED TO JOIN, but please let me know what creture you want to join, if it's not from Colderra.)


Everyone is welcome to join, not only members of
World-of-Colderra
RACES:
Steeplechase pentatlon, night path of elements
Held:
Zoltar race area in Colderra
Deadline:
30th november 2018 midnight
25th december midnightPre-registration:
Needed!
(You will get number)
Mount name (with ref. link):
Mount age:
Rider name:
Rider age:
Race:
Zoltar area describtion:
Zoltar is area in boggy marshes. Surrounding landscape of race area is very waterlogged, there grows a lots of bulrush and heather. Some occasional trees. For example: alder, willow and rhododdendron bushes.
Trees already shed leafs and are colored in autumn colors.
You can see a lot of little muddy ponds around everywhere, rocks, mountains in distance. Whole zoltar area is quite flat.
Weather:
We expect drizzle with occasional heavy rain, cloudy sky, foggy at the morning.
Track and surroundings visual references:

STEEPLECHASE PENTATLON
- Main race
- mount must be 2 years or older
- classic Colderrian tack needed for both, mount and rider

Race description:
- Track is about 1200m long, mostly covered by coarse grained sand with puddles if raining. Some parts are covered in slippery mud. On track is long cavern tunnel with waterfall inside.
- All riders ride at same time. There's 5 things you need to overcome in order to complete the race.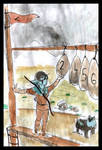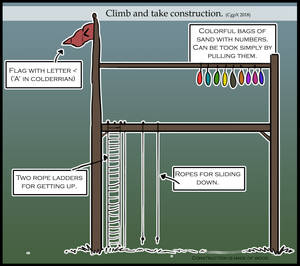 Rider gets off the mount, to climb on wooden construction where are hung bags of sand with numbers. Rider needs to get the bag of sand with his/her number, get back down and continue in race. In the finish you must handover the bag to organizer.
Swimming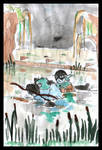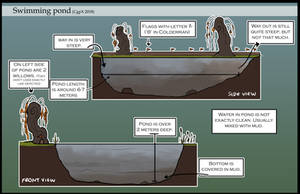 track leads through deep pond, that is too big to be jumped over. You need to swim across it with your mount.
Accuracy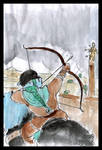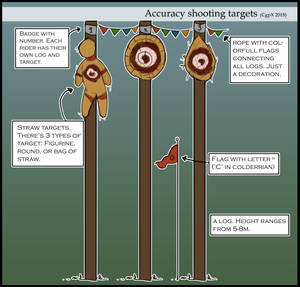 you are provided with range weapon of your choice. Bow, crossbow, shuriken, throwing knife or axe... and your task is to shoot down target with your number on it. You have 6 shots.
What to draw: Your entry picture needs to contain one of 5 things mentioned above(racing, jumping over obstacles, getting the bag, swimming, shooting...). Your rider and mount must wear proper tack and equip. You carry ranged weapon from start to finish of race with you, so it should be visible on rider (unless you pick some angle where it cannot be depicted).

NIGHT PATH OF ELEMENTS
- minor race
- mout must be 2 years or older (by other words: old enough to be ridden)
- race is not safe!

(inspiration images)

- 2nd and 3rd places - One claim from sales or Elemental (max 3rd class)

- free Colderrian mount adopt/custom import (common)

- 2nd and 3rd places - One claim from sales or Elemental (max 3rd class)

- free Colderrian mount adopt (bear, nagian or forest horse)

- free Colderrian mount adopt (bear or forest horse)

- participation ribbon

- free Colderrian mount adopt (bear)

- + 3 levels to mount of your choice

- first to pick of transmog stones

- + 2 levels to mount of your choice

- second to pick of transmog stoness

- 2nd and 3rd places - One claim from sales or Elemental (max 3rd class)