Description
There will always be an angel, behind you
Yulia
Character designed for my story GhostBlade.
Yulia is a feather-race but grow up with human. She can talk to animals.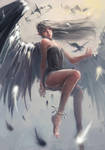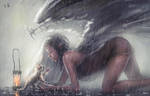 Other characters in GhostBlade:
GhostBlade
...
Asura

...
Start to read GhostBlade here:

Image size
3900x2575px 1.27 MB

...clearly a unique, artistic and excellent rendition of how angels could look like.