Soundcloud profile | Portfolio | Last.FM profile | Twitter account | Facebook page | Personal Blog (in Greek) | Personal Blog (in English)
Once upon a time, a boy who had wild dreams and preferred living in imaginary worlds rather than the actual one got his hands on a computer that made him a special promise: that, through millions of mouse clicks, it would bring his dreams to a life of colored pixels.
More than a decade later, he still makes the same promises to himself through his cool laptop.
My art mantra:
I express.
I expect.
I experiment.
We belong to a maze
of possibilities, where
every instance defines
the norm.
My goal is to invent.
To push boundaries.
To explore the depths
of this so-called reality.
To put the "sane" back
in "insane".
Welcome,
and enjoy your stay,
in my world of creation.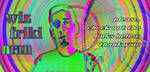 Favourite Visual Artist
You, since you're reading this
Favourite Movies
Shawshank Redemption, Collateral, T2, Zodiac, Blade Runner, 2001, Hot Fuzz
Favourite TV Shows
I rarely watch TV.
Favourite Bands / Musical Artists
They're countless. See http://www.last.fm/user/wizfrikiman
Favourite Books
Anything, really!
Favourite Writers
Kevin Smith, e.e. cummings, Chuck Palahniuk, Saul Williams
Favourite Games
Metal Gear Solid and Max Payne series, Beyond Good & Evil, Fahrenheit, Tetris, any Nintendo game
Favourite Gaming Platform
Any, as long as the game I play on it is a good one
Tools of the Trade
Photoshop, Wacom Intuos4, Notepad, pencils, pens, paper, my imagination
Other Interests
Being a human being, meeting deviants, showcasing my garbage