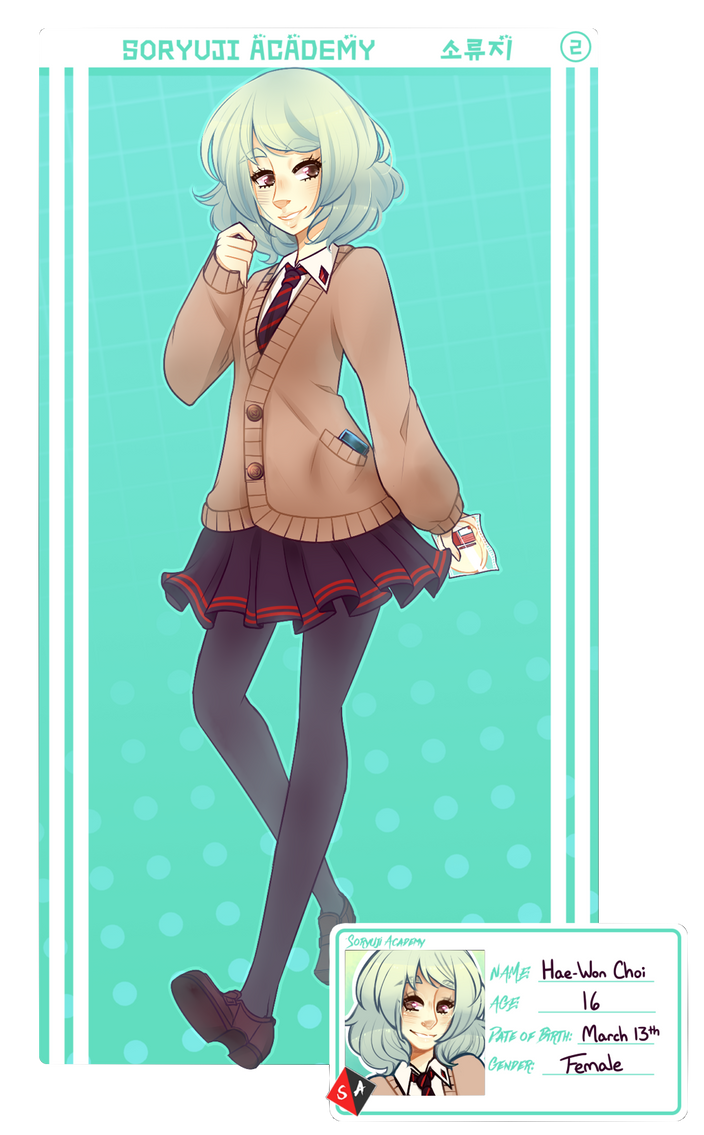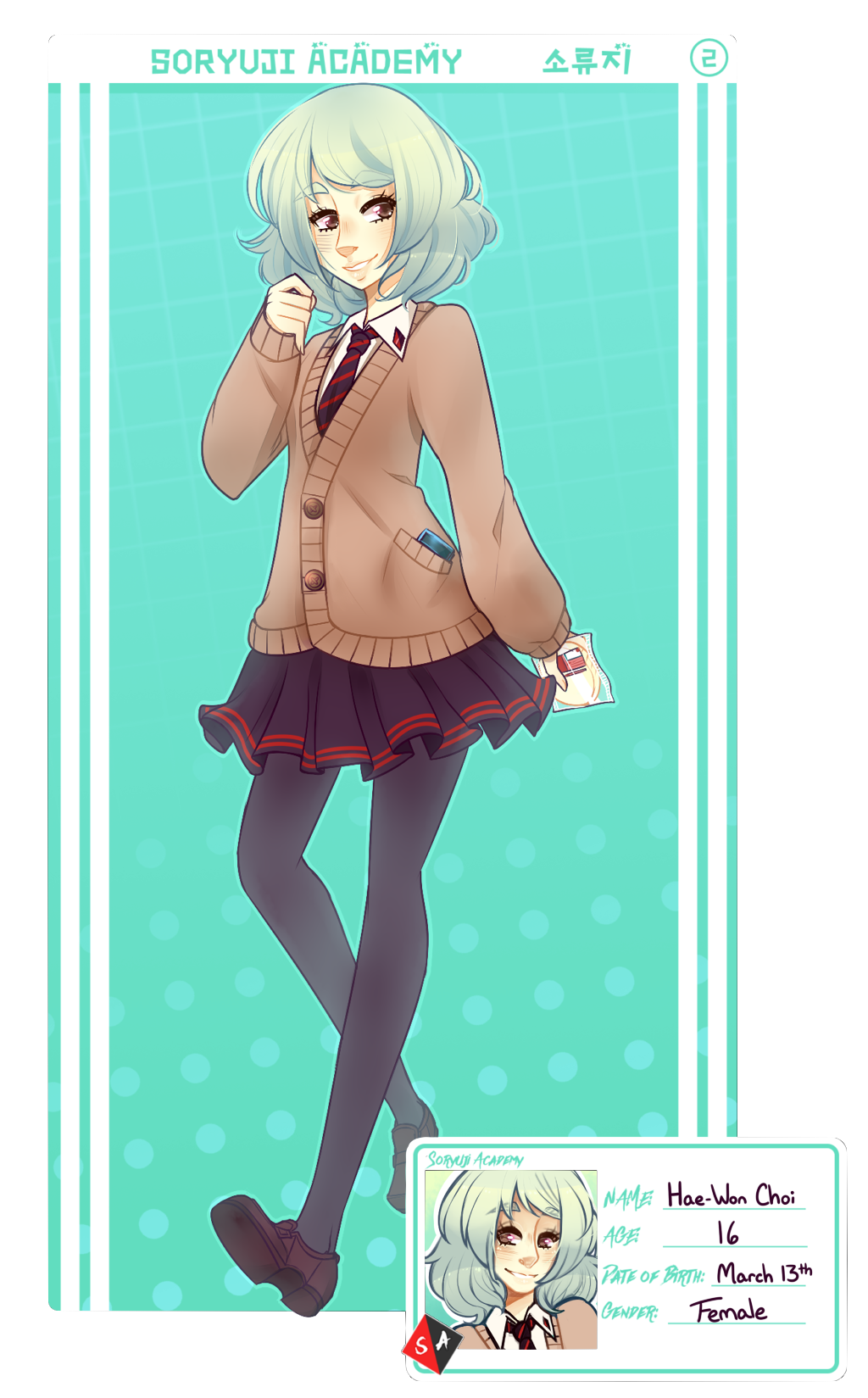 Name: Hae-Won Choi
Nickname/Alias: Hae , Sprout
Age: 16
Gender: Female
Date of Birth: March 13th
Height: 157cm / 5'2 ft
Weight: 120 lbs
Nationality/Race: Korean
Sexuality: Pansexual
School Year: 2nd
School Class: TBA
Dorm: TBA
Club(s): Gardening

✔ Positive:
Easy Going - This small girl lets the river of life take her where ever it may flow. Taking things in stride with a soft smile.
Intelligent - Gaining her parent's smarts, Hae-won is a force to be reckoned with when it comes to raw brain power. If only she cared to work hard enough.
Caring - Forgot your lunch? She will give you half of hers. Forgot your textbook? She is already scooting over to share hers. Need a hug? Her arms are open.
Talented - Some people are born with talent, Hae-won is one of them. When she puts her mind to it she can do her best though... that happens rarely.
Sweet - Hae-won is the kind of person who does her best to remember things about the friends she makes. From remembering birthdays to even just giving her friends gifts to see them smile.

✘ Negative:
Lazy - Though she is incredibly talented this small girl has little motivation to use these talents of hers. She rather just sleep or read a book.
Space-case - There are a lot of times where people will notice her staring out the window or blankly at her paper. Some may think things are bothering her but really she is lost in an adventure in her mind.
Self Conscious - When attention is directed at her Hae-won tends to worry if her hair is neat or if what she is saying is dumb.
Unclear - Due to her calm and relaxed nature Hae-won can come off as disinterested or even at times rude if the moment is serious.
Easily Flustered - While she is aware of her intellegence and ability to easily comprehend things the moment she is asked to read for the class or present a project Hae-Won has a mental timer where she can deal with it for a few minutes though the longer it goes on the more quiet she gets.

Likes:
✔ Sleeping
✔ Gaming
✔ Cozy Things
✔ Rainy Days
✔ Melons
✔ Phone Apps
✔ Sweets!!!

Dislikes:
✘ Class
✘ Strictness
✘ Violence [Real life that is]
✘ Insomnia
✘ The smell of fresh cut grass
Relationships:

Father & Mother : Jong Choi (40) & Mei-Lee Choi (38) Both parents are in the medical field, as such they're away from home a lot due to work. They were around a lot more during her childhood but since then her older brother Ho has been caring for her. When it came to a time where the family was about to move the two sibilings expressed their want to remain in Korea instead, enjoying where they were at. Not wanting to leave the kids completely on their own they set them both to private schools where they could be suprivised most of the time.

Older Brother : Ho Choi (17)was always there for Hae-won since her birth, esspecially since the younger one always seemed to want to hang around him. Hae-won has the utmost "respect" for her brother, always wanting to please and impress him. The two share lots of similar hobbies in enjoying sweets and playing the latest games together.
Biography:
TL;DR - Hae-won wanted to follow her brother to Soryuji Academy and to further her knowledge in botany.

From a young age Hae-won was a bit of a gifted child, inheriting her parents' brains but not their work ethic sadly. Though she never acted in any rash or loud behavior the small girl typically ended up getting in trouble for sleeping or daydreaming through her classes. This streak of behavior soon came to a halt as her parent's returned to their jobs, keeping them both constantly on the move to share their medical knowledge with the world. Not wanting to have to deal with the nonsense of parent teacher conferences about her lack-a-daisy behavior, Hae-won's parents enrolled her in a homeschooling program.

It was lonely at times but Hae-won had the care of her older brother to make things easier. Hae-won was no where near as talented in housework as her brother while her skills were passible her brother's were miles better. Knowing that she could not do as well as him in those aspects Hae-won pushed herself to study more often and do her homework as much as she could push herself to do, knowing that the reaction of her brother would be more than enough reward. Through the years of them being on their own she found happiness in gardening, so much so that when Ho would get home from school he would find her working away outback on their family's garden.

Hae-won always looks up to Ho, thinking that he was an example for her to follow. The two love sitting down and playing the latest releases of video games and snacking away on lovely sweets. She even got into dying her hair because he introduced the notion to her, much to her mother's dismay. Be it making food together or Ho scolding her to study, Hae-won looks back on all the experiences happily, knowing it was just him caring for her.

When Ho was accepted into Soryuji Academy, Hae-won made it her mission to go to the same school as well, not wanting to be left at the family's home by herself. Speaking up for herself, Hae-won convinced her parents to let her attend the academy as well.
Extra:

► Has a crazy sweet tooth.
► Loves to grow plants in her dorm room.
► Tends to be flustered easily when it comes to her misreading a situation or failing to understand.
► Enjoys playing all types of game but enjoys JRPGS and Otome games.
► Her favorite fruit is Melon [Adores Melona ice cream].
► Has about 7 comforters and blankets to herself in her dorm room. Tends to cocoon for warmth.
► Might be hiding a PSP or 3DS in her school supplies to play in her free time.
► Owns a BOND bracelet with her brother that he uses to wake her up during the school days if he thinks she is asleep.
► Voice/Singing Example
► Hair color is naturally a dusty blonde.

Timezone: Central
Preferred Name: Mochi or Lucci, or honestly you can call me Hae-won
Preferred Role play style: Headcanon, Script, Semi-Lit
Preferred Role play platform: Discord

Sweet! Care to RP with me or no?
Reply

Reply

Reply

Reply

Reply