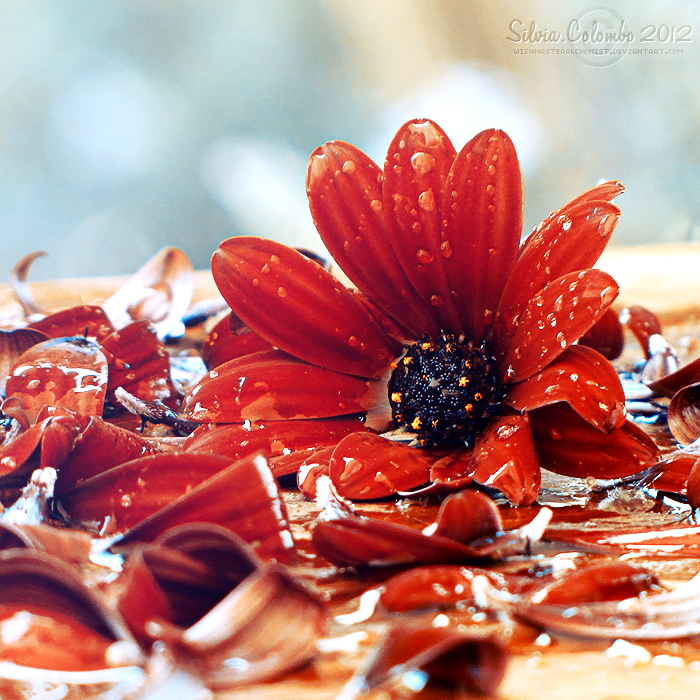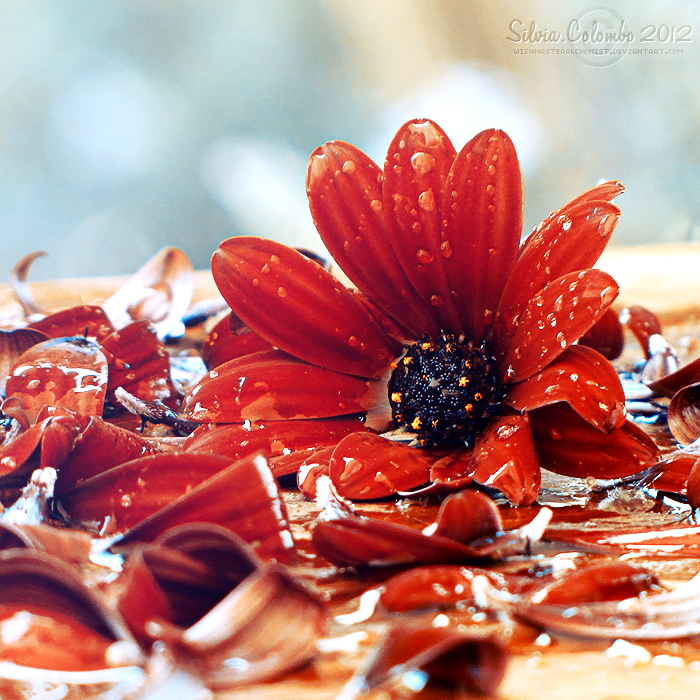 Watch
... Fallen ...
Cape Marigold / Cape Marguerite (Dimorphotheca ecklonis)

No flowers were harmed in the making of this photo. The hail did this mess and I rearranged the flower and petals to create something artistic.
The bokeh is 100% natural, no textures added.


Shot with a Canon PowerShot SX1 IS
June 2012 | Full View recommended | I hope you'll like it!
---
---
More Photography
---


© Silvia Colombo . 2012 - All rights reserved.
You are NOT allowed to use (reproduce, copy, publish, transmit, duplicate, redistribute, edit, alter, manipulate, print, sell, download to re-upload) my art in any way without my written permission.
I will give all aspects on this deviation (rate this deviation) 5 stars. Why? Because this is just wonderful. I love how the red flowers give off such a bold vision and impact on me. And also how the colors seems to be catching my eyes and pulling me inside the picture. I love how you took it with the other flowers lying around, and with drops of water or rain. It's really beautiful and I can't explain it in words. I love how the drops of rain or water is glowing and shining. It's so catchy and that's why I give this technique 5 stars, and also for the originality.. It's really nice. No one have ever took it this good so.. 5 stars. I love this work so much. Good work & well done! Love, Purin<3
The Artist thought this was FAIR
17 out of 18 deviants thought this was fair.
First of all, i absolutely love this picture. Flowers are my passion, so seeing such a beautiful picture of flowers really made my day. Your Technique is wonderful; i love the water droplets. They add so much detail to your creation. The Vision is very nice as well. As for Originality, there has to be millions of "flower pictures" out there, but your's seem to be one of the few that looks like this. Love it!
For Impact, I have to say that this deserves 5 stars. I absolutely love it, and think you have a natural talent for this type of picture. I would love to see more pictures like this

~ Andi
The Artist thought this was FAIR
7 out of 7 deviants thought this was fair.