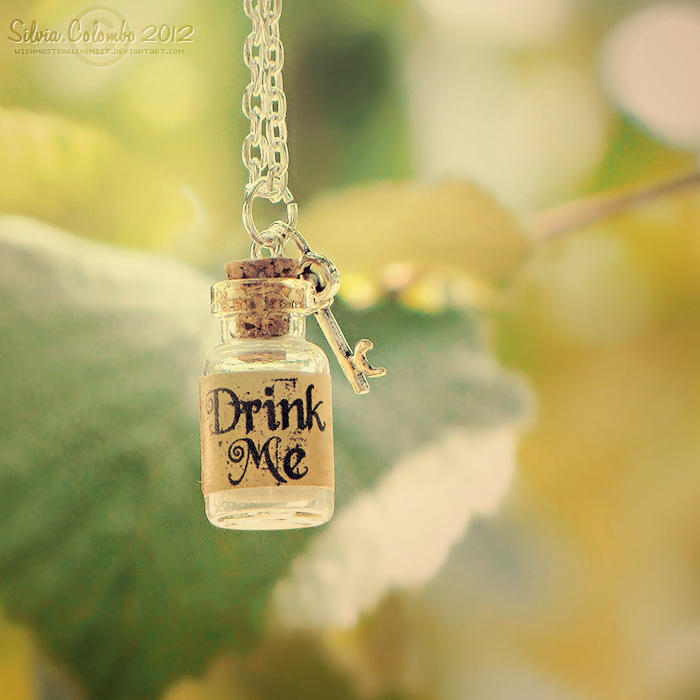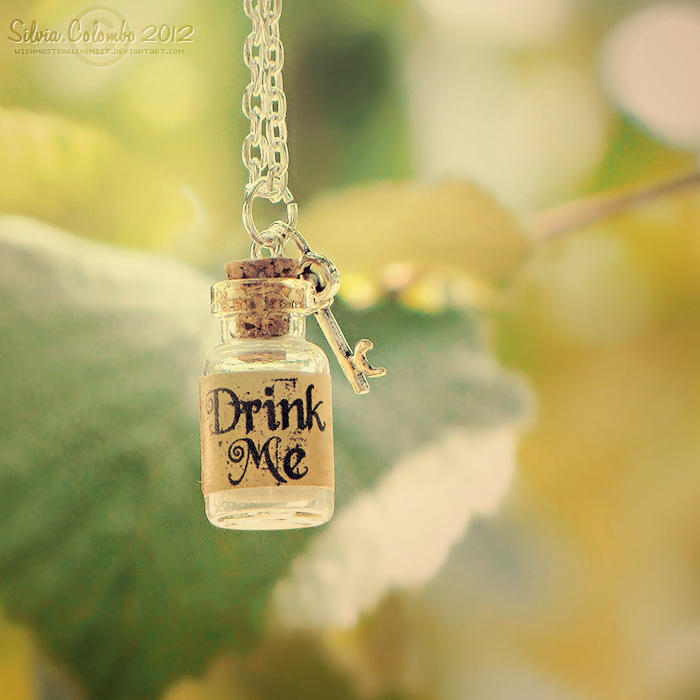 Watch
... Drink Me ...

Just a tiny glass bottle necklace that I bought from eBay UK and that I hung on the branch of a tree in my back garden.
I wasn't sure about the whole set up at first but I think I did pretty well with the right soft light. The bokeh is 100% natural.

Shot with a Canon PowerShot SX1 IS
Full View recommended | I hope you'll like it!


---
More Photography
---


© Silvia Colombo . 2012 - All rights reserved.
You are NOT allowed to use (reproduce, copy, publish, transmit, duplicate, redistribute, edit, alter, manipulate, print, sell, download to re-upload) my art in any way without my written permission.
This photo is a very neat one.
Although it looks like there was not that much effort, it looks good designed. The colours are harmonized, the big leaf behind the little bottle gives everything a very natural look.
The natural bokeh is like a little highlight, also the key top looks like a crescent, so it also has a magical and mystical appearance.
The font of the words was very well choosen, because it points out a kind of wizardy feeling, as if the drink that is inside the bottle is a potion or an ordinary poison for something.
In other words: An amazing photo with many little details that make a perfect figure with the little (main) bottle.
The Artist thought this was FAIR
34 out of 35 deviants thought this was fair.
When I saw your photo, I immediately got an Alice in Wonderland feeling, I don't know if that is what you wanted, but I feel every artwork is seen differently. I love the shape and design of the bottle and the font is amazing, it feels magical to me. The mini key is wonderfully displayed here as well. I do feel that you should have brought out the leaf of the plant here, as it would have brought out the picture more. I sense great imagination and thought in this work. Excellent job! This is a wonderful reditional piece of art.
The Artist thought this was FAIR
22 out of 23 deviants thought this was fair.