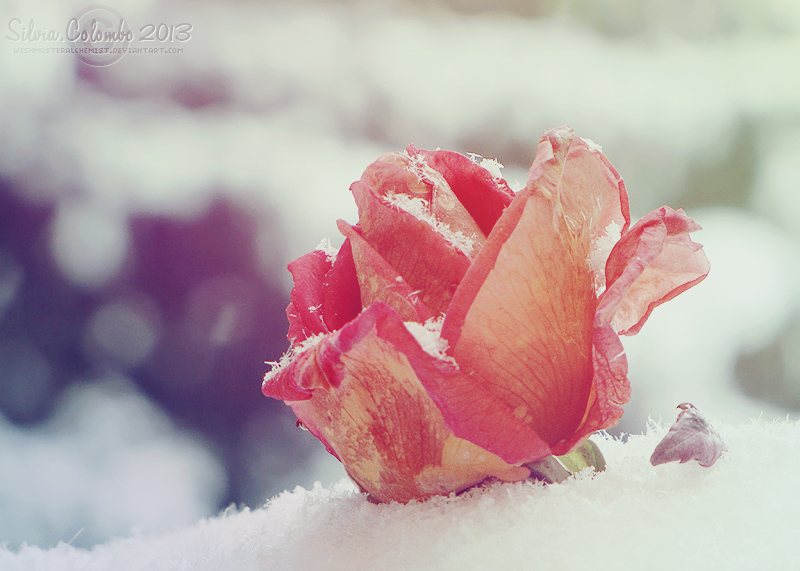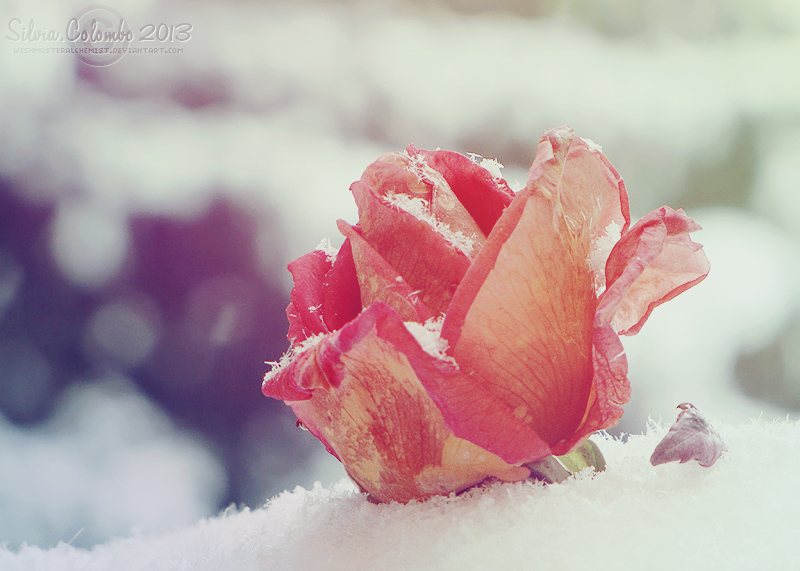 Watch
.:: Beauty And The Frost ::.
Did you know that roses can grow from snow?
Just kidding of course. This rose was cut from the bush last September and stayed in the freezer waiting for the snow until the perfect moment for a photo shoot came.

Photo taken in the morning, while it was still snowing, with Manual settings - bokeh is 100% natural, no texture applied.



Shot with a Canon PowerShot SX1 IS
Full View highly recommended | I hope you'll like it!
---
More Photography
---


© Silvia Colombo . 2013 - All rights reserved.
You are NOT allowed to use (reproduce, copy, publish, transmit, duplicate, redistribute, edit, alter, manipulate, print, sell, download to re-upload) my art in any way without my written permission.
Very beautiful is the first thoughts to my mind. The second are the ones on how preplanned this all was. The placement of the rose in the image adds to the photograph over all. The bokeh in the background is simple and doesn't take away from the flower which is nice. And the frost on the rose brings the foreground into balance with the subject of the photograph which is the rose.

The only thing I am not really sure on is that leaf next to the rose. It could just be me being a bit picky so no worries there.

Over all a beautiful photograph of a well chosen subject, with a wonderful vision.
Bubbles
The Artist thought this was FAIR
4 out of 4 deviants thought this was fair.
This photo is beautiful

What first caught my attention was the amount of detail in the leaves. You can see the beautiful pattern of the nerves and the contrast between the different parts of the leaf make it al the more amazing. Next to that the composition is well thought out. I think the photo would have made less impact if the rose was positioned in the middle. Because of the slight angle to the left of the rose it needs some breathing space. The softness of the background adds up nicely to the sharp contrasts in de flower, and the snow gives this deviation all the more emotion. This is a great deviation, keep it up

The Artist thought this was FAIR
2 out of 2 deviants thought this was fair.