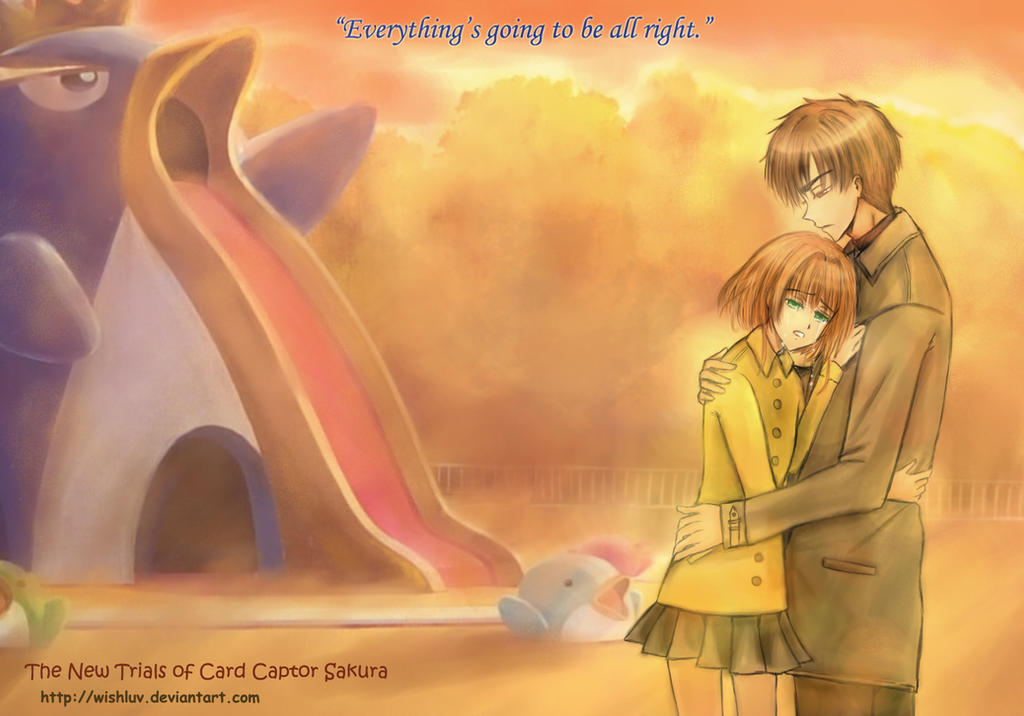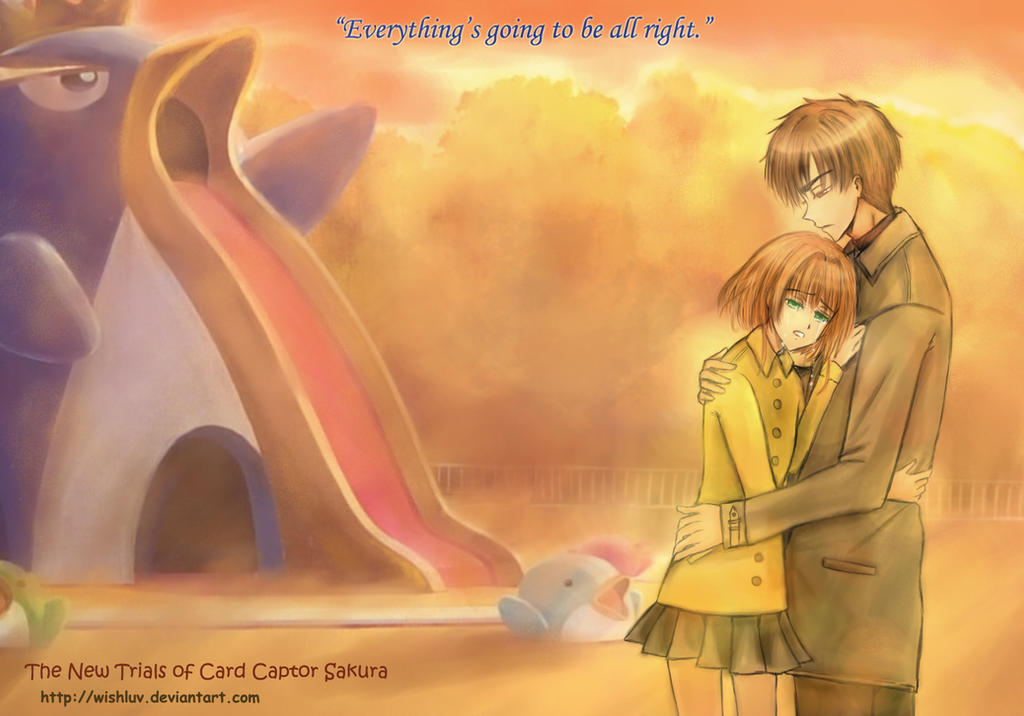 When he was a child, he thought that he could protect Sakura's heart from ever being broken again. Today, Syaoran didn't have a handkerchief to lend her. Today, he did not know the right words to say nor even be able to comprehend the hurt in Sakura's heart. Instead, he knelt down on the ground next to her in the moonlit playground where the ringing of children's laughter had faded into echoes of yesteryear. Though he wanted to hold her in her arms and tell her those magical words that he too had once believed in six years ago in this very spot, today, he could only watch her frail shoulder tremble. Her golden-brown hair was matted against her cheeks from the wetness on her cheeks, and he tentatively reached out and brushed her hair away. "Hush now. It's going to be all right. Everything's going to be all right."
Somehow, the unexpected kindness from Syaoran out of all people brought even more tears to her eyes. She fell forward and buried her head into his shoulder to hide her face from him.
"Never…" he murmured, but did not finish his sentence.
If Sakura had looked up today, she would not have seen on Syaoran's face that look of pain and sorrow mixed with the tiniest bit of relief that day at King Penguin Park when she had been rejected by Yukito-san, but instead, a look of pain and sorrow and anger, anger not at her nor Eron, but anger at himself. But she did not see, since as the moon waned, she cried her heart out into a chest that was warmer and more reliable than anyone else's. And for that moment, she was grateful that Syaoran was neither friend nor boyfriend nor ally nor enemy but just Syaoran.
- The New Trials of Card Captor Sakura, Chapter 66: The Truth in the Heart
[link]
******
This is a scene in Arc 4 of my fanfiction the New Trials of Card Captor Sakura that I've wanted to draw because it parallels the scene in Card Captor Sakura when Sakura cries into Syaoran's arms after Yukito-san rejects her, which I think is one of the best-done shoujo anime scenes ever considering their age. And of course it's at King Penguin Park.
The older Syaoran I think is probably not feeling just compassionate but pretty angry as well that someone else managed to hurt Sakura yet again. And this time, he could have done something about it.
Why I wanted to draw a sad scene for Sakura's birthday, I do not know. Maybe because it's Aprils' Fools Day? It's more of a concept art.
Happy Birthday Kinomoto Sakura 2013!!!
Have you guys checked out the new xxxHolic drama? I saw the first two episodes and I'm really enjoying Yuuko's costumes. And the ending song.
You can read my latest updates on my blog here:
[link]