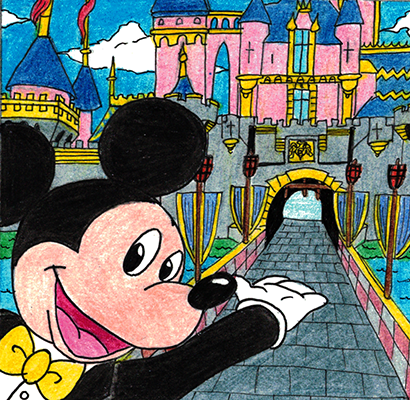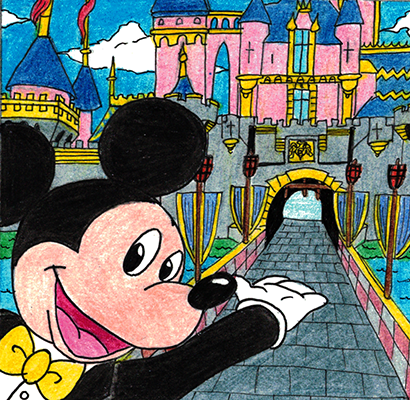 I've made another pic for
DisneyDreamers
"Style Quilt." This time it's Mickey Mouse! I mean, you can't have a Disney quilt without Mickey Mouse, right?

Here's the link for the group journal of the style quilt in case any one is interested. I've got another character in mind to draw next!

Club Project 2019: Style Quilt!Club Project 2019
In the past,

DisneyDreamers

held 2 art quilt projects, the Tee-Hee Quilt and the Patchwork Quilt.  This project has the same premise, but a different prompt!
In this project, the character you pick can reflect any of the different forms or styles Disney characters take.  This can include Tsum Tsum, Pop! or action figures, new cartoon styles (DuckTales and Mickey Mouse shorts as examples), live-action versions, etc.  Their traditional, or original styles, can count too but you are not limited in form or style.  All art types are welcome.
Topic: A Disney Patchwork: suggested by

lilhazelstar


How it will work:
1. Sign up for a character by commenting on this journal.
a. One character per person at a time. First come first serve.
b. No repeat

Lovely work Princess! Mickey looks great and that castle looks so real!
Reply

Thanks!

Yes, it does. And every time I draw the castle, not matter theme park it's in, it's ALWAYS HARD TO DRAW!


Reply

I love it! The castle looks amazing! That's some great perspective. That's not easy. I've never been good at it myself. And Mickey's welcoming me, bidding me enter. Wish I could jump into this picture.
Reply

Drawing this castle is NEVER easy! No matter how many times I draw it.

I don't...because I get to jump into the picture every day!

Reply

You lucky duck! XD
It's been years since I've last been to Disney. I live too far away and I'm too poor to afford it right now.

Reply

Hehe!

Which Disney? Disneyland or Disney World?
Reply

I've been to both in the course of my childhood, but it's been a long time for both. I'm on the east coast, so I've gone to Disney World more frequently and more recently than Land. But I've been to both and adore them. It's just been a long time, and I'm not sure when I'll get to visit either of them again.

Reply

Same here, but only the other way around and now I work for the Land version...well, California Adventure technically, but still.

Reply

Reply