Chans

Just a fun idea for charity based off characters that are known.
Chans support the SPCA. Every adopted Chan, I'll donate 5 dollars.
Why the name?
I am not the most creative when it comes to naming and being the weeb I am, Chan is the first thing that comes to mind.
Since my favorite character is Batman, this is my Bat-chan.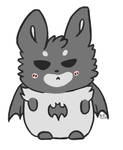 Adoptables Available





Unnamed Speices
Supports Wildlife
www.sheldrickwildlifetrust.org…