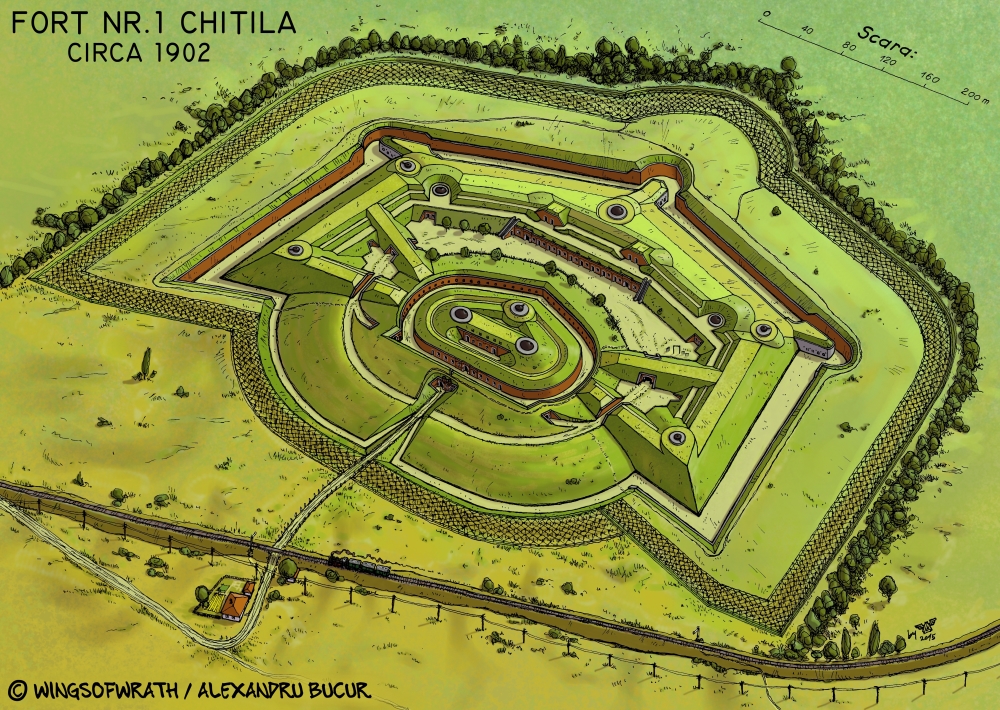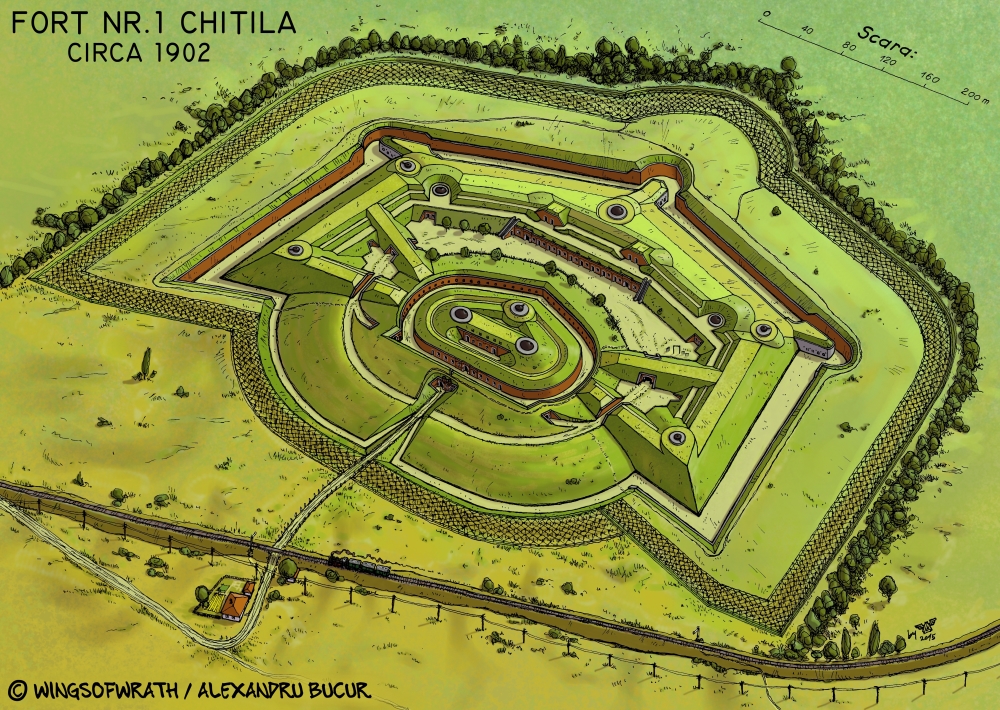 Watch
EDIT, 25.08.2016
: In mid-May I finally managed to get enough time to and visit the Bucharest fortifications (something I do on a regular basis since 2008) and while visiting the Chitila fort I discovered my drawing - at the time wholly based on pictures I had in my collection, a rather crappy plan and satellite imagery- was wrong in a few details (for example the shape of the counterscarp wall in front of the forward caponier is not semicircular but acorn-shaped, the two forward traverses are still their original height and haven't been cut down to the height of the artillery parapet as one plan from 1900 suggested be done, also I forgot to draw the two exits between the back traverses, which are wholly obscured by vegetation on the satellite pictures and aren't drawn on the plans, etc.). This is the corrected version.
Finally, the drawing wasn't published in
Radu Oltean's
book
"Fortresses, Castles and Fortifications of Romania"
, because there was too much material and he decided to split the book into three volumes -
Vol.1, antiquity to 1540
, out now and available
here
,
Vol.2, 1540 to 1866
to be published in 2017 and finally,
Vol.3, 1866 to 1947
, to appear sometimes around 2018 and be fully written and illustrated by yours truly.
An illustration of Fort No.1 Chitila, the first and largest of the
fortifications of Bucharest
built from 1884 to 1900 on the plans of Belgian military architect
Henri Alexis Brialmont
.
It was the first and largest of the Bucharest forts and was armed with three cupolas with two 15cm Krupp guns, two cupolas for 21cm Krupp howitzers, five Schneider Canet disappearing cupolas for 5.7cm guns (cupola similar to
this one
, which is made by competing firm Gruson) for close up defence and thirteen 5.7cm guns on casemate mounts for f
lank defence of the ditches and walls of the fort.
Info no longer correct, but left for the sake of continuity:
This drawing will be published by my friend Radu Oltean, a noted historical illustrator, in his upcoming book "Citadels, Castles and other Fortifications in Romania".

He asked me to do it because, while he is an expert in medieval and early modern fortification, I know far more when it comes to late 19th century forts.

I will update the information as it develops, including, hopefully, a place where to buy the book.

Reply

Neat job!

Reply

Well done. It is good that someone remembers the past and illustrates it.
Reply

Thank you. It is indeed something I want to do with my life - remember the past and educate others.
Reply

Reply

Very cool!

Reply

Reply

Awesome!

Reminds me of the book I'm reading RN. It's a Czech alternate history but they really go into detail about the forts. RN the Soviets are attacking Poland and this really reminds me of some of their forts.
Reply

Thanks! The late 19th century was a indeed a period of furious fort building and most of them served exactly no function, because of the rapid advancements in artillery which rendered them obsolete before WW1 even began...
In fact, the Belgian forts of
Liège
and Namur, also designed by Brialmont as the forts of Bucharest, fell in 10 days and some in as little as 3, when they were expected to last at least a month. This, coupled with the fact that some of the Bucharest forts weren't fully armed (an economic recession in 1900 had stopped new purchases of artillery) led to their abandonment in 1914 - the guns were removed and placed on improvised field carriages, and, after Romania's entry into the war in 1916, the 15cm and 21cm were used to pound the enemy trenches while the 5.7cm were used as infantry and AA guns.
Reply

Also to add about Belgian forts is that the garrisons are poorly trained and disciplined. Soldiers will disappeared into dark hallway of the fort whenever a authorative figures approach them. Forts are so poorly positioned that they cannot support each other.
Reply

Wow! Very awesome drawing !

Bravo !
Reply