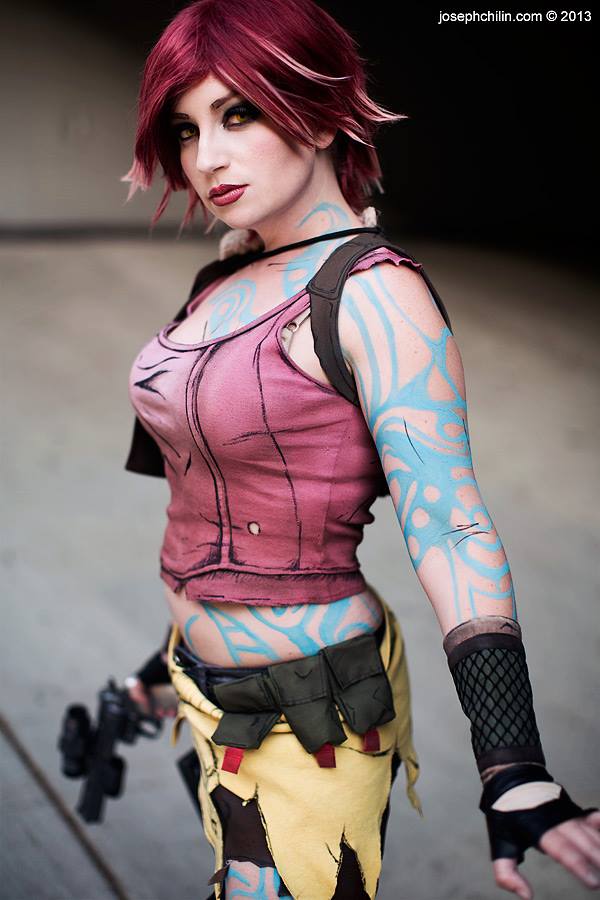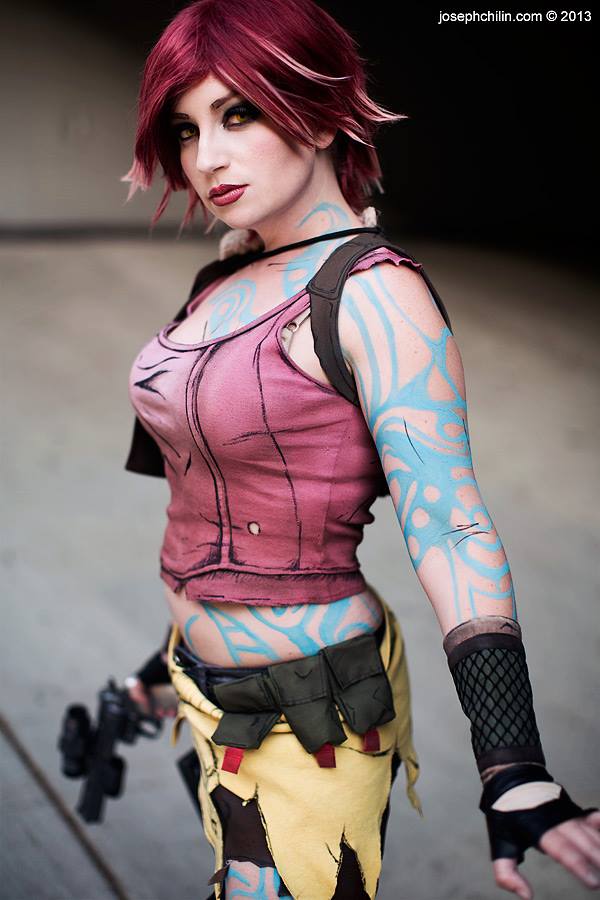 Watch
****Follow me on Twitter!****
****Friend me on Facebook!****
WEEEE~! First solo Lilith from Fanime back. Since I didn't do it last time, here is some info on how I made this costume!
Construction Details:
I original was going to re-use a lot of my BL1 Lilith, but after looking at it and the changes I would need to make I ended up remaking pretty much everything. Lucky for me I had a lot of left over fabric from my BL1 Lilith.
For the pants I used a upholstery vinyl for the chaps with stretch black on the inside to make them formfitting but moveable in. I purchased a pair of jeans second hand, removed the back pockets and dyed them dark grey. Unlike the first Lilith pants, I actually left the chaps and pants separate so that way the chaps didn't pull down the pants when I kneeled down and such.
The yellow waist wrap is made of yellow stretch knit. I aged it with bleach and dyed it a tan color.
The pink/red undershirt was made for scratch as I felt the time I would spend looking for one to modify I could just make it. I used a white stretch knit to make the shirt. I then dyed it with a variety of pinks, wine, reds, oranges, tans and browns to make it the color you see. I also used some paint in there to get nice a dingy.
The vest was patterned off the old one I made and used the same material. Made the exact same way as the previous one, but this one was just cut up! To prevent the edges from fraying on the one side where it was cut, I used a lighter to melt the edges.
The various arm and hand accessories are made from cotton, pleather, knits and fishnet. Gloves are matte metallic spandex.
The belt and leg back are one of two things that I reused from BL1 Lilith. The shin guards are made of worbla and painted with black and silver spray paint. The feet and ankle guards are made of foam and painted with the same paint as the shin guards. The boots are the second thing I re-used from BL1 Lilith. the knee guard is also made of worbla.
All the aging affects were done with tan, grey and black spray paint. I then did the cell shading effect with paint pens, and some more brown fabric dye in some places. A good rule of thumb, if it looks overdone in person it will look just right on camera.
Wig was cut to right length. Pink wefts were sewn into the wig to give it the gradient effect. Hair spray and heat were used to make the chunks (which REALLY need to be re-done because of travel abuse)
Gun props were all made and modified by IceMan-Props.
-------
Lilith costume made and worn by: *
WindoftheStars

Lilith gun prop made by ~
Iceman-props

Photo by: Joseph Chi Lin
[link]
More of this costume