I had a blast drawing Celestia with her bed mane and now I want to ask my watchers who they would like to see next.
So here is your chance to request a canon pony character getting ready for the day like poor Celestia here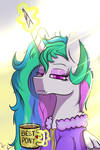 Luna is already in the works and should be posted soon. So just drop a comment below with the pony you'd like to see with a messy mane and I'll pick a few that sound fun.
Thanks to everyone that watches me!