I am a cheerful boy who is kind, handsome, and is somewhat autistic and lazy.

My Rules:
willy276.deviantart.com/journa…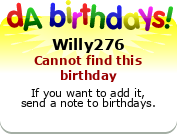 About Me:




My Greatest Movies:

My Awesome Games: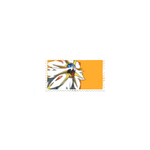 My Best Shows/Web Series:
:thumb579510966:
:thumb606650379:
My Amazing Characters:
My DA Buds:
(feel free to ask me if we could be DA Buds.

)







My inspiration:


My DeviantArt User Hall of Fame
My #1 Favorite User of all time:

My Favorite Users:



























Favorite Users of 2018:










My Favorite Paleoartists:




(plz don't hate me for this

)
My DeviantArt User Hall of Shame
</b> (I'f you're offended by this, then don't attack me and walk away)
My Despised Users (that should go extinct for good)
-


BeeWinter55
He's responsible for the Pokemon The Movie: I Choose You hatebase and spread the hate like wildfire when it's not out yet.
-


SomePkmn-LovingDude
He hates Fire Emblem for being popular and makes hatearts out of them.
-


PowerRCP-G3
He hated Final Fantasy franchise, Kingdom Hearts, Overwatch, and Kid Icarus Uprising, just for it's popularity. Is he paranoid over popular medias or what?
Favourite Visual Artist
Generic Paleoartists
Favourite Movies
Your Name
Favourite TV Shows
Zoids Wild, Object Shows
Favourite Bands / Musical Artists
Smash Mouth, Evanescense
Favourite Books
Don't have it
Favourite Writers
Don't have it
Favourite Games
Jurassic World Evolution
Favourite Gaming Platform
Wii U, 3DS, Nintendo Switch
Tools of the Trade
Pencil, Photoshop, Google Drawings.
Other Interests
Zoos and Aquariums, Animals, Anime and manga.