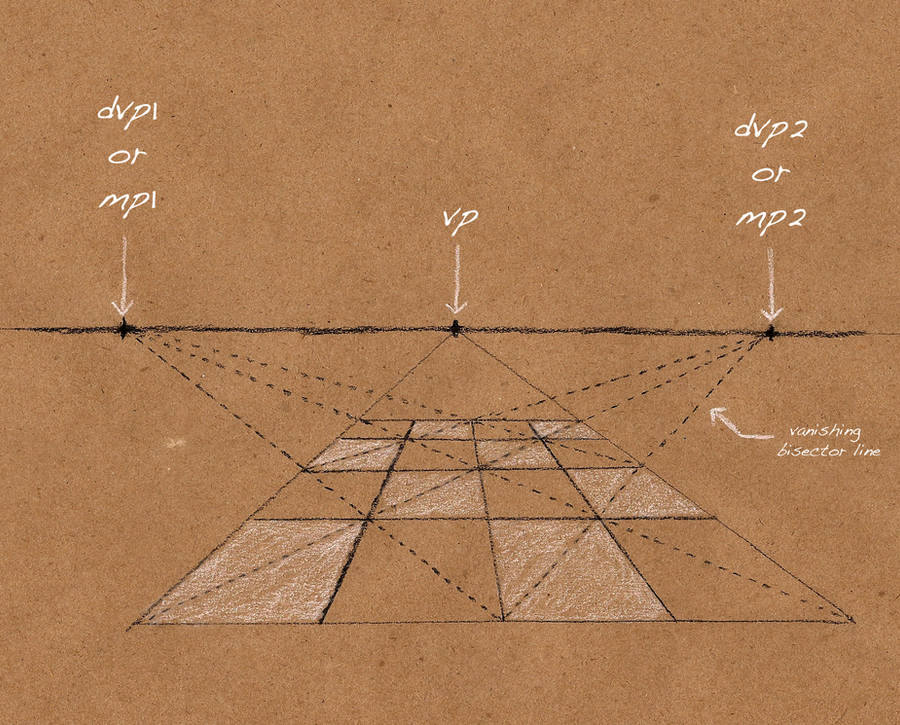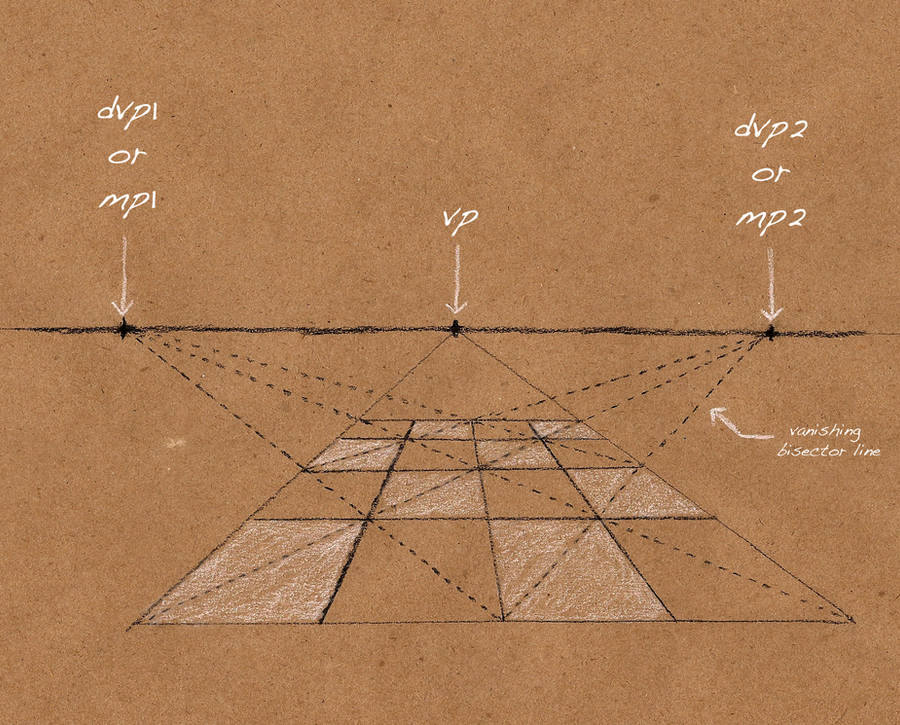 Watch
I got another on ready for you all.
What I am demonstrating on this work is how to draw a checker board patter with linear perspective. This technique use the same bisector
technique
from the last work submitted. One new feature is the diagonal bisector lines are now moving back to the vanishing points.
It is simple all you need is to make two bisecting diagonal lines and draw them out to the horizon. Were the lines meat the horizon is were you will place a new vanishing point. This new vanishing point is known as dvp (diagonal vanishing point). Then you draw one line retreating to the vp (vanishing point) and another moving across horizontal though the midpoint.
When this is done you can make another diagonal bisecting lines. To make sure they are accurate see if the new diagonal lines meets at the dvps. You can do this over and over. You can use this for making pattern like the checker patter I showed you. Or you can also use this for placing images on that surface using a grid technique.
Bisectors:
are lines that spit the area in half.
Diagonal Vanishing Point
also known as
DVP
, is the reference points where all parallel diagonal vanishing lines meet. The diagonal line are often guidelines.
Diagonal Bisectors:
are lines spanning from opposite corners, splitting the area in half diagonally.
Guidelines:
Lines that give reference in the direction, but will not be in the final rendering of the work as lines or implied lines.
Horizon:
Line that separates the sky from the plain, mostly the earth.
Horizon Bisectors:
Are Horizontal Lines that split the area Horizontally.
Lines:
Marks spanning from one point to another setting boundaries for shapes and forms.
Linear Perspective:
A geometric rendering for illustration where all parallel line meat at the point of infinity. Helping the artist render an accurate foreshortening of the subject.
Midpoint:
the point were the Diagonal Bisectors meet locating the center of the area.
Negative Space:
Space not filled in by the subject and the opposite of
Positive Space
.
One Point Perspective:
a form linear perspective using only one vanishing point.
Positive Space:
Space filled in by the subject and the opposite of
Negative Space
.
Vanishing Guidelines:
Guidelines that give reference to Vanishing Lines.
Vanishing Lines:
Parallel lines heading to the vanishing point.
Vanishing Point:
also known as
VP
, is the reference points where all parallel vanishing lines meet.
Vertical Bisectors:
Vertical line that splits the area vertically.
Previous work
Please give me credit if you display this diagram on any medium.
Daily Deviation
Given 2012-05-23
This is actually quite the informative piece of work!
When I was younger, I had two very bad points in my artwork. Proportion and perspective. Thought I worked on proportions enough to actually get a bit of a hand on it, perspectives were something that seemed too hard to do, and no matter what I did I could never get it right. This helpful piece of work is something I wish I had sooner! It's a wonderful and clear-cut example on how to do perspectives properly in a simple and very often used point of view. If I had to say anything bad about this, it's that the checkered tile board is a little crooked, and that might throw quite a few people off. The right side sticks out a tad bit more than the left..

Other than that, I'm glad to see some diversity in the DD artworks, and I'm glad something as helpful as this hits the spotlight every one ina while. Very nice job.
The Artist thought this was FAIR
17 out of 17 deviants thought this was fair.