Willows often appear in fiction.
They can be portrayed as kind and wise or aggressive and fearsome, but they are always very mysterious trees.
In this blog I will feature four different willow characters:







Whomping Willow
Created by J.K. Rowling for
Harry Potter
series, the Whomping Willow is a large, magical and violent tree that attacks anyone and anything that comes within range of its branches.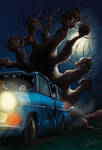 More info in HarryPotterWiki:
harrypotter.wikia.com/wiki/Who…







Grandmother Willow
Grandmother Willow is an ancient weeping willow tree from the Disney film
Pocahontas
. She is wise and motherly, acting as a spiritual adviser to Pocahontas.
More info in DisneyWiki:
disney.wikia.com/wiki/Grandmot…







Old Man Willow
From J.R.R. Tolkien novel
The Fellowship of the Ring
, the Old Man Willow is a great willow tree of the Old Forest. He has great power and hates all the walking things with boldness to cross the Forest.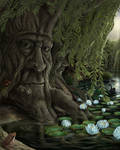 More info in Lord of the Rings Wiki:
lotr.wikia.com/wiki/Old_Man_Wi…







The Cthaeh
The Cthaeh appears in the
The Wise Man's Fear
novel by Patrick Rothfuss. It is described as an evil oracle that uses this knowledge to cause the worst possible outcomes for as many people as possible. However its flowers are panacea, a cure for all ailments.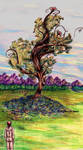 More info in KingkillerWiki :
kkc.wikia.com/wiki/Cthaeh







We are also proud to announce that our affiliates

and

launched a big community project:
"Art for Trees"
You can join it by planting a tree or by offering art for them!
See the project blog for more info:
mirachravaia.deviantart.com/ar…