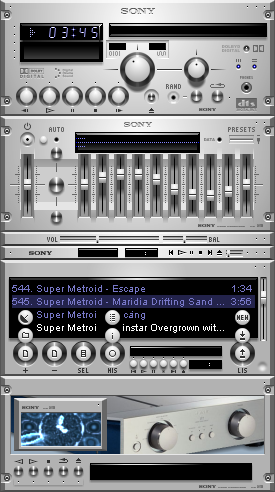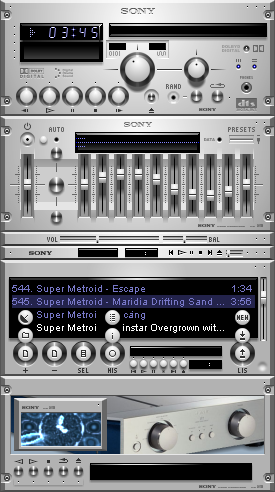 Watch
If you would like the position bar disabled but unsure how to then download it here:
[link]
open winamp and press alt + s if you have any questions about errors in the skin.
There are no major changes in this, in fact the design is almost identical to v1.0. I spent most of the time fixing up the shadows and shine on the main controls. I also tried out a rotating cursor. Here's the update list.
Added:
- Rotating cursor
- Dented area above main volume
- Dolby digital, DTS, Digital cinema sound logos (god knows how many copyright laws i'm breaking)
- Dented area around eject button
- Slight reflection on bevelled area on eq
- Sony logo on playlist (when enlarged) and eq
- Shine on plain horizontal lines (on main window and eq)
Changed:
- Indented Sony logo
- Position of headphone jack
- Audio controls on playlist
- Main controls, eject button, volume, balance and dented area around eq power button (all same design with improved anti-aliasing, shadows and shine)
- Larger power button on eq.
- Darker edges (on entire skin)
- Softer colour on playlist text
- Dented area bottom right on playlist
Thanks everyone for the kind words on 1.0!