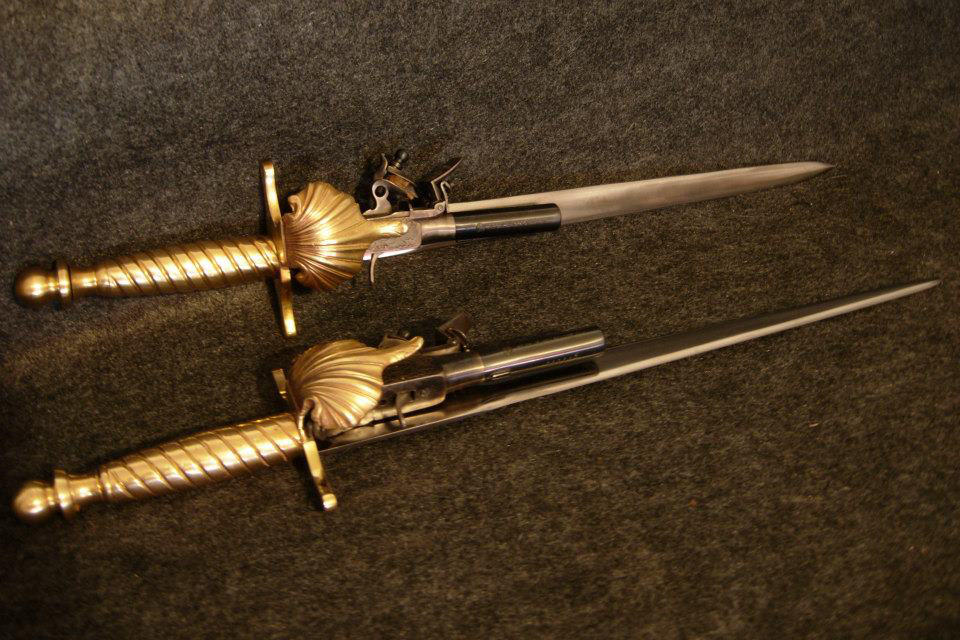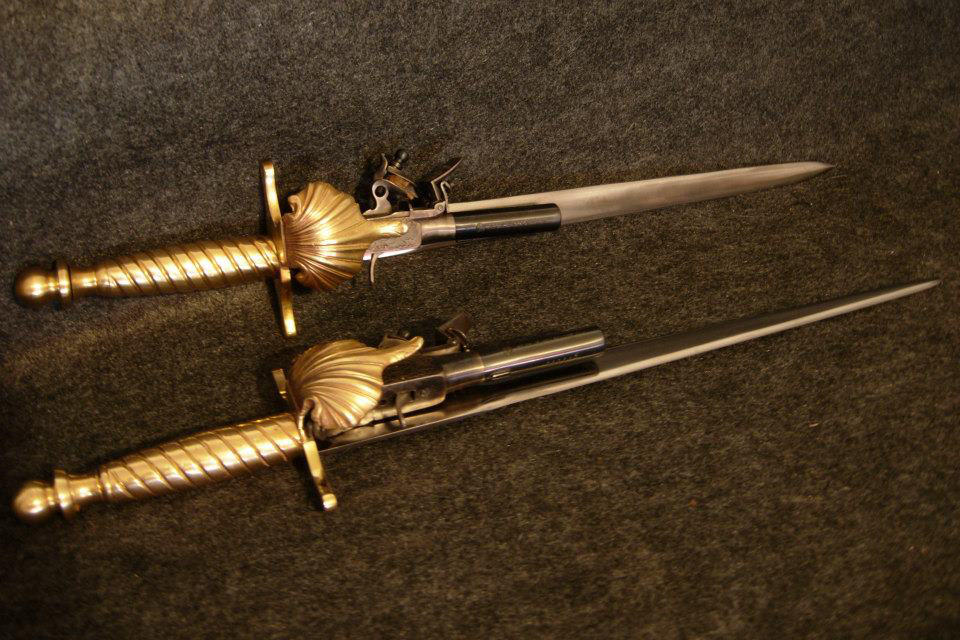 Watch
Here is some previous work I have done in the past with this set of dagger pistols. They are fully functional and shooting .41 caliber flintlocks. In our history several of these were made by past smiths of the trade dating to around the time period of 1750 in this pattern. There were other patterns made dating into the Golden Age of Piracy that have survived in some museum collections. Here at Kings Forge and Muzzleloading we are honored to carry on our history in todays day and age

Reply

Reply

I would love to shoot those. Are they a lot of fun to use? That's something out of Assassin's Creed
Reply

Thanks ste60000, these were made throughout out early history for a period of around 200 years. The artists and blacksmiths of our past were quite creative at making fierce weaponry. I ma glad to carry on that tradition everyday with my work at Kings Forge and Muzzleloading
Reply

nice. honestly i dont see many gunblades being made or have been made. i think its more novelty then it was back in the day.
Reply

You may think so but remember we do have a vast variety of re enactors out here including myself that use and shoot these weapons at events and re enactments. Yes these are few and far between and I believe I am the only maker that still reproduces these on custom order though you are right. All of the weaponry I make at Kings Forge and Muzzleloading is made for use. Many of our swords are used in mock battles and our tomahawks are thrown by professional throwers and novices alike
Reply

you use a lot of gunblades in re-enactments?
Reply

I myself no but I do have customers that do. Myself being a smith I have little time to get out and enjoy re enactments any longer but I do get down to St Augustine once in a while. St Augustine FL is one of the rare cities you can dress up in garb, wearing all of your weaponry and walk into any establishment. As a historian I prefer the age of Piracy in our history as the fact is that "most" Pirates were common folk just like yourself, only looking for a better way to provide for there families. On a military ship you were subject to very poor pay, beatings and very poor food, only the officers of a ship ate well and were paid well. In Piracy you had much more of an equal share of the loot on a ship and your crew were more like your brothers, looking out for each other. Few Pirates in history were blood thirsty like Hollywood prefers to portray but thats Hollywood. Most Pirate ships would raise their colors and the ship they were going after would surrender what the Pirates wanted and often many of the crew of the other ship would join the Pirates for a chance at a better paying life
Reply