On sunday August 7th 2011 it's deviantART's 11th Birthday!!!

More info here:
news.deviantart.com/article/15…
I celebrate it with this digital painting...done for the
"What do you see?" Contest
mollinda.deviantart.com/journa…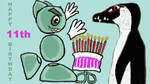 and a watercolor painting...done for the
"Fella's Butterbeer BirthdAy Contest"
fella.deviantart.com/blog/4295…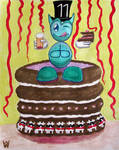 Dear friends...No worry...my next paintings are traditional oil paintings again!

HAPPY 11 th BIRTHDAY

!!!