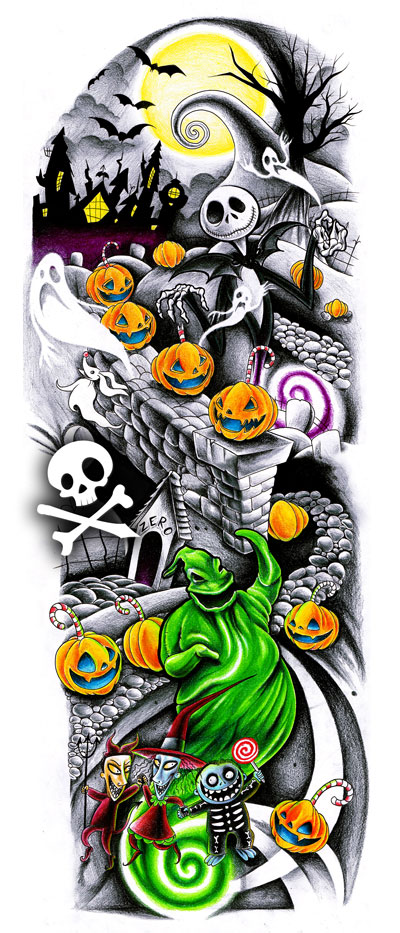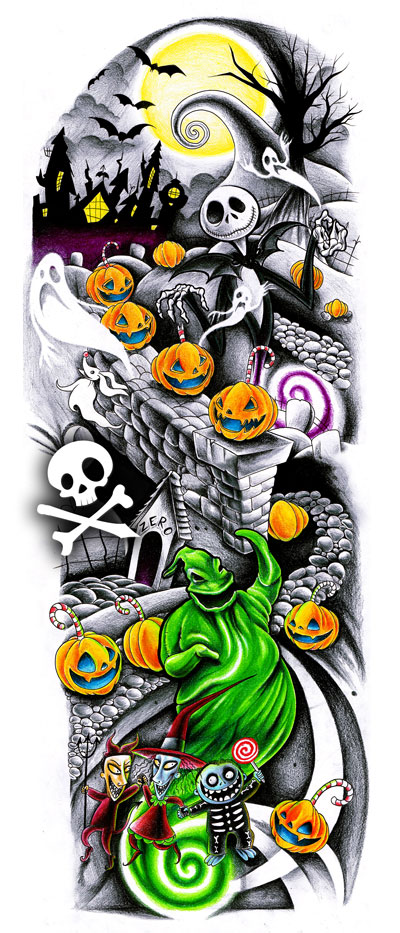 A Nightmare Before Christmas full-sleeve for Kristian.

Use this Tattoo Design as Inspiration only. Do not reproduce / copy this design!! Contact me for a custom design.
OK, My thoughts, opinions, and general critique of this piece.... First and foremost, GREAT JOB! I love the way you incorporated all of the elements of the movie into this elaborate scene. I know from experience that it is far from being an easy task, especially when you have so many elements that the customer wants in the tattoo and you have to make it look the best you can. The overall composition of the piece is nice, however it seems like you were trying to get every single character in it, and because of that it almost seems too busy with too much going on. This can cause lack of emphasis of the most important parts of the design. Personally I think that if you picked 3 or 4 elements (like Jack, Sally, Santa, and Oogie Boogie) and made them take up the majority of the lower part of the design (maybe the lower 2/3's or 3/4) by making each element bigger and then maybe putting the curly thing jack walks on (like on the cover) up at the top to cap off the whole piece. This would give more emphasis to specific elements (the characters), make it more noticeable from a distance and allows you to really put a lot of detail into the elements that are there, as opposed to putting in more elements that are smaller and less defined.

Just some things to think about from a different perspective... Hope I helped.
The Artist thought this was FAIR
38 out of 42 deviants thought this was fair.