I couple months ago I asked for help in naming a voluptuous vulcan.
She now has a name. She is...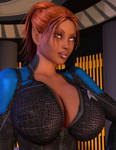 Silieva
pronounced Sil-e-va
I thank everyone who suggested names. They were creative, sometimes a little obvious. Ultimately, they were helpful. I especially like the guide for Vulcan names. It was nice reminder.
Now that she has a name, I can give her a background.
Besides being totally gorgeous, she is a medical doctor in starfleet during the TNG, DS9, VOY era. She joined starfleet soon after she finished school. She served aboard several starships and starbases during her long career. I do not have too much for her now. I'm still working on her personality. Basicly, she is kind, gentle, and lucky for us, likes to wear skimpy clothes.
Recently, I expanded my interests into story writing. To combine my hobbies, I laid out my renders into a comic book and add dialog. Shown below is a 3-page example with Dr. Silieva telling her captain, Melina Callie, some bad news.