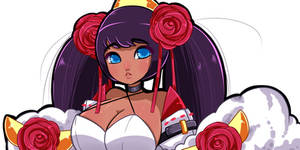 Old Artworks
See all Mymy Goodies! Character Artworks, sketches, commissions, etc ^-^
---
Suggested Premium Downloads

The Regnum Comission: Physical Geography
Description
This is a quid pro quo commission I'm doing for AZ-RUNE; I make him a spiffy map for his RPG campaign, he makes me a real-life shield decorated with my own family heraldry (A birthday present for my son).
Though this is not the final version of the map, I thought I'd post it before I mark it up with labels, borders, and other stuff.
The RPG Campaign (which seems to just be getting started now) is at
www.obsidianportal.com/campaig…
AZ-RUNE's deviant page is at
az-rune.deviantart.com/
AZ-RUNE made a prototype map for me to work with at
cdn.obsidianportal.com/assets/…
There were two sources for this map. The southern continent is from the Palladium Fantasy RPG book, "Library of Bletherad". The northern continent was off a map by Arsheesh. I kept the rough outline and shape of both sources and filled them with my own terrain work.
Made in GIMP with rivers done in WILBUR using the Eriond Technique by Arsheesh. I tried out a couple of experimental variations with this one:
1. Shoehorning the river generation software of river. Having learned a bit from the last couple of maps I made, I came up with an airbrushing technique that guides WILBUR to put rivers where I want them, but isn't quite as obtrusive as what I did in the Kiridin map.
2. I tried using a smudged cloud difference layer to give the ocean a bit more character. It's better than what I've done thus far, but I'm still not very satisfied with the overall look of the water. I'll probably try something else on the next map.
Image size
2320x2036px 4.27 MB