Welcome to my current commission information (parts of the layout have been referenced from
Exileden
's info section with permission).
I ask that all my commissioners please read this and agree with my terms *
before*
commissioning me.

PRICING

Below are the different types of mediums I work with and examples of each. I can be contacted directly at my email: art.of.wildspiritdesigns@gmail.com or by Note here on deviantART.
These prices apply only for artwork commissioned for private use by individuals who will not be using the art for an organization, for business, or for profit.
If you represent a business wishing to place an order for a design for corporate use, please contact me for pricing details and to arrange for the transfer of copyright. If art is commissioned and used in the pursuit of profit without a prior agreement made between myself and my client, I hold the right to pursue legal action against them for unlawful usage of my art.
The prices listed below are starting prices. If your commission is larger and more complex, it will have a higher price; likewise, if it is very small and considerably simpler than the examples I show here, I will price it accordingly.
To have a background added or have your art done on special patterned paper is an extra cost. Please let me know if you need either of these things done and I will arrange it with you.
All prices are in USD.
Pencil Sketch, one animal $20 USD, each additional animal in the same design $10
- Examples: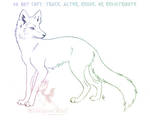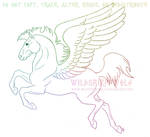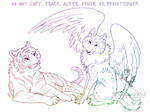 Lineart, one animal $50 USD, each additional animal in the same design $25
Examples: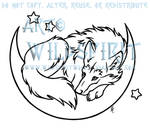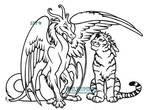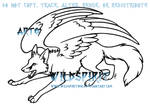 Ink & Colored Pencil, one animal $130 USD, each additional animal in the same design $40
Examples: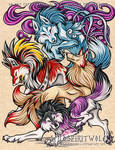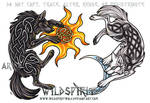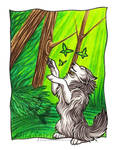 Copic Marker, one animal $120 USD, each additional animal $40 (please inquire and I will see if I have the right colors for your character)
Examples: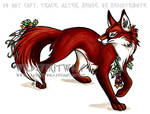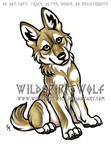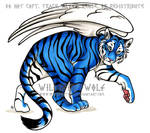 Watercolor or Acrylic, not currently available
- Examples: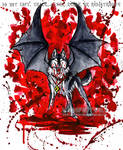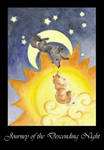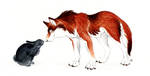 B&W Design/Logo, one animal $95 USD, each additional animal in the same design $25 (added color costs extra)
Examples: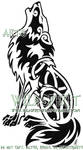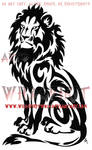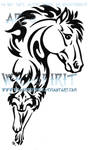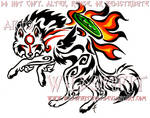 Sculpture & Cake Toppers, each 3-4 inch painted sculpture $150 USD,
Examples: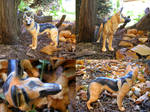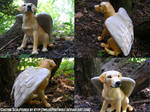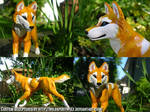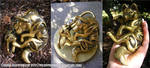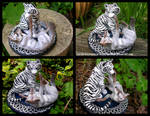 GENERAL COMMISSION QUESTIONS

Q. How do I order a commission?
A. If you are a member of DeviantART, just send me a note through this website with a description of what you'd like to order and I will get back to you at my earliest convenience with the exact price.
Q. Do you have any stock designs that I could buy instead of paying for a custom design?
A. Yes, I do have a growing selection of art available for license in my "Available Designs" gallery. Please click here:
wildspiritwolf.deviantart.com/…
to see them.
Q. I don't know how to pay for a commission. How can I pay?
A. I accept online payments in USD through Paypal.com. However, if you do not have an account with Paypal, I also accept Money Orders sent through the mail.
Q. What if I can't pay the full amount in one payment? Do you have payment plans?
A. If your order is large, let me know if you need to set up a payment plan and we can make arrangements.
Q. I don't live in the United States. Can I still order a commission?
A. Of course! I have successfully completed and shipped out multiple commission orders to all over the world.

Q. How long will it take for you to finish my commission?
A. The current wait time for commission work to be completed is around 4-6 weeks though it could take longer due to the high volume of work I have going. Commissions are done in the order that payment is received. If it is important to have your art done by a specific time, please let me know. I offer expedited services for an additional fee.
Q. Is there anything I can do to make the commission process easier?
A. Yes, if you could include with your payment (either by Money Order or Paypal) a short description of the commission you ordered and include your DevART name as well, that would be very helpful.
Q. What if I don't like the finished art?
A. If requested, I offer WIP preview sketches of your order so that you can see your art before it is complete. The first preview is free of charge. If you would like something changed, each edit and preview is $5. This price only applies to edits to designs still in their sketch state and
have not yet
been finalized with ink. Any changes requested after the design has been inked are priced according to the amount of time and effort involved for the change.
Q. Do you ship out the original artwork once it's completed?
A. All artwork is mailed out to the commissioners unless they don't want to pay for shipping and would rather have the digital image emailed to them. And for international customers, I do ship worldwide.
Q. I haven't received my commission yet. Where is it?
A. Once packages are mailed out I am not responsible for what happens to them in transit. I do offer insurance for mailed artwork for anyone who's interested, so it would be shipping costs plus the amount for insurance. Please note, if insurance is not specifically asked for and added to the order, the art will not be shipped insured.
Insurance for US mail: add $5 to shipping cost
Insurance for International mail: add $35 to shipping costQ. I don't want the commission I ordered anymore. Can I get a refund?
A. No, I am sorry, but I do not offer refunds so please be certain that you want to place an order before doing so. I do however, offer switch-outs where you can change your commission to something different as long as it is an equal or lesser price to your original commission order.
Q. I want to order a wedding topper with a base. How big will the base be and do you offer them in different sizes/shapes?
A. Yes, available shapes of bases are round and heart-shaped.
i987.photobucket.com/albums/ae…
The round ones come in two sizes, 5 inches and 7 inches. The heart base comes in one size, 7 inches. Please indicate what size and shape of base you would like to have used for your topper when you place your order.
Q. Do you do commissions in exchange for DevART Points?
A. No, I do not and have no plans to do so at any time in the future.
Q. Why won't you do a picture/tattoo/etc. for me for free? It's silly that I have to pay to have you make something for me.
A. Please try to see this from another person's point of view. I'm sorry but I do not work for free and have no plans to change that. Commissions are my full time job so if I did art for free, I would have no money. The money that my commissions bring in pays my bills, feeds me, and clothes me. I no longer have the time to sit around doing free art for people.

TERMS & CONDITIONS


I reserve the right to make and sell prints of the commissions I create.
The copyright title for each piece of work I create remains with me unless we agree to something different. Upon your request, I will not offer prints of your commissioned art for an extra fee. Constantly creating originals takes a lot of time and energy, I need to be able to make money from my art that doesn't require me to sit down for several hours every time.

You may not use commissioned art from me to make money.
This means you may not sell prints of the art, nor can you print, burn, or etch it on t-shirts/plaques/glass or anything that you intend to sell. If you would like to commission art for this purpose, please discuss it with me and we can make arrangements. Note: This does not apply if you ever decide to sell the
original
piece of art.

You are not allowed to claim that you or someone other than myself made it.
I reserve the rights and the credit to the art that I have created.

You ARE allowed to use your commissioned art as a personal tattoo design for yourself.
If you are the person who commissioned the art from me, you may legally use the design as a personal tattoo design for yourself. However, if you did not order and purchase the art from me, you do not have my permission to reuse or alter the designs in my gallery and have them tattooed.

You ARE allowed to use your commissioned art for your website, forums, team logos etc.
If you are the person who commissioned the art from me, feel free to use it anywhere online that you like, just keep in mind that any art posted without a protective watermark is a lot more vulnerable to art thieves and might show up somewhere you don't want it to or get used by an unauthorized party.
If you have any further questions or comments, please feel free to ask!