Name:
Honey Bell
Pony Type:
Pegasus
Gender:
Female
Age:
Middle Aged
Cutie Mark:
honey bee
Talent:
Bee Keeping!
Occupation:
Takes care of the bees around Neighberry, manages hives, and collects honey. She sells her honey plain and with all sorts of flavoring and in all forms from regular jars to honey sticks to candy! She also makes candles out of the bee's wax and various other things.
Personality:
Honey Bell is much like the bees that give her her name. She is hardworking and diligent as well as loyal to those she loves. She is very social and loves to be around other ponies. She has a DIY attitude and is never daunted by a project, and she is always offering a helping hand. However, she also has quite the sting of you rub her the wrong way. She can be easily offended and gets defensive (or passive aggressive) if someone starts criticizing her. If she is very upset, she is even capable of being quite vengeful. But treat her well (and maybe some white lies to avoid insulting her) and she'll be as sweet as honey!
Best Quality:
Social. Honey has a way to her that makes others feel at ease. She is jolly, confident, and smiling and is good at being anyone's mother.
Worst Quality
: Proud. Honey Bell doesn't like being insulted, and she has a very keen ear for it. She knows she works hard and can be smug toward those she doesn't think work as hard as her and, and she doesn't like being under appreciated. She can be surprisingly harsh when she feels cross with someone.
Likes:
Bees, children, flowers and sweet things, landscaping, decorating, her kids, household goods and decorations, cooking, praise
Dislike:
Laziness, being unappreciated, anything too excessive or "modern"
Hobbies
: Beekeeping (it's her job but she likes to spend lots of time doing it anyway), nature walks, doing crafts and making things with various bee and nature things. Also enjoys helping florists and landscapers.
History:

WIP
Other:


Married to
Thunderclap
and mother of
Flash Frost, Snow Streak
, and Sun Spot (coming soon!) and adopted guardian of
Arowana

Lives in
this house
with her family

She and her family have a calico cat named
Patches
.

Although she has no designated role in the Neighberry Weather Team she insists on helping out when they need it
Featured Art: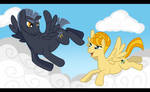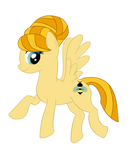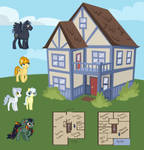 Honey Bell (c)