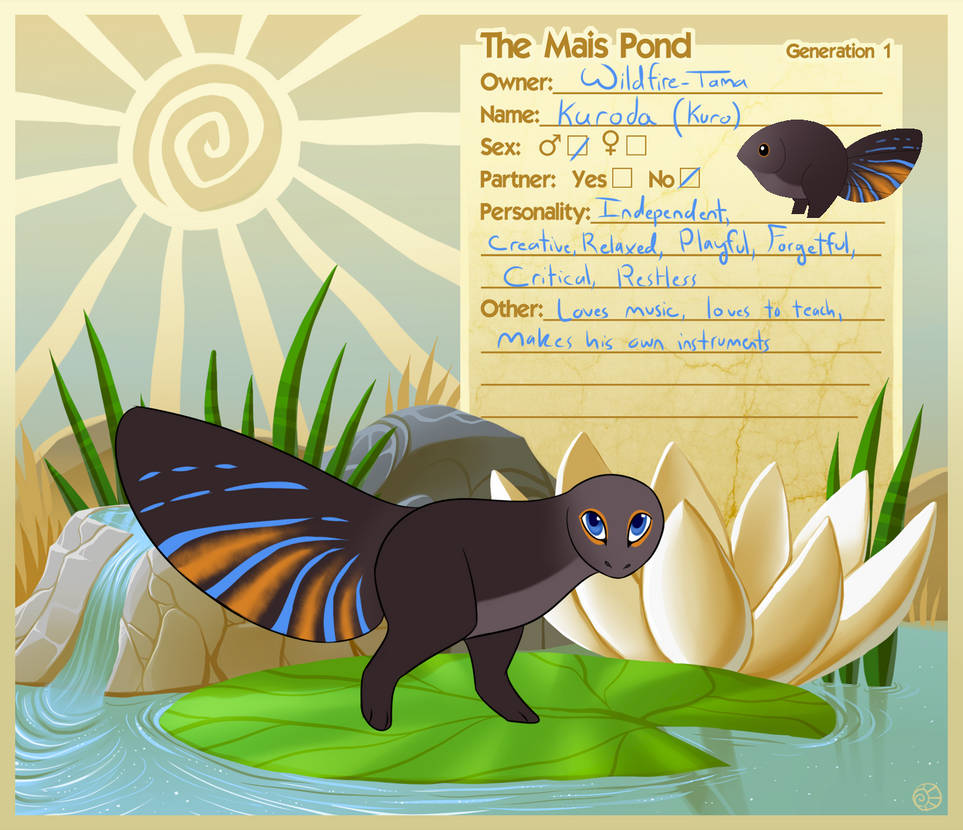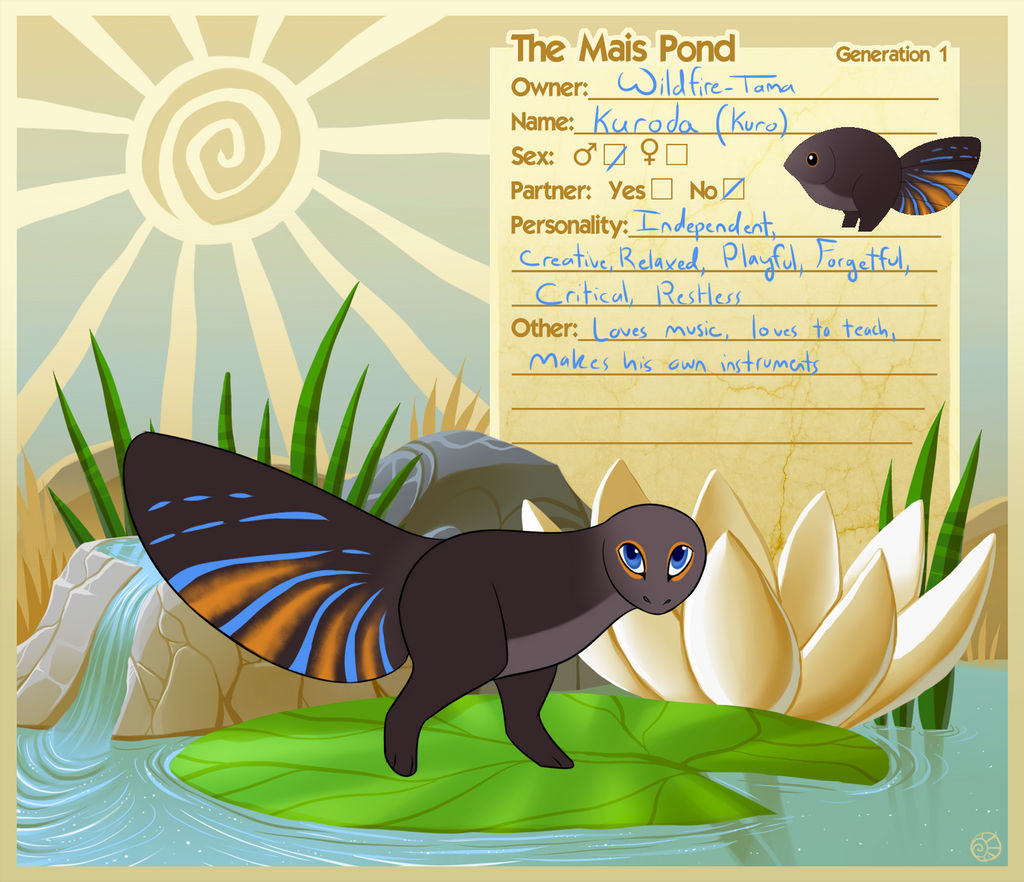 Watch
This guy... has... literally been... TORTURING me for weeks and weeks. I had no idea, and still have no idea, what I want for him. I wake up every day with a different personality I want him to have, a different name, but I just really need to post this at this point because I see no end to the indecision. So this is where I landed, and this is now him.
I am not a fan of how I draw Mais in this style. I may redraw him in a style more true to the official Mais anatomy!
Please let me know if you'd like to meet Kuroda! I am open for RPs, collaborations, or discussion!

~~~~
Name:
Kuroda (Kuro)
Gender:
Male
Partner:
Sameko
<33
Family:
Collie (sister), Maru (little brother), Ma'kiri (cousin), Imani (niece), Sameko (mate), Haruko (son)
Personality:
Musical - Kuroda loves to play musical instruments, and he makes them himself. It is the one skill that he is really good at. If you will join him in a duet then you have a friend for life. He also enjoys humming, whistling, and singing.

Independent – Kuro doesn't need company, even if he does enjoy it. He is just as happy with a peaceful day to himself to enjoy the world around him and practice his arts.

Cultured and Creative – Kuro loves being creative and making things. He has a deep appreciation for any and all art. He also loves history and culture of all kinds, especially poems.

Athletic – Kuro loves to unwind and have fun with games, sports, and physical challenges. He can get pretty competitive.

Relaxed - If you are stressed out, Kuroda is a great person to go to. He is quick to offer a calm smile and a fresh perspective to help you out.

Nurturing – Kuro likes to teach others and share his knowledge and skills. If someone seems interested in something he is doing, he will happily offer a lesson.

Forgetful – Kuroda mind is always so full of thoughts. He never wants to let someone down, but it happens when he gets wrapped up in something else or distracted.

Critical – This trait would only be realized by a close confidant, but Kuro is a very critical individual. Mostly to himself.

Restless – Kuroda is a peaceful guy, but his mind is always filled with reflections of the world (which is good) or his faults (which is bad). He can suffer from insomnia on occasion and can sometimes be seen wandering around at night.
Other:
Kuroda thinks of relationships in the same way he thinks of duets. It takes work, compromise, and unity to get it sounding just right, but when the commitment is there and the personalities are right then you make something beautiful. He sees playing music with someone as the ultimate form of unity and bonding.

If he ever falls in love then that poor girl will be put on the highest pedestal and showered in love poems as well as songs and gifts devoted to her.

Kuro has been considering trying to create a system of written marks to help him remember things better.

Instruments he owns include:


- A Keytar from his best friend Blizzard!
- Flower Bagpipes
- Guitar
- Banjo
Relationships:

Blizzard - best friend
Otis - best friend
Sabrina - best friend
Midori - best friend/big brother-like affection
Collie - sister
Shiko - friend
Fletcher - friend
Tango - friend
Laurence - friend
Sameko - best friend, mate!
Ma'kiri- cousin
Imani - niece
Mystic - brother-in-law (Collie's mate)
Dei - honorary nephew
Maru - little brother
Haruko - dear beloved son <33

Comment or note me if you'd like your Mais to be added to the list!


Artwork:
Mais Mosaic- picture of Kuro
CotM54 - The New Guy - Kuro socializes
CotM54 - Kuroda's New Friends - Kuro shares blackberry with his friends Midori, Sabrina, and Blizzard (+15 orbs)
Heeeeyyy, Brotherrr - Otis and Kuro become friends
'Thank you!' - Blizzard gives Kuro a Keytar! <3
BB - Kill 'em with Kindness! - Blizzard pops one of Kuro's bubble with his pet Sitara
Messing with the Wrong Mais - Bubble Battle 1 - Kuro pops on of Blizzard's bubbles with the heat from a fire (+1 orb)
Song from the Soul - Bubble Battle 2 - Kuro accidentally pops one of Sabrina's bubbles while he is singing (+1 orb)
Jump Scare - Bubble Battle 3- Kuro scares Fletcher into popping one of his bubbles (+1 orb)
BB - I Did Not Think This Through - Tango pops one of Kuros' bubbles with a pit-fall trap
CotM57 - Merry Maismas - Kuro celebrates Christmas with his friends!
Mais Secret Santa - Kuroda sings his heart out at Christmas
Winter Workout - Kuroda plays ball with Midori and Sabrina
Take the shot! - Annabeth joins in the ball game, taking an epic shot at the goal!
CotM57 - Thank you! - Kuroda spends time at the pond
Ghost of Christmas Past - Mais SS - Kuroda experiences the ghost of Christmas past with Shiko (+10 orbs)
CotM58 - This is my Romance Hat, you guys - Attends Otis' housewarming party
Campfire Songs - Plays his keytar and sings with Otis and Blizzard
RP: Kuroda's First Friend (Sabrina and Kuroda) - Meets Sabrina
Colorful Campaign - Kuro pixel
CotM58- Winter Beauty - gives Midori some winter holly (+10 orbs)
Kuro's Valentine - Sings for love! (+15 orbs)
Moon River - Kuro and Collie create beautiful music for the pond
Collie's Valentine- Kuroda puts on dinner and a show for Collie and her mate Mytic (+20 orbs)
GAINED BIOLUMINESCENT MARKINGS- (-50 orbs)
Festival on the Pond- hosts a festival for all his friends (+10 orbs)
House Making part 3 (End) - Helps Sameko make her new home
Spends time with Sameko
------>Housewarming - Art RP 1 - Visits Same in her new home and gives her a housewarming gift
------>Sing Along - Sameko sings along to Kuroda's playing
------>Come on! - Art RP 3- Kuroda has an idea and leads Same into the pond!
------>Where Are You Taking Me? =Art RP=- Kuroda leads Sam through the Pond
------>Secret Concert Hall - Art RP 5- They reach a large, secret cave
------>Unintentional =Art RP= - Sam moves closer to Kuroda nervously, admitting she dislikes dark places
------>Im Sorry! - Art RP 7 - Kuroda asks if a song will help, otherwise they can leave the cave!
------>Just For A Few More Minutes =Art RP= - Sameko insists that she is okay, comforted by Kuro's bioluminescence, and starts the song
------>Cave of Songs - Art RP 9 - Sameko and Kuroda sing!
Cotm60 - Memories - Kuroda reminices with his sister Collie and cousin Ma'kiri
Pond Parade 2017: Swimming Maisquerade!- Kuroda dresses for the masquerade-themed underwater Pond Parade! (+25 orbs)
Pond Parade 2017 - The Pond Parade
When we were still children- Kuroda remembers good times with his parents and sister, Collie
CotM60 - Golden Evenings - takes a stroll with Blizzard and Otis
CotM-60: Double Fake pg.1 - Kuroda rests in the afternoon sun
Double Fake Pg4 - Kuroda performs with his band at Raven's Nightclub
Happy Birthday Wildfire-Tama- Kuroda gets kisses from Collie and Sameko
Mais Easter - Kuroda decorates an Easter egg
CotM61 - Matchmaker Saki - Saki suggests a potential date for Kuroda (+10 orbs)
House Repairs (Blizzard and Kuroda) - Kuroda helps Blizzard collect reeds to fix his house
Ohhh SNNOOWW... - watches as Otis and Sabrina confess their love
Happy for You - Kuroda is so happy for the new couple!
Nice Disguises - spies on Sabrina and Otis on their date!
Otis has had enough - Kuro and the others get caught spying!
CotM61 - Takeshi's Castle - plays Takeshi's Castle
CotM61 - Tickle!- Kuroda bonds with his family!
A World of Light - takes his niece, Imani, out on an adventure!
'Please let me join the band!'- V wants to join the band!
30! - Kuroda and his sister and cousin
Harmony (AT) - Kuroda and Sameko play a song for Imani
The Biggest Pond - Mais Photography - Kuroda visits the ocean (+25 orbs)
Kuroda Pixel Pagedoll - Kuro animated pixel pagedoll
Better get Started -Art Trade- - Takes Imani to singing lessons with Sameko
Mais Contest- Sandcastle - Kuroda visits a sandcastle with friends
CotM64 - Addicted - spending time with Sameko when they hear V screaming for nectar
Lost Rouko - he and Sameko help a lost Rouko find his way home
Spends more time with Sameko!
------> My Go -Art RP- - Sameko leads Kuroda on their next adventure!
------> Lily Jumping - Art RP 2 - They hop across the pond on lily pads
------> Little Garden =Art RP= - Sameko shows him her nursery!
------> Room to Grow - Art RP 4 - Kuroda is impressed with Sameko's garden and offers to go plant-hunting with her
------> A Little Favor =Art RP= - Sameko graciously accepts, then asks Kuroda if he will take her to Raven's Nightclub
------> We Can Leave At Sunset - Art RP 6 - Kuroda agrees, and says he will pick her up at sunset
------> Waiting =Art RP= - Sameko eagerly awaits Kuroda's arrival
------> Beautiful Dusk - Art RP 8 - Kuroda finally arrives, slightly late, and is lovestruck!
------> At Twilight = Art RP = - Sameko happily greets him and they start to walk to the Nightclub. She scoots closer to him out of fear of the dark.
------> Wait... - Art RP 10 - Kuroda stops Sameko and admits his love for her, asking her if she'll be with him
------> Faded Darkness - Sameko says yes!!
------> My Light in the Dark - Art RP 11 - They enjoy a lovely night as husband and wife <33
Mais - Kuroda and Sameko - Sameko and Kuroda become mates!
Cotm67 - Once upon an autumn morning... - reflects on a long and happy friendship with Blizzard and Otis
THE COMPLETE MAIS FAMILY TREE - full Mais family tree!
Our Forever Family - The Final Event - Kuroda, Sameko, and Haruko on their lily pad! (+50 orbs)
The Story Never Ends {SEE DESCRIPTION} - Blizzard Reminisces
Beach Day - Kuroda, Sameko, and Haruko spend a day at the beach with their family
XxTerraHeartxX - Easter Santa gift - Kuroda and Sameko experience the difficulties of childcare!
Something Just Like This (Entry 3/3) - Kuroda performs with his friends as a Halloween party!
|Mais| You And Me - Kuroda and Sameko enjoy a lovely autumn day


Total Orbs:
143 orbs
Updated:
29-DEC-18
Kuroda (c)