www.8bitcomic.com/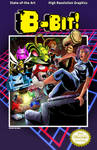 I have officially launched my 1st web-comic entitled, 8-Bit! It is a project that I have put a lot of heart and soul into and I hope you will be kind enough to give it a read. New pages go up at 12:00 am every Wednesday.
I will also be running a feature once a month in which I showcase a guest artist doing a parody/homage style ad featuring the characters of 8-Bit! If you like what you see and are interested in having your work featured, email me at wil.woods.art@gmail.com Please include a link to your work and include your commission prices. (yes, this is a paid gig)
If you like what you see, please spread the word!!
Wil