Normally, I would have my awesome quotes column and then say what i had to say underneath them, but i'm switching things around this time.


anyway, happy valentine's day!!! couples usually take this holiday to go out to romantic dinners, buy each other presents, and basically take a day to feel the wonderful feeling of happy, lovey-dovey, fuzzy-and-warm-inside, loveliness of each other (did that make any sense? lol well, it did to me). i thought i would take the time to shed some light on love/lovers that doesnt/don't get to '
come out'
, let alone on valentine's day.


The Happy, the Cute, and the Fuzzy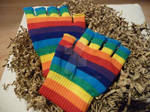 engineerJR (I WANT THESE GLOVES! i love the kind of gloves that have no fingertips anyway and these are awesome!!!)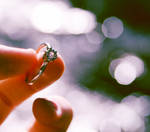 LyricalLiesX congrats u two!!! that shot specifically reminds me of a scene from the book annie on my mind by nancy garden. BEAUTIFUL pic btw.

:thumb96681058:

LoyalLumpling

omg i love the clothing!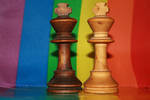 FeraFilius..such a cool idea, came out well too (no pun intended lolbnrf)

:thumb33818557:

Lironada

AWWWWWWWW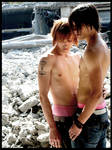 horrornoukie beautiful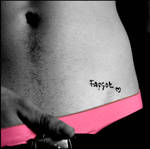 horrornoukie yay faggot love

alessy




:thumb153548589:VinnyCrow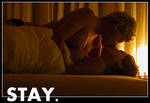 REALEEHE omg cant u just feel the passion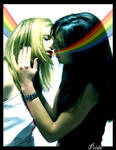 Eterea86 i think it's so cool how the rainbow goes through their mouths (yes, lol i JUST realized that)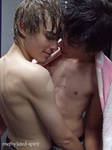 Rosary0fSighs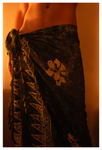 iacchus looks good!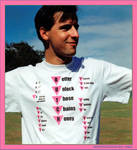 misteriddles OMG AWESOME SHIRT!!!!!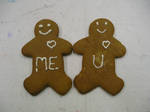 bookaddict7342 ur first deviation/feature all in one day!!!

and great cookies. did u end up eating them or just let them sit there loving each other? lol

The Sad, the Bad, and the Wrong


Daily thoughtsI'm a girl,
that's for sure.
But will other people see me as one?
Will I pass as a girl?
Or will I be seen as a guy in girl's clothes?
Will the psychologist see the girl inside of me?
Will I ever be me?
Will I be discriminated?
Will I find a job?
Will I be killed?
Will my friends be harmed because of me?
How will my parents react?
How will I look like?
I will never be a normal girl!
Will the surgery be okay?
I will never bear a child!
Will the hormones work?
I want to give up!
Will I be accepted?
Will I die before I can be me?
Will my wide shoulders spoil my appearance?
What's about this ugly face?
Will there ever be a girl looking back from the mirror?
Will there be the right girl for me?
Will I be okay?
My daily thoughts
Venathil-Matura

good poem, but sad (obviously)... i hope someday your face in the mirror will match the person on the inside of you. good luck.

:thumb88455881:

sammiemac

STAGED!!!! dont worry.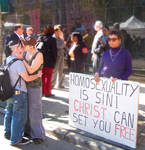 AnimiSomnio

what freakin sick people there are!!!! LGBT or anything else is not a sin or an illness!!!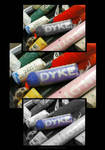 desperate-bid

... cool layout of the pic tho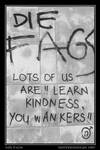 misteriddles this is TERRIBLE that someone had the guts to write that. i am very happy that someone made a graffiti comeback tho.


----------

:thumb148373509:

Ahqua



"Love me.

Love me for who I am
Love me, whatever your reasons be.

But please love me, not because
I am straight
transgender
bisexual
gay
or a lesbian.

Love me for things that matter.

Love me purely because

I am me." WickedPotter84

Happy Valentine's Day to everyone. it shouldn't matter who your valentine is.

ok so the quote(s) don't have anything to do with what i'm about to say but i love the quote(s) so they're staying up



Peter Pan: "Forget them, Wendy. Forget them all. Come with me where you'll never, never have to worry about grown-up things again."
Wendy: "Never is an awfully long time."
Narrator: "It would be delightful to report that they reached the nursery in time. But then there would be no story." ~Peter Pan (2003 movie version)

"If one is for something, they are said to be pro. If one is opposed, they are said to be con. Then, what is the opposite of progress– congress?" its-raine-ing hmmmm there could be some truth to that... uh oh




"Catapultam habeo. Nisi pecuniam omnem mihi dabis, ad caput tuum saxum immane mittam - I have a catapult. Give me all your money, or I will fling an enormous rock at your head"

Aerten

ok ok i'm sorry!


"

I had a friend once..... then the rope broke and he got away"

InShinFrog

lol awww thats sad

"Indecision may or may not be my problem"

InShinFrog

that may or may not be funny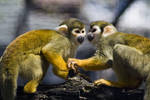 btoum lol "on the count of 3 we pelt them with bananas..."

... did u like this pic? go look at primateclub for more awesome pics of primates!!



"There are no bad desicions, only consequences for the bad ones." ~Zach

Vanessa: If I won the lottery, you'd never see me again.
Usnavi: Damn, we're only jokin', stay broke, then...
~96,000, In the Heights

"Elphaba, where I'm from, we believe all sorts of
things that aren't true. We call it - 'history'." ~The Wizard of Oz, Wicked (from the song Wonderful)

woah. all i can say is woah

. i love POTC 1 and 2 and this pic is amazing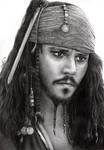 D17rulez

"Women who behave rarely make history." ~a sticker i saw

"I love the nights I can't remember with the friends I can't forget." ~a magnet

"Veni, Vidi, Visa".... So THAT'S what Ceasar did when he went to Gaul. He "came, he saw, and went shopping". Think there was a Macy's back then? (found on another magnet)

"Authenticity is irresistible to almost everybody." ~unknown

"I wear myself with pride." ~Keri

"The beauty of life is to experience yourself." ~Yogi Tea

"People are like stained-glass windows. They sparkle and shine when the sun is out, but when the darkness sets in their true beauty is revealed only if there is light from within." ~Elisabeth Kubler-Ross

"What we achieve inwardly will change our outer reality." ~unknown

"Focus on what you're grateful for in your life. If you don't appreciate what you have, you won't get anymore... because the universe thinks it is not important to you, and therefore you don't need any more." ~T. Harv Ecker, Secrets of a Millionare Mind

"Patience is easy for those who trust." ~Karen Salmonsohn

"Excellence can be obtained if you...
1. care more than others think is wise
2. risk more than others think is safe
3. dream more than others think is practical
4. expect more than others think is possible." ~unknown

"At least once a day, allow yourself the freedom to think and dream for yourself." ~Albert Einstein

"Most people see what is, and never see what can be." ~Albert Einstein

"...Dreaming, after all, is a form of planning."

"You have to think, so why not think big?" ~Donald Trump (are u surprised that he was the one who said that? lol)

"We've got two lives. The one we're given and the one we make." ~Kobi Yamada

"Courage is not the absence of fear, but rather the judgement that something else is more important than fear." ~Ambrose Redmoon

"...because god never slams a door in your face without opening a box of girl scout cookies." ~Elizabeth Gilbert (what the heck? lol)

"In any given situation, I know that I have a choice between love and fear. I choose love." ~unknown...i agree



"Nobody cares if you can't dance well. Just get up and dance. Great dancers are not great because of their technique, they are great because of their passion." ~Martha Graham

"I always learned more looking out the window than I did in the classroom. Somebody's gotta day dream." ~David...so true



"When I give, I give myself." ~Walt Whitman

"I like you more than the big apple circus." ~Arielle (one of Keri's friends) LOL

You are worthy of all you receive. Take your love and run with an open heart, allowing the wind to blow it to whom ever else may be caught in the breeze." ~unknown

"It's only when you don't own your power fully that it shows up as resentment" ~Katherine Woodward Thomas

"If you are irritated by every rub, how can you ever become polished?" ~Rumi

"People are often unreasonable, illogical and self centered; Forgive them anyway. If you are kind, people may accuse you of selfish, ulterior motives, Be kind anyway. If you are successful, you will win some false friend and some true enemies; Succeed anyway." ~Mother Teresa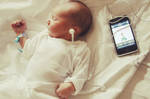 julkusiowa <<<this just shows how much we depend on music





me: *sees pics of british flags on the walls we're walking by and fake whispers* are we in britain?
pickle: yes. bonj-oops...


me: this just shows how much you learned in french class LOL
pickle:



"Of all of our inventions for mass communication, pictures still speak the most universally understood language." ~Walt Disney

"Thought of the Day: some people are like slinkies. they don't have a purpose, but they bring a smile to your face when, you see them going down the stairs." ~a bg i saw on an iphone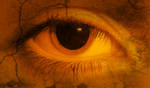 Starlight-Airwaves woah....




Starlight-Airwaves really cool pic, don't u think?... my sister told me today that one of her friends got half-mugged a little while ago (nothing bad ended up happening, don't worry). when the "mugger" was tossed the wallet he said that he didn't want the credit cards or anything, just the money. he also gave my sister's friend a dollar back and told them to get home. apparently he was a drug-addict and he just wanted drugs THAT badly that he felt that he HAD to get cash. under all that he was really nice in a strange way. he gave a dollar and the credit cards back. isn't that sad that drugs can do that much to you that you would be that desperate to get them?... hugs, not drugs people.
>>>YES




YES<<<








"I follow my own path, I do my own thing- oh look my monkey!!" ~pickle... who else would say that? lol (btw for those of u who are wondering just how strange she is, she was talking about the fake tatoo on her arm when she said "monkey" lol. she does not own a real one... i want a monkey now

)

"All deep things are song... see deep enough, and you see musically." ~Thomas Carlyle

"and yet we're afraid of moths..." ~me/Starlight-Airwaves no one else will know what this means but we will laugh



"life is a rule, so break it." ~unknown

"If I lay here
If I just lay here
Would you lie with me
And just forget the world?" ~Chasing Cars, Snow Patrol...and yes, i would




"98% of kids drink or smoke before age 18. Post this on your page if you like bagels." ~Starlight-Airwaves found this on facebook LOL