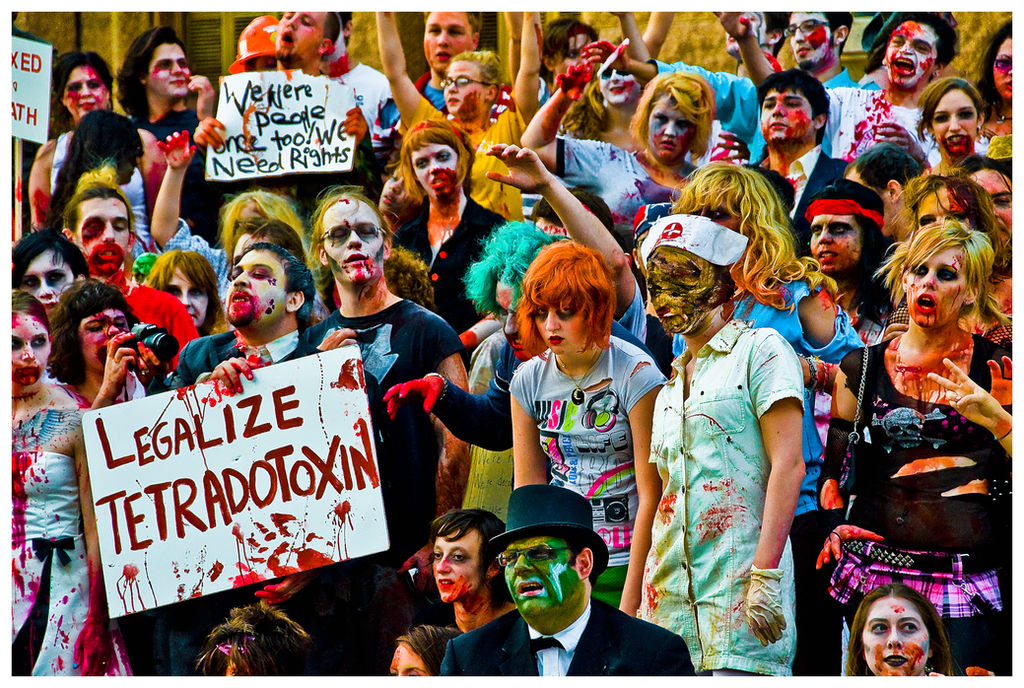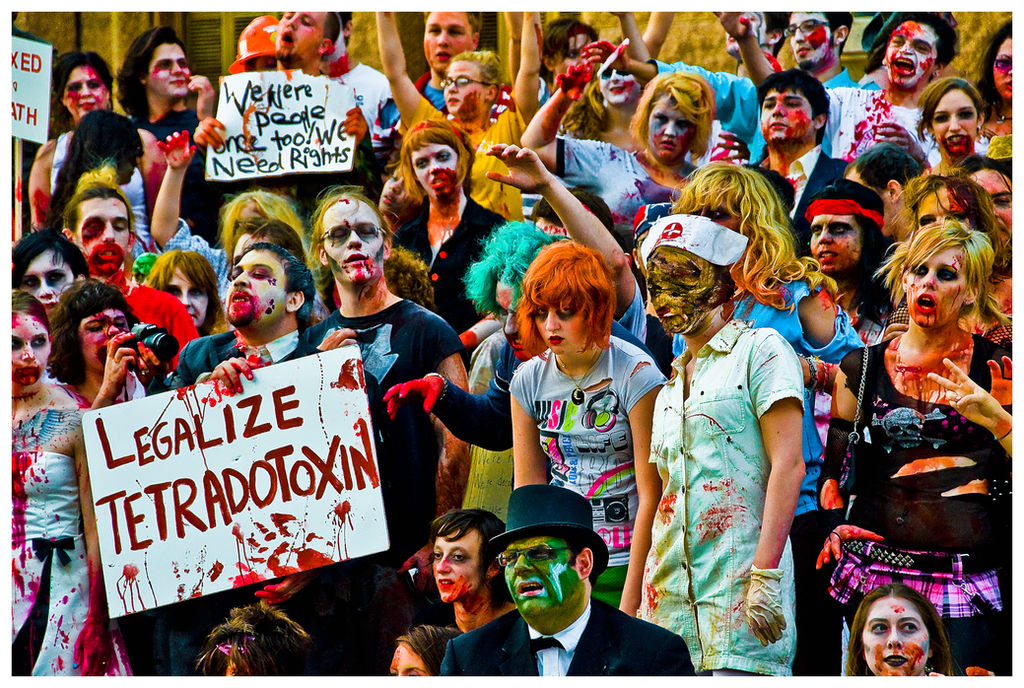 Watch
Actors in zombie makeup march on the Texas Capitol for "Zombie Rights" On October 25, 2009. The event is known as Dismember the Alamo and it's held annually by local movie theater-restaurant hybrid, The Alamo Drafthouse.
Tetrodotoxin is a potent neurotoxin with no known antidote. Its name derives from Tetraodontiformes, the name of the order that includes the pufferfish, porcupinefish, ocean sunfish or mola, and triggerfish, several species of which carry the toxin. Tetrodotoxin is 100 times more poisonous than potassium cyanide. It is not always entirely fatal, however; at near-lethal doses, it can leave a person in a state of near-death for several days, while the person continues to be conscious. It is for this reason that tetrodotoxin has been alleged to be an ingredient in Haitian voodooism and the closest actual manifestation to zombieism in the physical world...
(some text sourced from the wikipedia article on Tetrodotoxin.
[link]
)
Deviant *tanya3286 mentions in the comments below:
I actually saw a documentary on Nat Geo regarding what you wrote.. except that what the presenter on NG said was that -

'it almost kills you by reducing ur heartbeat to once a minute or so with a near lethal dose. The victim sleeps in a coma like slumber and then the voodoo master generally buries the victim who wakes up in a coffin underground, and finally awakes to find himself buried alive underground in a cold coffin. The resulting trauma may lead to temporary or permanent mental damage, under which circumstance the voodoo master can manipulate the victim to do his bidding'

Edit: 12/29/2010
I just came back from vacation to find that I received a Daily Deviation award for the first time ever! That is so exciting, you seriously don't understand.

I've been waiting/hoping for one for 6 years! 6 years! I wish I could have been here to see it happening, but I'm happy just the same. Thanks so much for all the faves and comments and I will work on replying to every one of them.
Here's a couple more shots from the series.
Daily Deviation
Given 2010-12-28
I stared at this for a while and just knew it was probably one of the most well composed and spontaneous pictures of a rally such as this ever.
Legalize Tetrodotoxin
by =
whitehotphoenix
[Photojournalism / Public Gatherings & Events]
(
Featured by Timothy-Sim
)