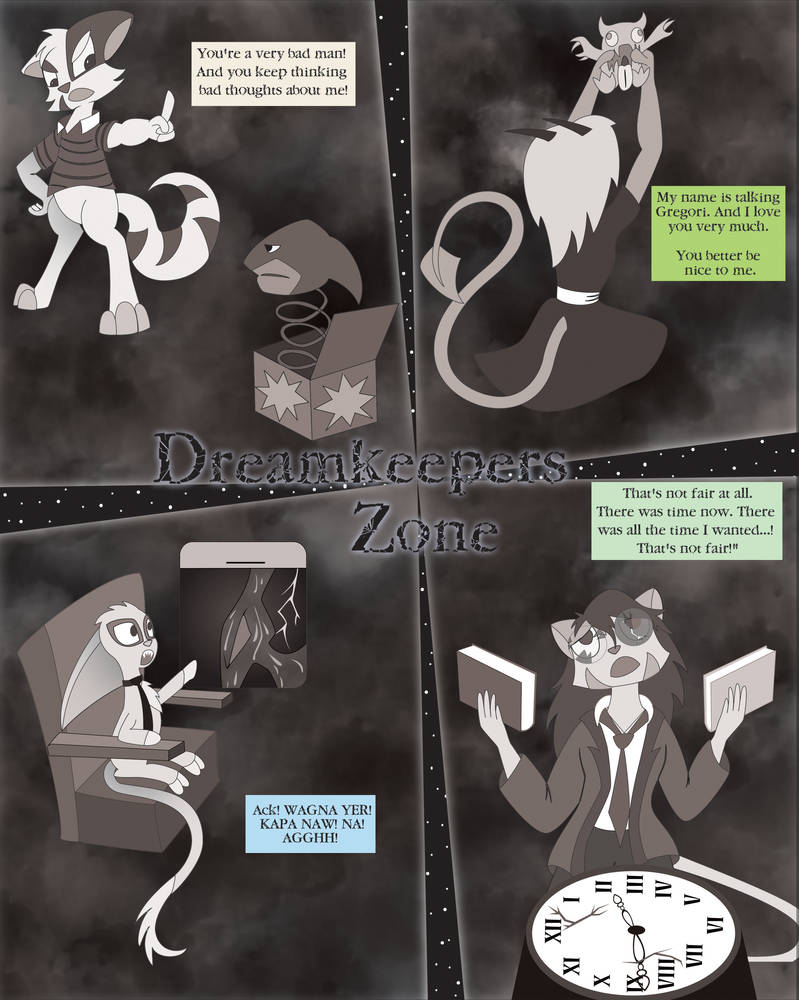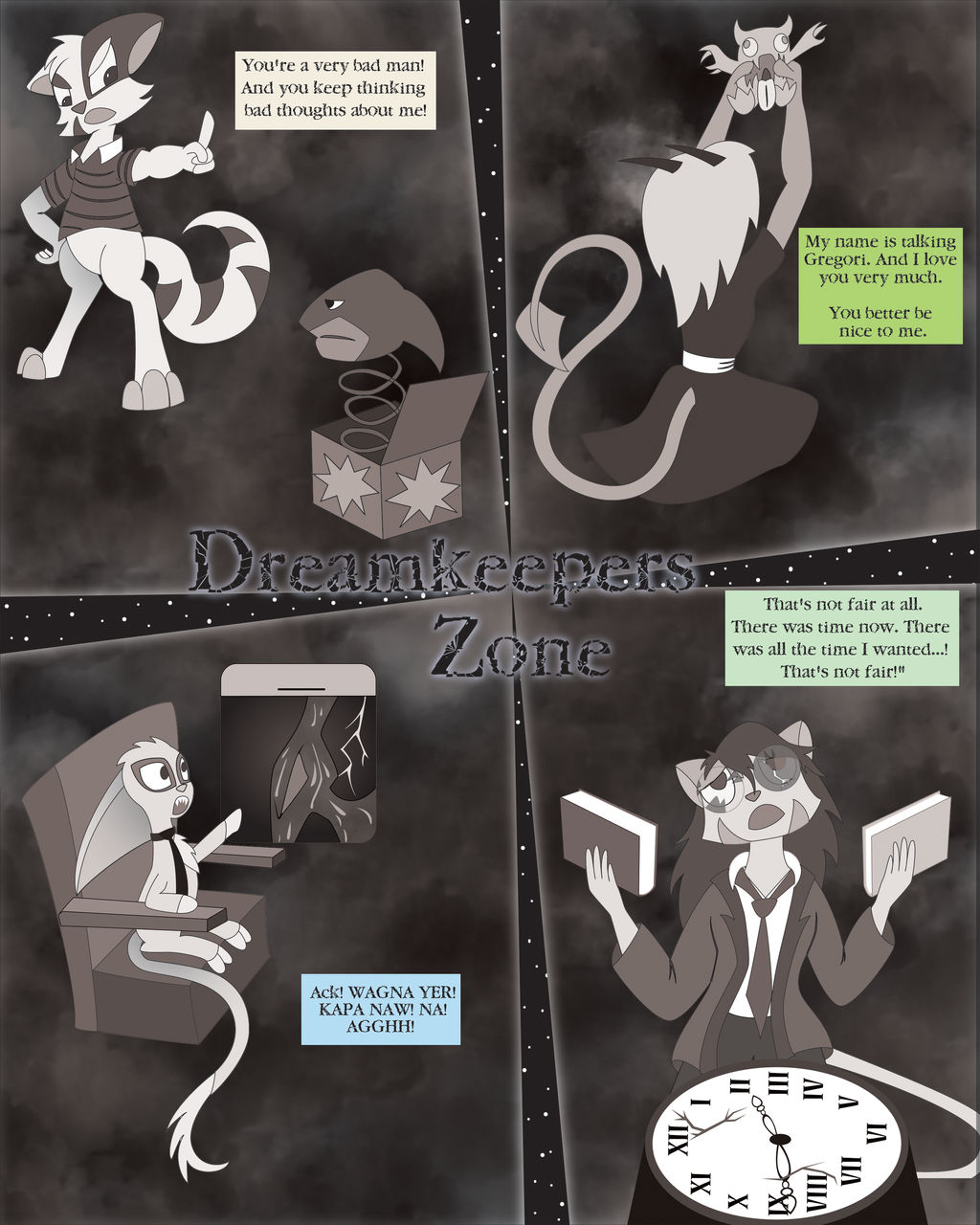 Watch
Submitted for your approval four Dreamkeepers find themselves in another dimension. A dimension of sound, a dimension of sight, a dimension of mind. A place of both shadow and substance of things and ideas.

Dude, Is Mace taking over the role of Ron Howard?

I also don't get the I Pod, Lilith, or Namah references and I've seen at least 30+ episodes of the old school twilight zone and most of the first season from the 80's. Although, I'd be willing to look them up on demand if you could point me in the right direction.
Reply

Who's Ron Howard?
What I Pod? There isn't an I Pod anywhere in this piece, so I have no idea what you're talking about.

They're the old school Twilight Zone:
Mace- "Its the Good Life" Season 3 Episode 8, Nov 3, 1961
Namah and Gregori: "The Living Doll" Season 5 Episode 6, Nov 1, 1963
Mace: "Nightmare at 20,000 Feet" Season 5 Episode 3 Oct 11, 1963
Lilith: "Time Enough At Last" Season 1 Episode 8 Nov 20, 1959
Reply

Ron Howard is the actor I confused for Bill Mumy who played in "it's the good life" as well as it's sequel many years later ...
en.wikipedia.org/wiki/It's_Sti…
Whip's window looks like an old school I pod to me for some reason.
Sorry about the confusion.
Reply

Ah. No problem!

Whip is actually on an airplane. Its is hard to tell without the surrounding seats and that.
Reply

Oh I know two of those shows!! and great use of characters. I feel sorry for the guy that all he wanted to do was read, and then his glasses get smashed.

LOL Whip as William Shatner.
Reply

I know! I consider that one of the saddest ones! He just wanted to read! Now he's blind, doomed to suffer head aches, he can't read, he can't find food and he can't even find that gun to end his life peacefully.

Yeah... that episode would be different if the man can't tell everyone to look on the wing. Though Whip can fly, bite, tug legs, so the episode will end the same way. Except that Mace will break him out of the insane hospital.
Reply

Yep, a sad fate

Well Whip can't do all those things because its out there and he is in the plane. He would have to open the door, and the flight attendants would freak out and stop him. because if that door opens, anything not naild down gets sucked out. Or Whip could steal someone's gun shoot the window out, and have similar results.
Reply

No I didn't mean bite the monster. In the episode the man tries to tell everyone to look at the monster. Whip can't be understood by anyone but Mace so they'll probably ignore him. He'll have to resort to biting and tugging the other passengers to get their attention. Which will lead to Mace being held down and then the episode continuing like it did in the actual show.
Reply

Interesting picture...which episodes did you reference?
Reply

Mace: "Its the Good Life" A town lives in fear of a monster, a young boy who can read minds and make anything or anyone appear, disappear, or change into what the kid considers "good." Everyone must always think happy happy thoughts or risk being... well they don't know what will happen. Will they die? Will they live in limbo? Will they go another dimension?

Namah: "The Talking Doll" A young girl is given a doll by her mother. Her step father disapproves of the doll, and the daughter as well. The doll, Talking Tina, tells the daughter that she loves her very much while telling the scumbag father "I don't think I like you," "I think I hate you" and "You better be nice to me."

Whip: "Danger at 10,000 Feet" A business man is on a flight home. A nervous flyer his nerves are fried as he sees a monster on the wing of the plane ripping out the engines. He tries to tell everyone what is happening but the monster is as elusive as he is evil.

Lilith: "Time Enough At Last" A bank teller has a deep passion for reading. No one understands his passion. His wife destroys his books and his boss yells at him for sneaking peaks at the newspaper. Looking for peace he goes to the bank vault, the only safe place he can enjoy reading when tragedy strikes the rest of the world.
Reply

I need to go back to the classics, especially if I missed a couple of them.
Reply

Hmm...very good, you picked great and fitting episodes for each of them. I approve...why didn't Bast get something though?
Reply

I had orginally planned on a 8 part poster. But I ran out of steam and I realized I had four drawings. I combined them into a poster. I'm thinking of doing a part 2 next year with different characters
Reply

Huh, makes sense...I'll wait until next year to see what you had for them. Which characters did you use anyways?
Reply

"You're a very bad man! And you keep thinking bad thoughts about me!"

Understatement much, Mace?
Reply

It may be an understatement but in the Twilight Zone when a little boy tells you that, bad things are coming your way!
Reply

Reply